For someone with such swoon-worthy skin, Nneoma Okorie has a very paired down routine. Perhaps that's the secret to this beauty's already flawless complexion? That and her holy grail, MAC Studio Fix Powder Plus Foundation.
Okorie isn't just a lifestyle blogger with over 100k Instagram followers, she's also a comedian and YouTuber who makes videos on topics ranging from beauty (Jordan Woods Hair and Makeup Tutorial) to hair (10 Things No One Told You About Crochet Braids) and food (So...I Tried The Popeyes Chicken Sandwich And...). So not only is she worth the follow for hairstyle inspiration alone, she can also be a part of your daily comedy intake.
Keep reading to learn about how Okorie achieves her baby doll makeup look, her love of Aveeno moisturizer, and how she manages her cystic acne.
AM Skincare
Recently I've been getting up at 6AM, and I get dressed for the gym. When I wake up, I wash my face and brush my teeth. My favorite cleanser is something that my dermatologist prescribed for me, it's a benzoyl peroxide acne medication wash. I was having some problems with my skin earlier this year, thank god those days are over, but I've still been using this religiously.
After my cleanser I tone my face with Bliss What a Melon toner, it has witch hazel, willow bark, and hyaluronic acid in it. I love this line, I'm so glad that I discovered it. Then I use Farmacy Very Cherry Bright Serum, I just rub it into my skin slowly in a circular motion. After that I put on hyaluronic acid by The Ordinary, it's so affordable. After that I use Aveeno sheer daily moisturizer with SPF 30 in it.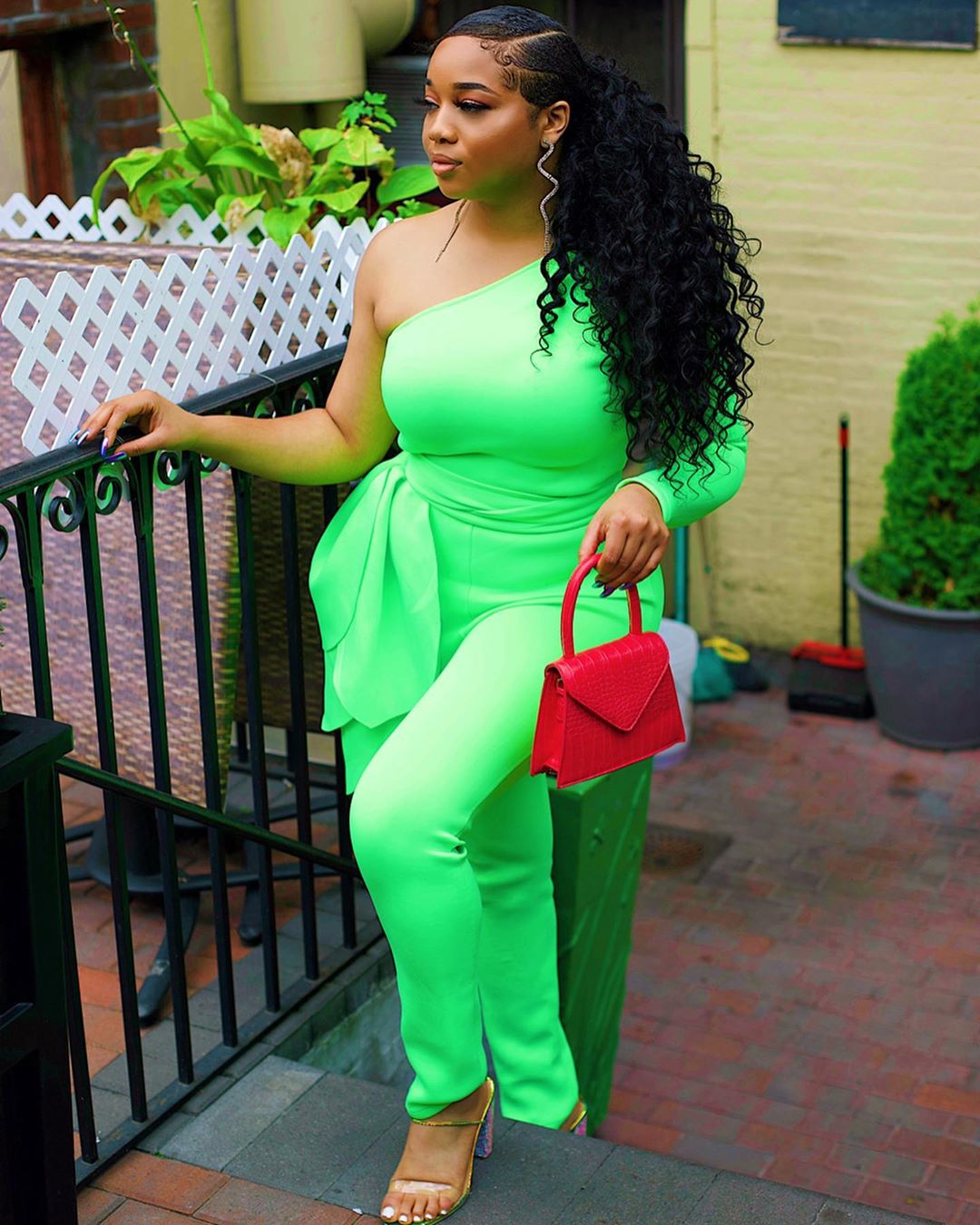 Instagram @nneunfiltered
Body + Hair Care
Recently I've been using Aveeno's Skin Relief Body Wash, it has a nice light scent of coconut, and then I use Bio Oil for my stretch marks, which has really been helping. Aveeno has a great lotion as well. I also get my nails done. I usually get an acrylic gel set, and I love good coffin nail shape.
Hair care depends on what my hair looks like, because I wear a lot of wigs. Right now I have braids in. Sometimes it's my actual hair but what I definitely do in between protective styling is I use Black Castor Oil. Then for wash day, I have like a lot of different products that I go between, but my favorite ones are definitely by Camille Rose. I also like As I Am's dry itchy scalp care line. It has tea tree oil in it and olive and that really helps with dandruff and it has a really fresh scent. So I use that the shampoo and conditioner and then I use their leave-in.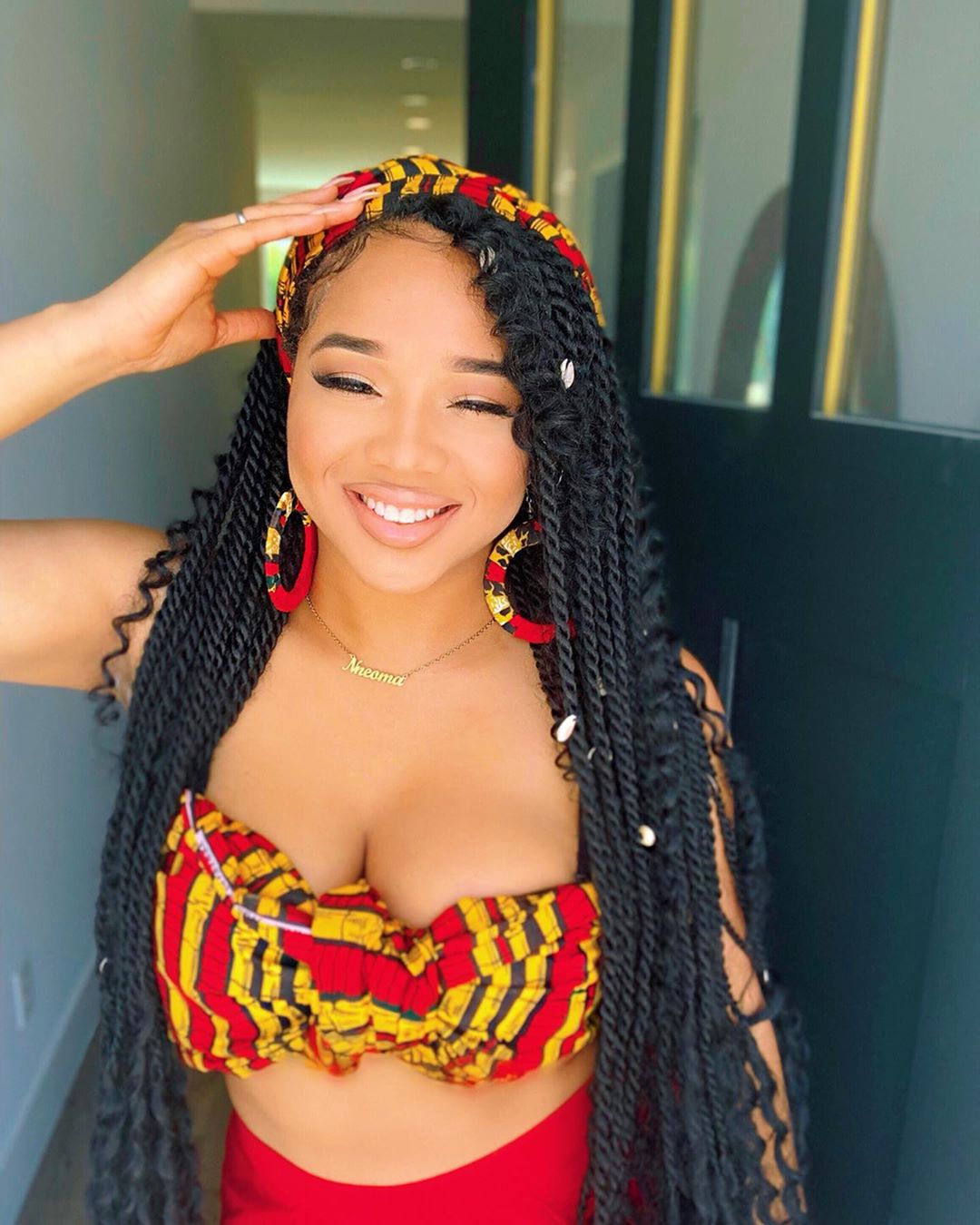 Instagram @nneunfiltered
Fragrance
I recently started using Scent Bird, and the scents are definitely original. I love the fact that there's a 30 day supply so I get to just sort of switch it up. Definitely one of my favorites so far would probably be Get a Room by Confessions of a Rebel.
Masking
I use the Aztec clay mask, I mix it with apple cider vinegar. I want to say maybe a month ago I did a silk peel, microneedling. It really helped my skin and I have another appointment coming up.
I guess the idea that you're poking your skin and the fact that you can bleed is scary, but I just knew that it was for a greater good. It was a little hard to not wear makeup for a week afterwards. I mean, I don't wear makeup every day and I definitely don't depend on it, but you can't touch your face and you can only use a mild soap or a mild cleanser. For this next treatment I'm doing, my skin is going to be really flaky, but the fact that it can really help with my hyperpigmentation makes me feel like I can sacrifice a week of good skin.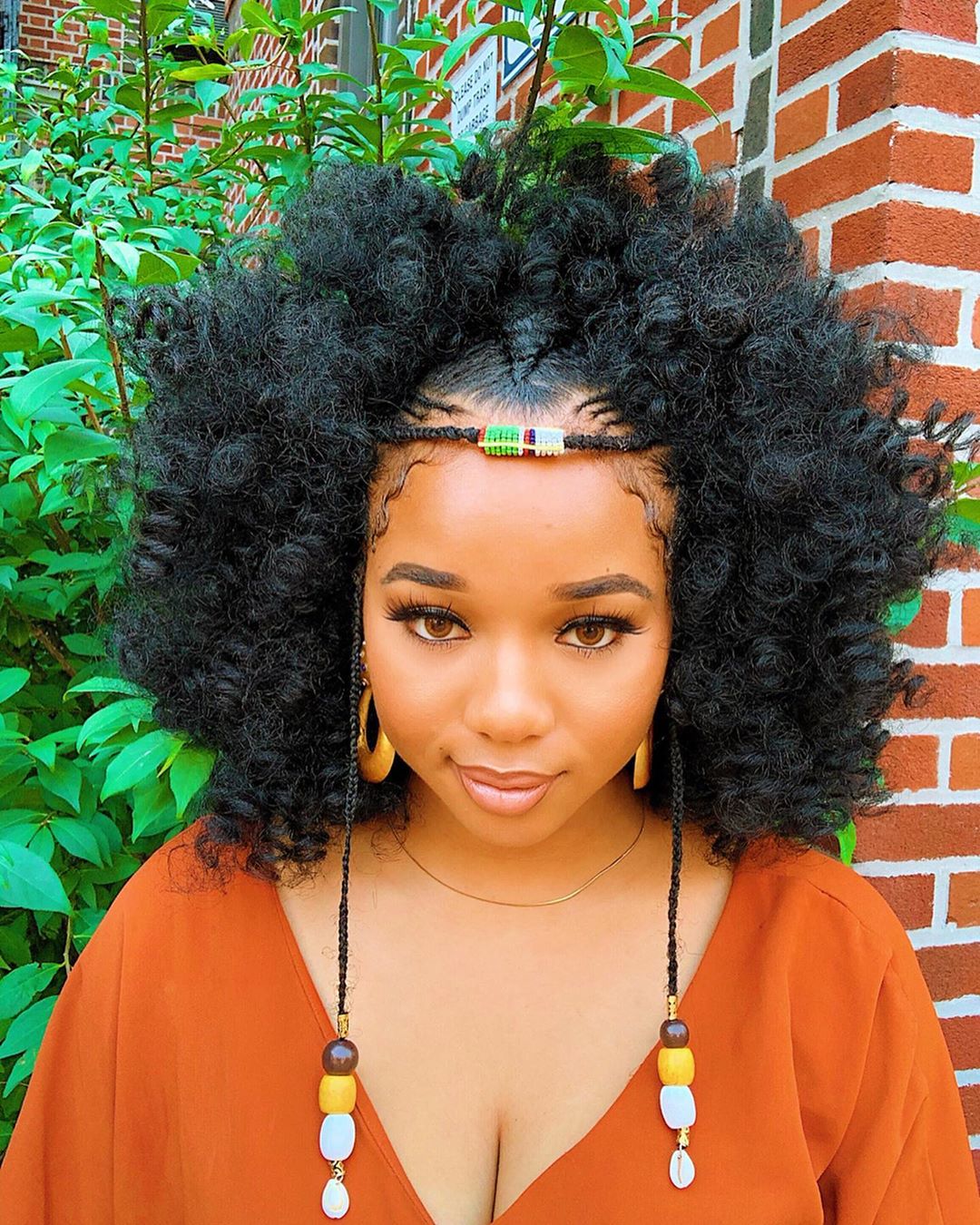 Instagram @nneunfiltered
Makeup
I like to bake with Laura Mercier Translucent Powder. In terms of brows, sometimes I switch between a brow pomade or a black or brown pencil from NYX or Anastasia Beverly Hills, and then to conceal my brows underneath I use MAC Studio Finish Concealer. I love a good creamy concealer, and it blends really well. I can't say I have a favorite foundation and I'm actually starting to look for one because I just finished one by MAC. I also like Hourglass Primer Serum.
I have oily to combination skin, so especially in the summer I'll get really oily in my T-zone area. A trick that I started doing this summer is that I would put my foundation on and then I would put the Studio Fix Powder Plus Foundation on by MAC. Then I would conceal, then bake, and after all that I would finish it off again with the Studio Fix Powder Plus Foundation. I don't know where I'd be without it because it also helps with touch ups during the day if I need to. For blush I use MAC Ambering Rose, it's a shimmer blush.
For my lips, there's honestly only two lip liners I use, Nightmoth and Cork by MAC—Cork is a nude and Nightmoth is a purple. I like to outline my lips and give it a cute baby doll look. A red lipstick that I love right now is actually by Deck of Scarlet, they're relatively new. Another red lipstick that I love by Colourpop is the shade Avenue. I love a good nude too, so I would say my favorite is the NYX Lip Lingerie Push-Up Long-Lasting Lipstick. What I've been doing recently is I'll put a little concealer color in the middle of my lips to give them a nice ombré look. And I just put a sheer lip gloss on top that I've gotten from beauty supply stores. In terms of my favorite highlight, it would be dose of Colors Mírame Supreme Glow Highlighter.
For mascara, it would be Too Faced Damn Girl. I am definitely a lash girl—a makeup look is not complete without lashes. Every now and then I do mink lash extensions. I do own a lot from Aliexpress, which is a wholesale company where they sell lashes in packs of three.
Instagram @nneunfiltered
PM Skincare
On a makeup day I like to start off with DHC's deep cleansing oil. I massage that all over my face and that just helps to break makeup down. Then I wash it off and I use the DHC Face Wash Powder and I go back to using my benzoyl peroxide cleanser. Depending on the day, I also include Farmacy's Honey Glow resurfacing night serum, and that helps with my hyperpigmentation.
I have suffered with cystic acne this year. It just randomly appeared and my dermatologist couldn't even figure it out. I'm like, is it something I'm eating? Is it stress? Sometimes I do get white heads and I'll just apply prescribed clyndamycin and benzo peroxide topical gel on it. That helps the pimples to subside and I don't pop my pimples anymore.
In terms of moisturizer, I would again use the Aveeno moisturizer and that's it. I honestly feel like my skincare routine is a lot, especially considering where I came from. I was literally just using black soap and going to bed and that was that. I've learned so much about skincare and what you're supposed to do.
Watch Nneoma's reviews below.