Recognize this brand name, redeemers? Many of you redeemed the Alder New York Everyday Skincare Travel Set, which includes the Everyday Face Cleanser, the Everyday Face Serum, and the Everyday Face Moisturizer—it's everything you need when you're away from home. There's nothing I hate more than forgetting an essential part of my skincare routine at home or, on the flip side, weighing down my suitcase with products I don't end up using. This kit is just the essentials. I used the Everyday Skincare Travel Set a few times before stashing it away in my travel bag (in hopes that we will one day travel again) and I have to say, my first impression was very positive. The cleanser is non-stripping and each product is light-weight and fragrance free.
In a weird way, I feel connected to this brand. The two founders, Nina Zilka and David J. Kraus, met at Pratt Institute, an art school in Brooklyn, which happens to be one block from my apartment. Alder New York is truly inclusive as a queer and woman-owned skincare brand that makes products for all skin types. Their vegan formulas contain clean, dermatologist-approved ingredients and their products are designed to be simple—"no complicated instructions or esthetician's license necessary." We love fuss-free skincare here.
Because it ticks off all of my nothing-but-the-good-stuff skincare criteria, I was excited to learn more about Alder New York and ask co-founder, Nina Zilka, some questions.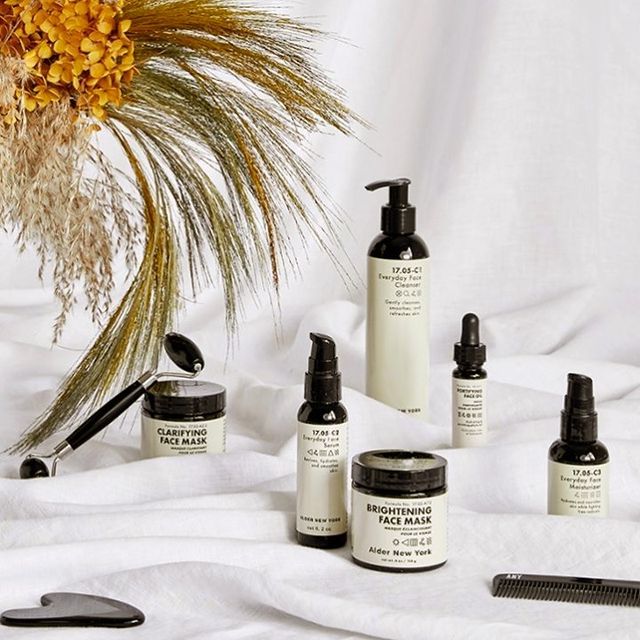 Instagram @alder_new_york
On the inspiration behind Alder New York:
"Before we launched Alder New York, David and I worked in fashion design for many years. We met as fashion students at Pratt Institute, and were immediately drawn to each other's design ethos. During our time in fashion, we both became passionate about clean, safe, accessible skincare. We felt that a holistic approach to design was missing in personal care—we couldn't find products that met our clean standard that also appealed to both of us aesthetically. This inspired us to create Alder New York: A legit clean, vegan, skincare line for all skin types."
On how their design background influences the brand:
"Our design background finds its way into everything we do. Good design happens when form meets function. We always start the creation of a product with the end goal: does this product need to exist in the world? What would make it the easiest possible product to use and also the most effective? And of course, our packaging is a very direct representation of our design point of view. We have always liked clean lines and a simple aesthetic, with a bit of a sense of humor. This shows in our neutral palette, minimalist packaging, and the symbols we've created as a visual language for our products."
Instagram @alder_new_york
On what clean beauty means to them:
"We have a pretty strict view of clean beauty—stricter than most other brands. Of course, we don't use parabens or sulfates, but we also avoid synthetic fragrances—we mostly avoid fragrance altogether—and silicones. The big one we avoid is an ingredient group called PEGS & polysorbates. This group is used often in other brands because it helps a lot with product texture, but the problem with them is that the process by which they are made often leads them to be contaminated with lead and other toxic chemicals. This hyper clean standard means we spend a lot more time on research and development, perfecting a formula's texture because we avoid the easy fillers that are often unsafe. The end product speaks for itself."
On the ingredients:
"Our Everyday Face Cleanser is a real cult fave- it is so good! It's formulated with a low dose glycolic acid that's safe for daily use—it leaves skin incredibly soft and primed for active ingredients to better penetrate skin. Next is our Everyday Face Serum with 5% niacinamide and hyaluronic acid to reduce fine lines and wrinkles, balance and control oil, and even skin pigmentation. Then apply our Everyday Face Moisturizer with Vitamins C and E to fight free radical damage—this keeps your skin youthful and healthy. The overall effect is healthy glowing skin in 3 super quick, easy steps."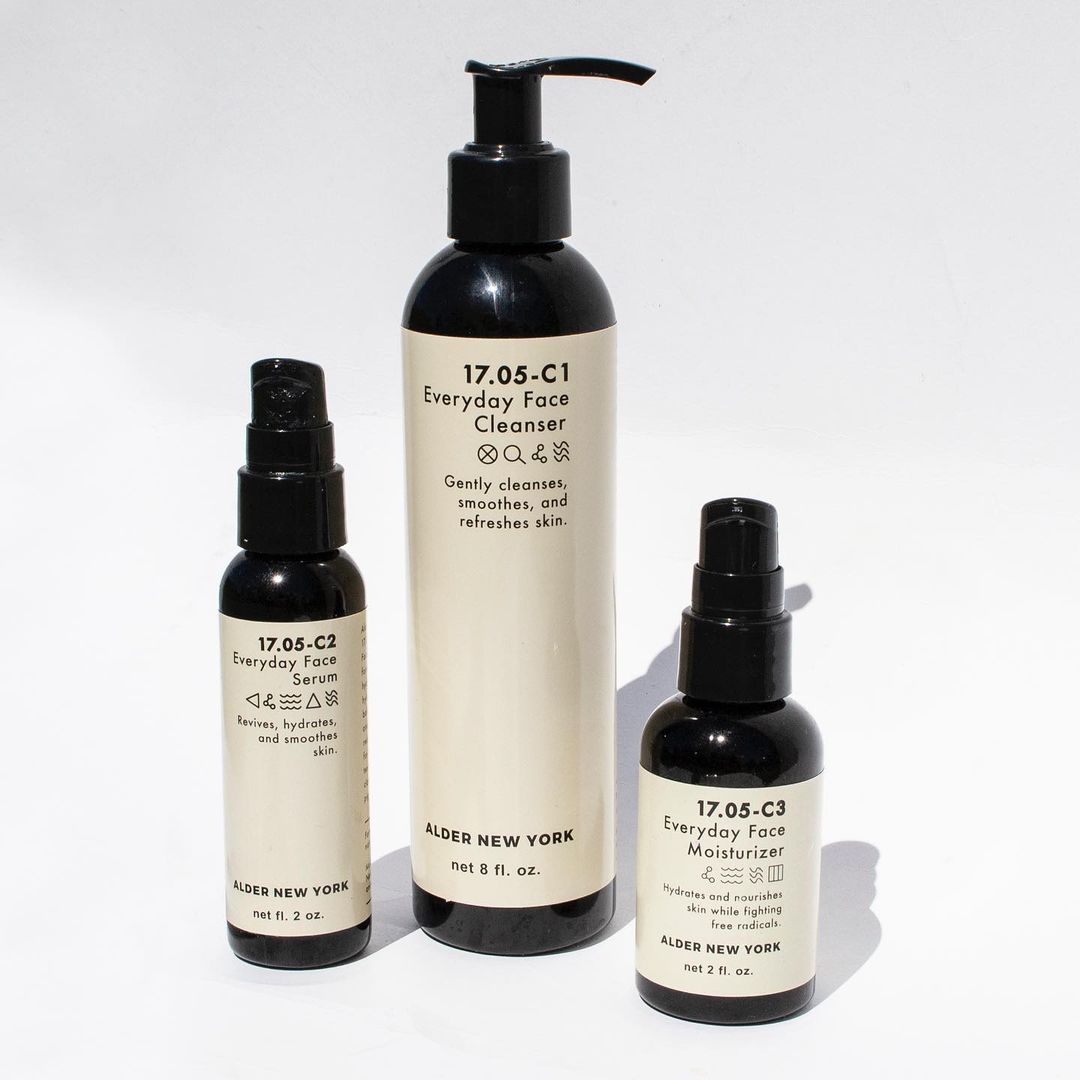 Instagram @alder_new_york
On being inclusive:
"Exclusion doesn't have a place in Alder New York—in total honesty, when David and I launched Alder New York, it never occurred to us that anyone would question skincare for all. The truth is skincare has been misrepresented for a very long time. At the end of the day, the type of skin you have—e.g. oily, combination, dry—comes down to hormones and genetics. It has nothing to do with how you identify. We use ingredients known to be highly effective for all skin types. Ingredients like glycolic acid, hyaluronic acid, and niacinamide are pretty magical. Studies show their powerful positive effects for a wide range of skin types. So we don't think it makes any sense to market skin care to one group while excluding another."
Have you tried any products from Alder New York? If so, make a review and add it below! Let us know what you think of this ultra-clean, super minimalist brand.