I've been excited about this one for a while, hehehe. 😈
MAC makeup artist Terry Barber has gone viral on Instagram for posting images of his work alongside matching inanimate objects. For example: a light green eyeshadow look that looks exactly like a pastel toilet from your grandma's bathroom, or a yellow glossy eye look that looks eerily like two jammy eggs. Follow him, it's worth it—if anything you will be inspired to try a new recipe.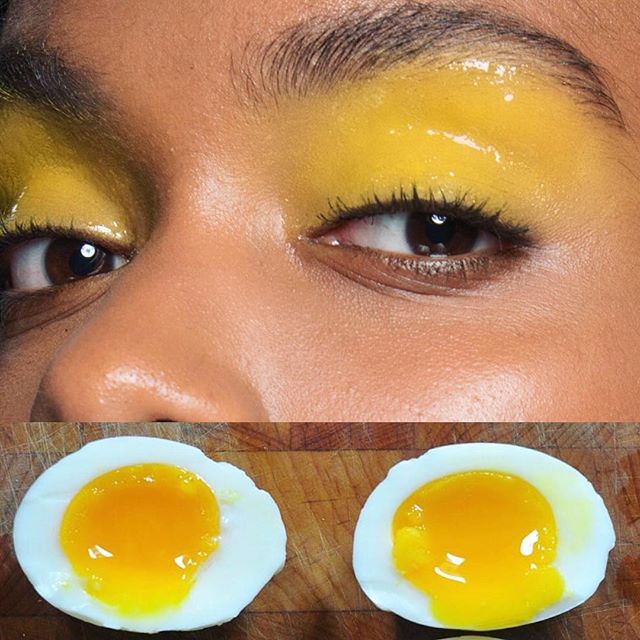 Instagram @terrybarberonbeauty
Now I can't look at any makeup product without thinking of what object or food Terry would compare it to. Does my black liquid liner look like squid ink pasta sauce? Does my bronzer look like a gingerbread cookie? My clear sunscreen 100% looks like a moon jellyfish. I will never be the same.
Sable, Abi and I decided to each make a look based on a food—Sable chose bacon (great choice), Abi chose banana (good source of potassium, plus yellow is an underrated eyeshadow shade), and I chose Flaming Hot Cheetos with lime. Why? Because my hair is orange now, I wanted things to match, and I didn't want to go with oranges, it's too low hanging fruit (HA!). Plus Cheetos are delicious.
Without further ado, here are our food-inspired makeup looks.
Sable's Bacon Lovers Look
She used a glitzy Becca Cosmetics primer and topper liquid eyeshadow for that meaty, fatty look, which honestly, looks a lot cuter than it sounds.
Abi's Absolutely Bananas Look:
I said it once and I will say it again: yellow eyeshadow does not get enough love. Abi used a Supergreat favorite palette to achieve this look, and it includes so many colors that you could really recreate any food you're hungry for.
My Flaming Hot Look:
Who doesn't love Cheetos? If you don't, I refuse to hear it! For this look I used my absolute favorite makeup item that isn't even a real makeup item. It's a face paint palette I bought on Amazon on impulse—best decision of my life.
CHALLENGE: Create your own food-inspired makeup look! Add your review below to enter, and you will be given 15 coins for participation when the challenge ends. Tell us which food you chose and why. Be as weird as possible, we love weird.
BEWARE! I've seen a lot of you make challenge responses, but you don't add them to the editorial—we can't count them if they aren't added here! So make sure you double check.
One lucky randomly selected winner will get 100 Supercoins, and you have until 09/12 to enter. Good luck, I can't wait to see what you guys create.