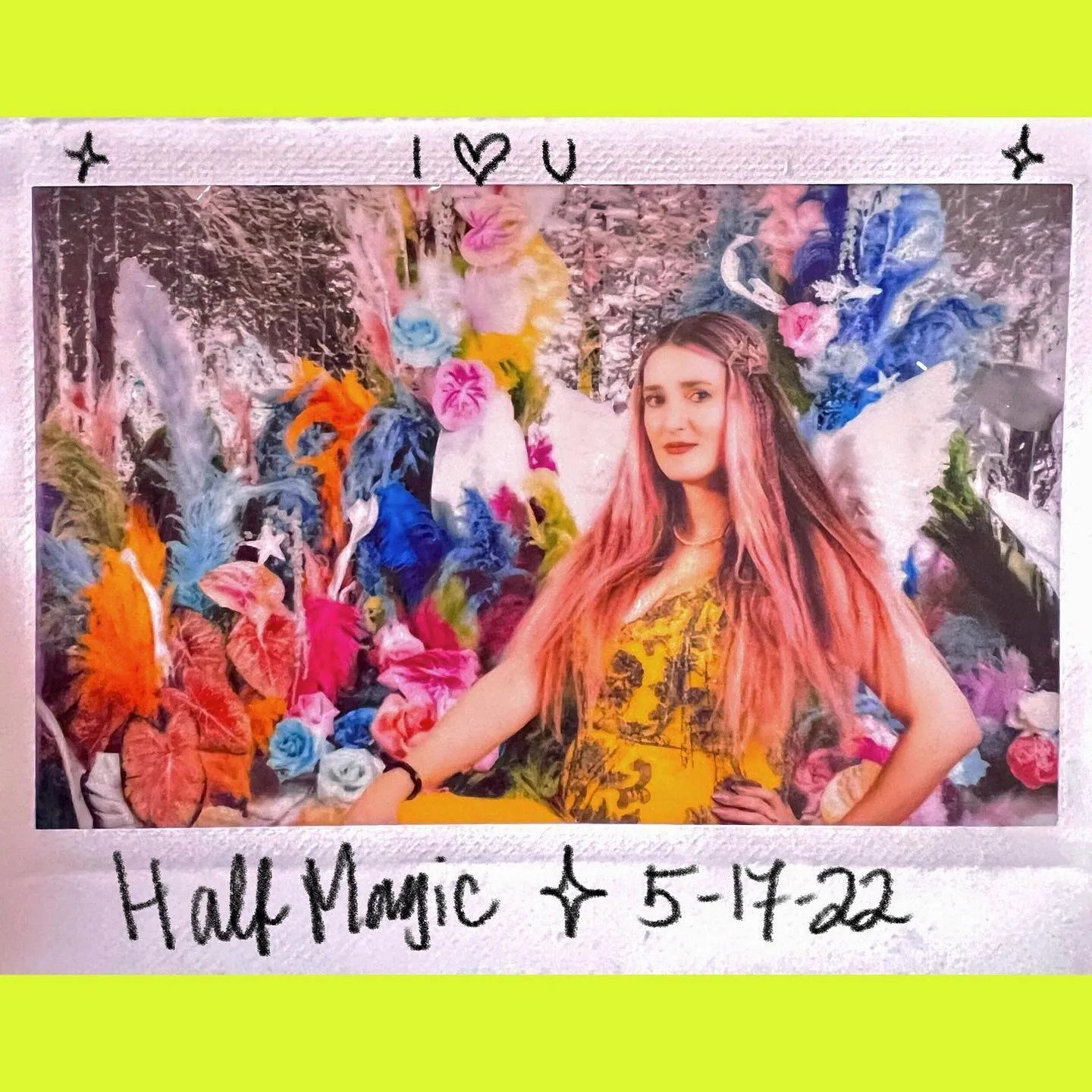 Instagram @donni.davy
For this challenge, we want you to head over to Davy's Instagram and recreate your favorite look she's ever done—it doesn't need to be from Euphoria, and of course, you don't need to have any of her products to participate. Also feel free to use her work as a jumping off point, and add your own creative flair to the look you choose.
Since this is a makeup launch that we were all actually excited about, Eliza, Alexis and I all went in on our own Half Magic Beauty hauls in the name of science and experimentation. We did it for the greater good of the community, and your dollars!
My look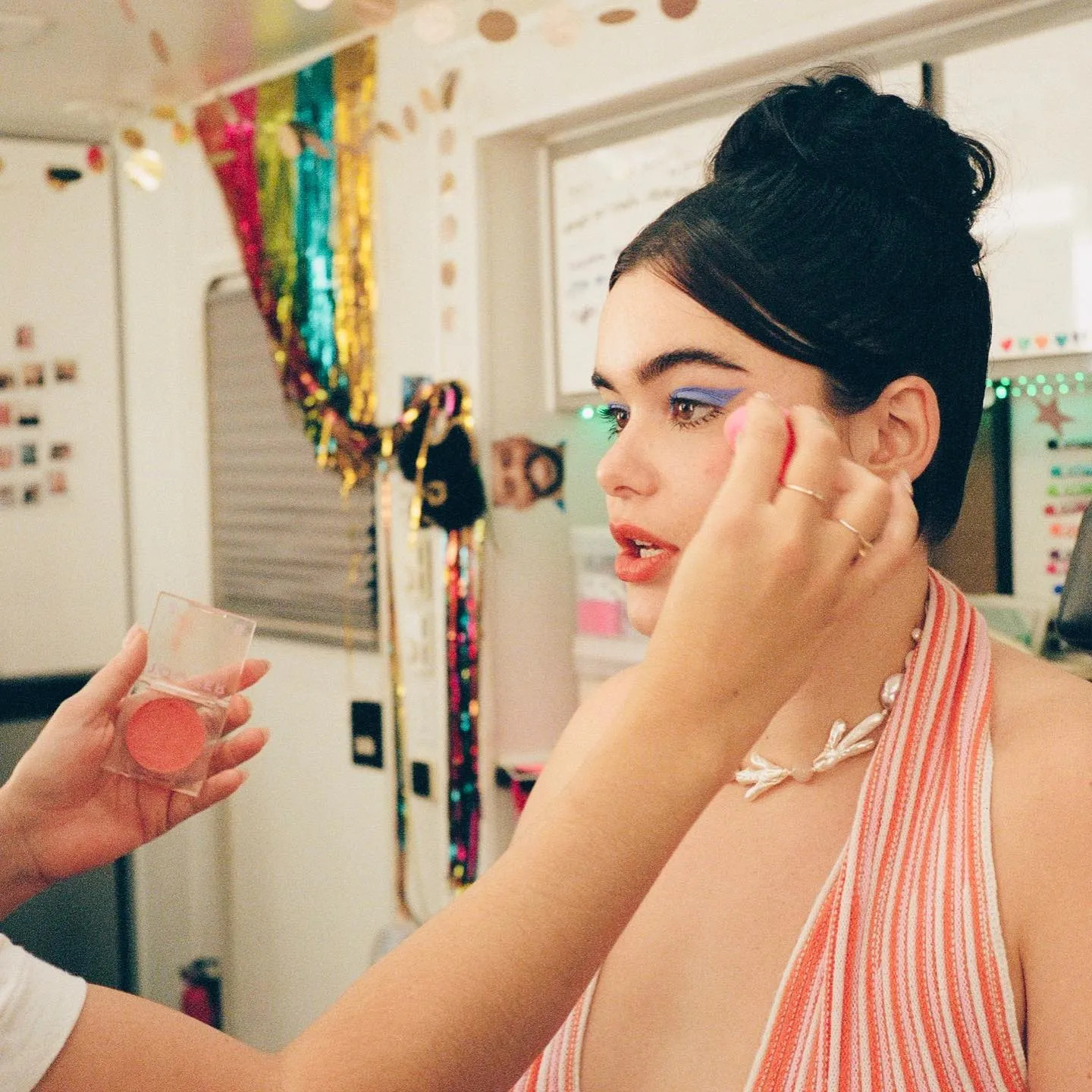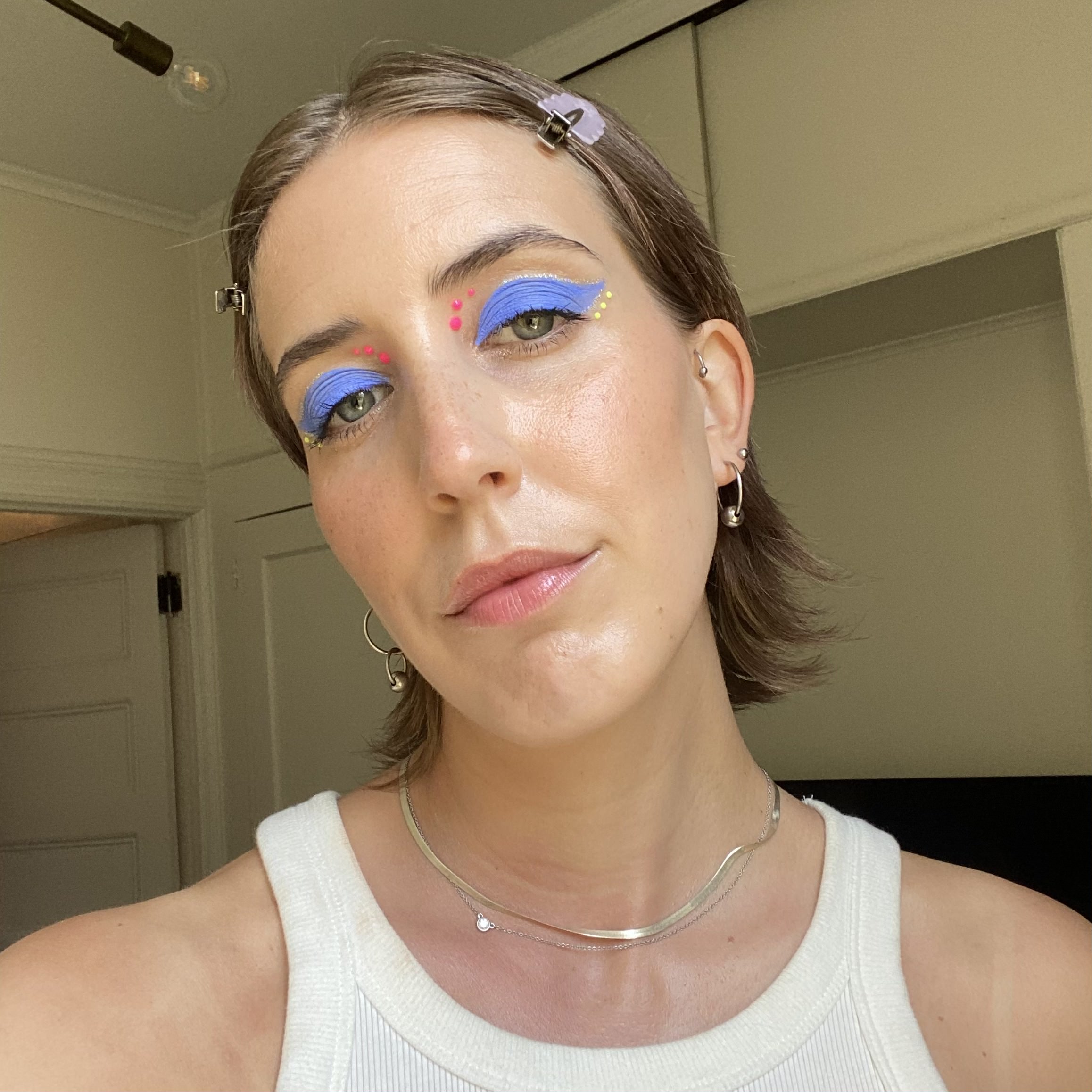 The products I used
For this Kat look I used Chromaddiction Matte liquid eyeshadow in Sky juice, and lined the outside of the cat eye with Glitterpill Eye Paint + Liner in Microcosm. The secret to Davy's perfect dramatic cat eye is absolutely the Wing Magician Silicone Guide. It's a brilliant product (probably my favorite out of everything I tried) and I'll be using it A LOT.
The applicator of the glitter was thin and made it surprisingly easy to do a precise line—but once I applied I wanted a more dramatic look, so I added some of the neon eye gems. All you need is tweezers and a little lash glue to apply. As I said in my review, it's really fun to see a fresh take on the more mainstream "diamond" and "pearl" eye gems.
Eliza's look
Eliza chose to recreate this look—also on Kat—using green instead of pink. Makeup artist Alexandra French used a heart-shaped sticker to create the negative space.
The products Eliza used
"I'm really in to exploring negative space right now so I loved the heart with gem inside look. I used the green matte as the base but instead of a heart I used one of twinkle glitter stickers from Donni's Face Lace collab to create the negative space. I was most impressed with how perfectly subtle yet fun the glitter was, it really made the inner corner sparkle. The crowning jewel was the iridescent gem which catches all the colors from the Half-Magic collection making it the perfect complement for any look!"
Alexis' look
Alexis chose to loosely base hers off one of Davy's own looks, the one she used to announce her brand, no less.
The products Alexis used
"For my look I used the Chromaddiction Shimmer Eye Paint in Main Character, the Liptrik Kit in Angel Rave and the Light Trap highlighter in Spiritually Complex. I'm currently on the fence with this brand, I don't want to write it off yet because maybe I need to keep using the products, but I'm a bit annoyed. I have hooded eyes and the shimmer shadows did not work well with that, it creased even after letting the color sit and I had to be very careful when applying to avoid patchiness. I will say the colors are stunning, especially the highlighter. For this look I wanted to show the color and duality of the products and went for a reverse duo sided eyeshadow."
Now it's your turn!
CHALLENGE: Head over to Donni Davy's Instagram and recreate the look of your choice! You don't need to use any Half Magic products to participate, and you can use her work as a starting off point for your very own unique creation. As usual, everyone who participates will get 20 coins, and one winner will get 100 coins. You have until June 13th to enter, and only one entry per person will be rewarded—HAVE FUN!