My hair spiral of the last year and a half went as follows: first I chopped it all off, then I dyed the tips orange—after that, I got a mullet, then an even shorter mullet, then a pixie, and finally, a shaved bleached head that I eventually dyed baby blue. I should specify that my hair dresser was responsible for all these looks, and I adore her—so if you're in NYC, you need to visit Crystal at Gloss Brooklyn.
I love(d) my short hair for many reasons. It's so easy to dry and manage, I don't need to ever wash it, and it works with every outfit (again, no need to style it). But now, a few weeks into my buzz cut, I have a problem. I know some of you might say, "you must have known that this would happen." But I promise you that thinking of consequences was not a part of my spiral. I didn't consider how I would get myself out of this shaved head situation—and of course we always want what we don't have, so now I desperately want long hair again.
How it started: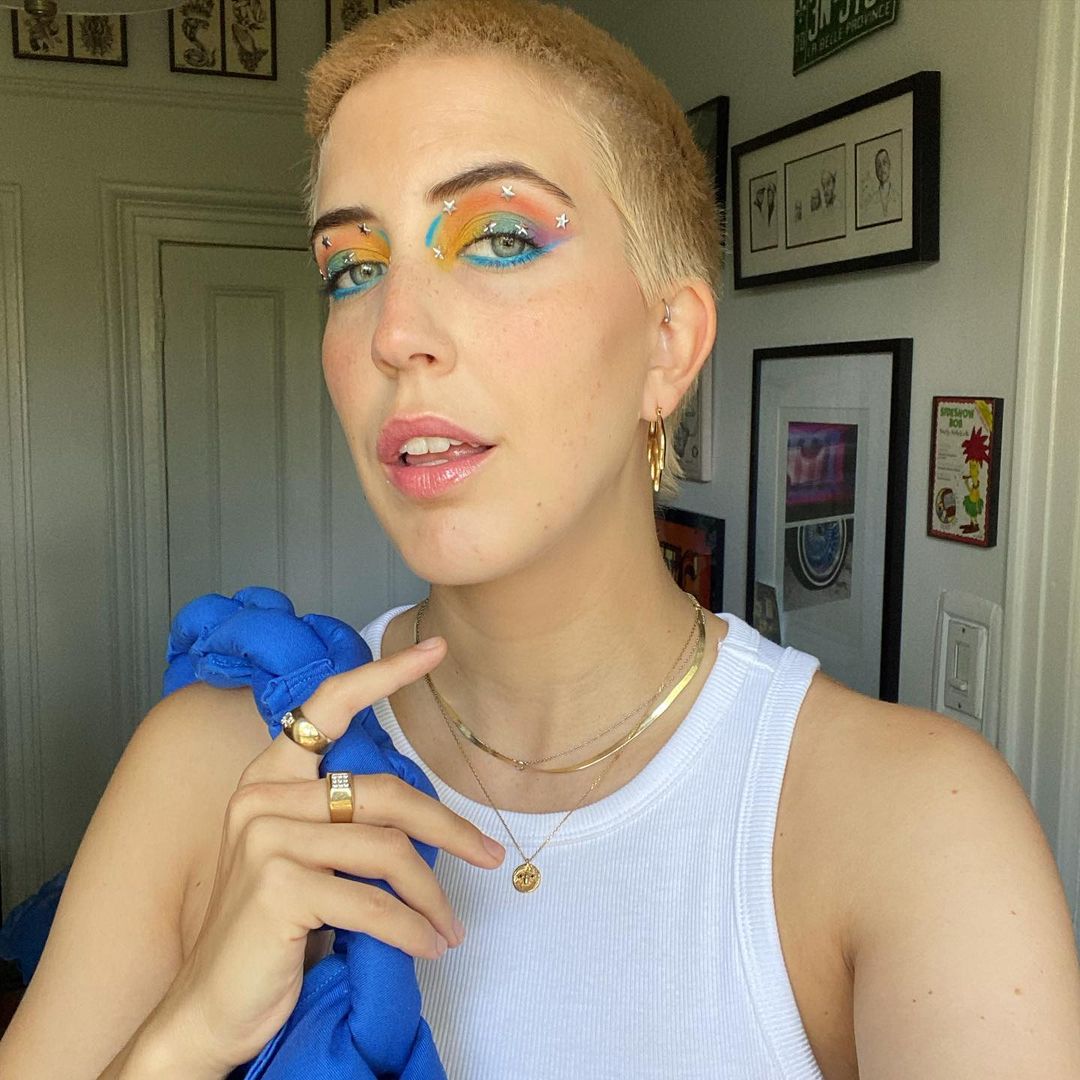 How it's going:
For the month or so after I shaved my head, life was pure bliss. Now things are getting messier and messier by the day—my roots are officially longer than the bleached part, the widows peak in the back of my head is sticking out, and because my hair is so stiff and straight, there's really nothing I can do except sleek it down into a hair helmet (or I can do the opposite and spike it up like in the chaotic photo below).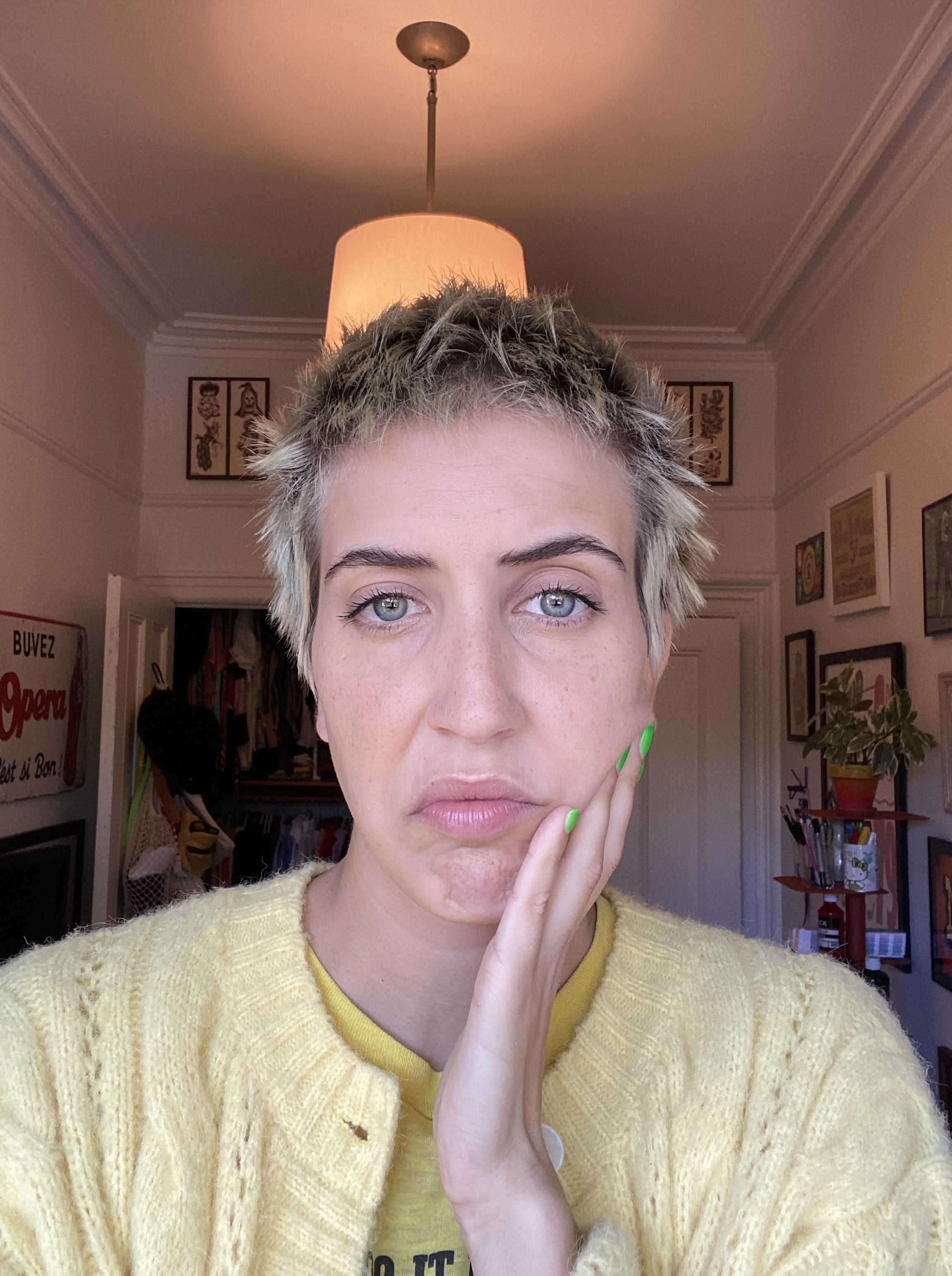 I recently mentioned this in therapy (and now I have even more anxiety thinking about the fact that I talk about dumb stuff like my hair in therapy) and my therapist, who has also grown out a shaved head, suggested that I "maintain the back." She said something along the lines of, "if you maintain the back, you can let the top grow until the top covers the sides and then you can let the sides grow." What if I don't want to keep shortening the sides of my head? Am I destined for a bowl cut? Is there no other option in between?
Some of you have already offered some advice on my reviews.
@Lilytree said: "I feel your pain so much! I went through chemo last year so I started from scratch in December and dealt with all the awkward stages. This may not work for your hair type but for me funny enough the most helpful secret ingredient to help style unruly little hairs was water! I bought a little spray bottle, filled it with water, rosemary essential oil and argan oil, and even now whenever my hairs have a mind of their own, I spray them down massively with some of that mixture and get them in place. I love this because I hate the sticky or crunchy feeling of gel or cream."
@Beautybymonamarie, who is a hairstylist and the mother of a formerly shaved-headed person said: "If you're trying to get it to cooperate and stay in a certain style… GOT2BE GLUED is what I use on my son's short hair to keep his mohawk frozen in place at school. But it's really stiff and hard to wash out."
@Kielystrash said: "I big chopped like 3 years ago but when the sides started growing out into a weird length I slicked it down to make a faux hawk."
@Cierrar143 said: "Believe it or not but I'm on year 5 from growing mine out from being pixie/shaved- although it's impossible to skip the awkward growing out phase- accessories like clips and headbands would at least distract from my hair!"
So tell me, how does one grow out a shaved head in style?
Whether you used products, styling tools, or haircuts to grow out your hair, how did you do it? Even better, make a review and show me. And if all you have is verbal advice, please comment on my reviews above. I'll be reading every single comment and thank you guys all in advance!