Achieving the glowing and dewy skin of your dreams often feels like you need an arsenal of fancy skincare products to get there. And then it might not even do that! It might have an adverse reaction, or it might do nothing. Ugh. While finding a skincare routine that glows you the hell up is the proper way to dew the thing, that takes...a while.
That's why we have makeup (phew). But as instantly gratifying as makeup is, it can slack on the job by the time your day is done (rude). Where is the middle ground? Why can't I just look like a living dewdrop all the time? Is that so much to ask??
No, it is not. It takes a bit from both. Get your skincare routine in order — that's step number one. And while that's...doing its thing, you can grab some cosmetic assitants to give you a boost.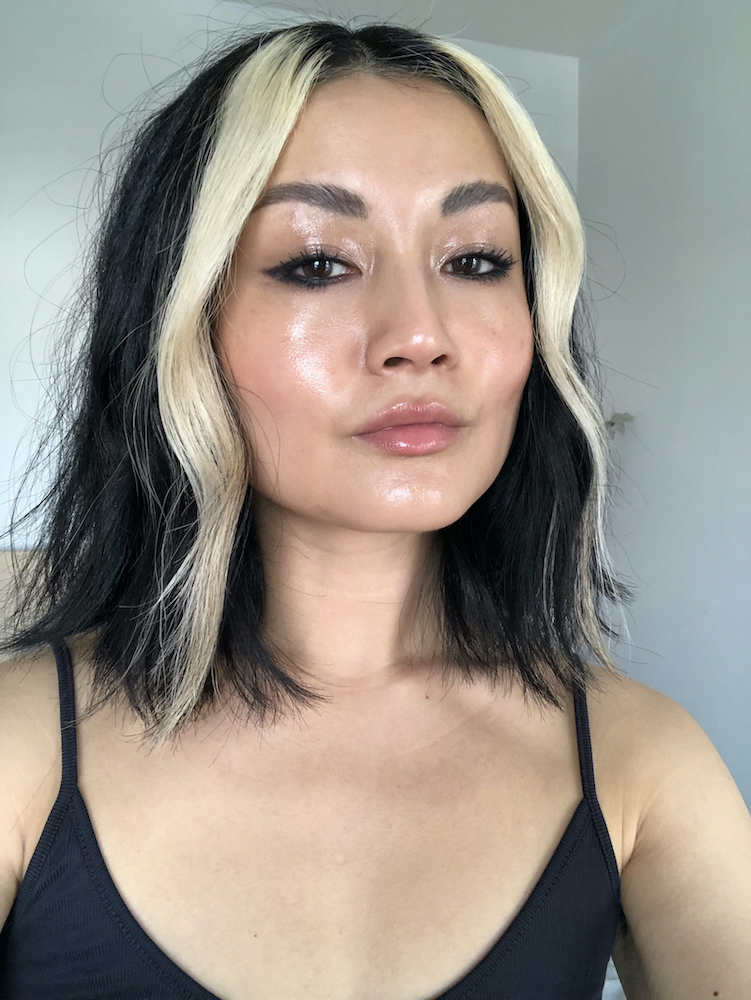 Please excuse my RBF, but is this a fully glazed mug or not! (It is.)
Exfoliate regularly!
I know you're washing your face properly every day, right? Good. Now to one-up those efforts, incorporate an exfoliating toner or treatment to give your skin that extra fresh, glassy look.
Here are some of my faves:
Just Add Water
Now that you've cleared the deck, time to hydrate. No matter what your skin type is, it needs hydration. Y'all need water to live, right? So does your skin (topically). A hydrating toner or serum is a great choice, followed by your favorite moisturizer or face oil — it's up to you. But first you have to add water and then seal it in (as opposed to just sealing your skin with moisturizer/facial oil but with nothing underneath).
Some ace dewifying potions are here:
Seal It In
It's like topping off a flan with a cheesecake: decadence. But the road to dew is decadent so you have to finish the job. Without moisturizer of some sort, all that hydration you've put onto your skin is likely to evaporate and leave you the opposite of dewy.
Luckily there are lots of moisturizers now that are geared specifically towards this dewy look, so if you haven't found a moisturizer that you love, take a look at these babies:
And now for the secret weapon:
Ok, forget everything I said before. Well, no, I mean, do those things but also listen to this part even more.
My secret weapon for instant high beams is a luminizing lotion. You can call it a primer, sure, but these lightweight lotions are hydrating as well so... it's kind of...alright, fine, we'll call it a primer.
Anyway, rubbing these all over your well-cleansed, well-exfoliated, and well-hydrated/moisturized face is the piece de resistance because it just adds a sheeny, gleamy, light-reflecting finish that bounces light from the heavens off your cheekbones. It's not as obviously attention-grabbing as highlighter — it's an all-over mood.
My personal face is the affordable L'Oreal Lumi Glotion, but MAC's Strobe Cream is kind of the OG with this. My new go-to just might be Supergoop's recent launch, the Glowscreen for dewing the most with SPF 40.
And if you just have to have a highlighter Kevyn Aucoin's newish Glass Glow Face Illuminators are IT. THEY'RE IT!
See, getting that dewy glow isn't that hard and there's no singular correct way to get there. I mean, slap on enough illuminator and that's an express route, as far as I've seen on YouTube, but for a daily dew...how do you dew?? Add your review below!