I'm one of those people who loves doing their own manicures and nail art. It's soothing. It's like vanity arts & crafts (my favorite kind of arts and crafts). I'm not necessarily an ace with a tiny paint brush, but I try. When it comes to different finishes however — like those painfully cool color-shifting chrome nails that popped off a few months ago — I was at a loss. At first it seemed like it was only doable with gel nail polish at a salon. In case you haven't noticed, gel manicures are expensive (well, more expensive than I care to pay for something I can totally do myself).
But then, I discovered a DIY chrome nail kit on Amazon, of all places, that had a ton of good reviews and wasn't that expensive. The kit has eight different color powders and the tiny eyeshadow sponge-tipped applicators.
What else you need (other than the powder):
Black nail polish
A clear top coat
I used the Sally Hansen Miracle Gel polish in Blacky O and the matching Miracle Gel Top Coat. I always use this top coat because it makes my manicures last longer than regular degular top coat and it dries faster.
So, let's begin. Do your filing, shaping, cuticle-shoving, and buffing.
Step 1
Paint two thin coats of black nail polish on your nails. Let them dry about 90% of the way but make sure it's the slightest bit tacky before you move onto the chrome powder. This takes some monitoring so it might be helpful to do one coat on both hands, and then do the second coat before each powder application so your second hand doesn't get overly dry when you're trying to do the next step on the first hand.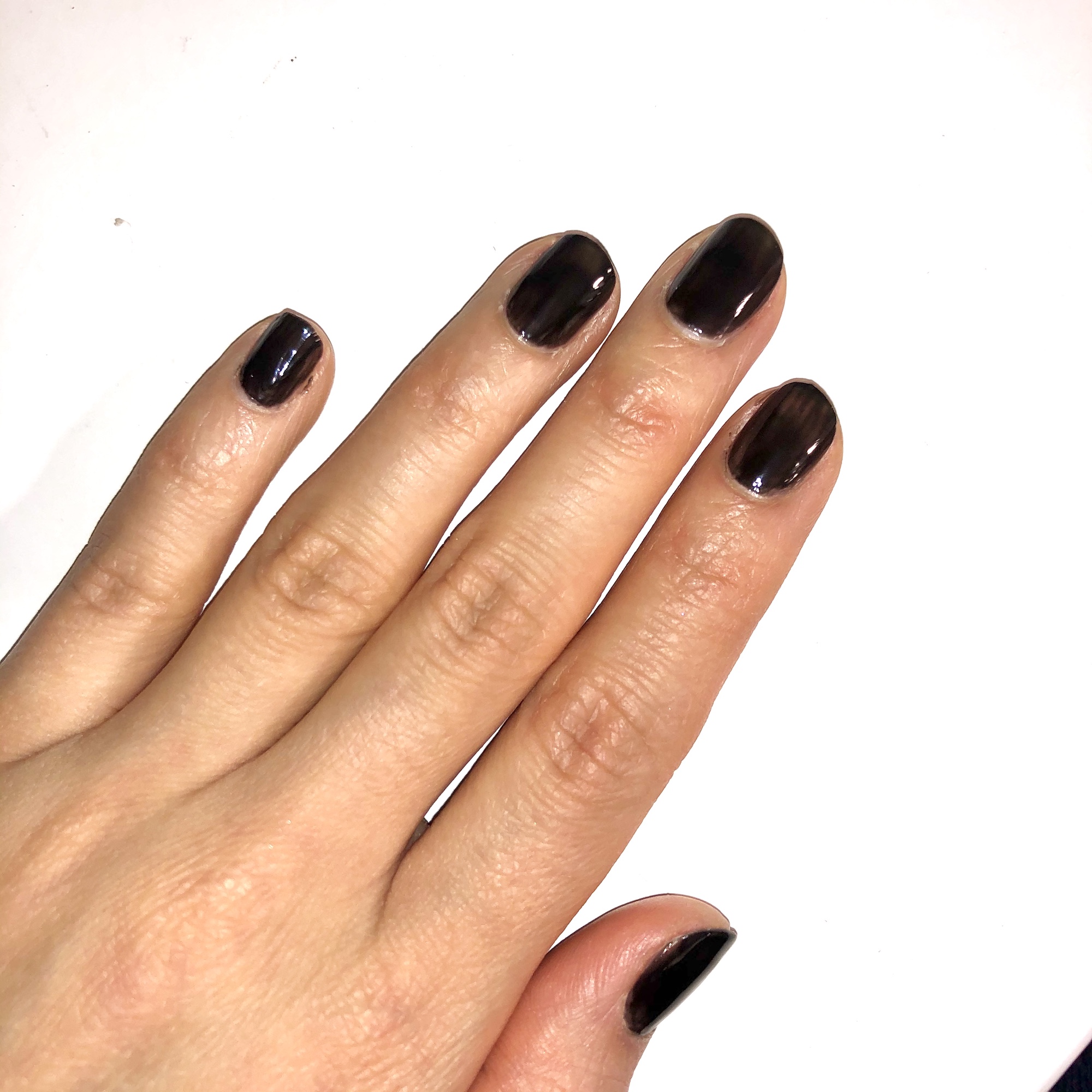 Step 2
Once the black nail polish dries almost completely but is still slightly tacky, dip the sponge-tipped application lightly into the chrome powder (you don't need a lot and you can build, if you need more), and brush ever so gently onto the top of the nail. It helps to do it in one direction first to coat the nail completely, and then gently "scrub" back and forth until the powder starts to grab onto the tackiness of the polish and chrome out, which it will before your eyes like magic.
If you waited too long and you find that the powder isn't chroming, your polish may not be tacky enough. I actually would try a nice blast of hot breath on my nails as if I'm trying to fog up glasses lenses to clean them and then quickly brushing on another layer of powder and that seemed to make the surface humid enough to grab onto the powder. But this only works if your nail polish isn't totally dry though.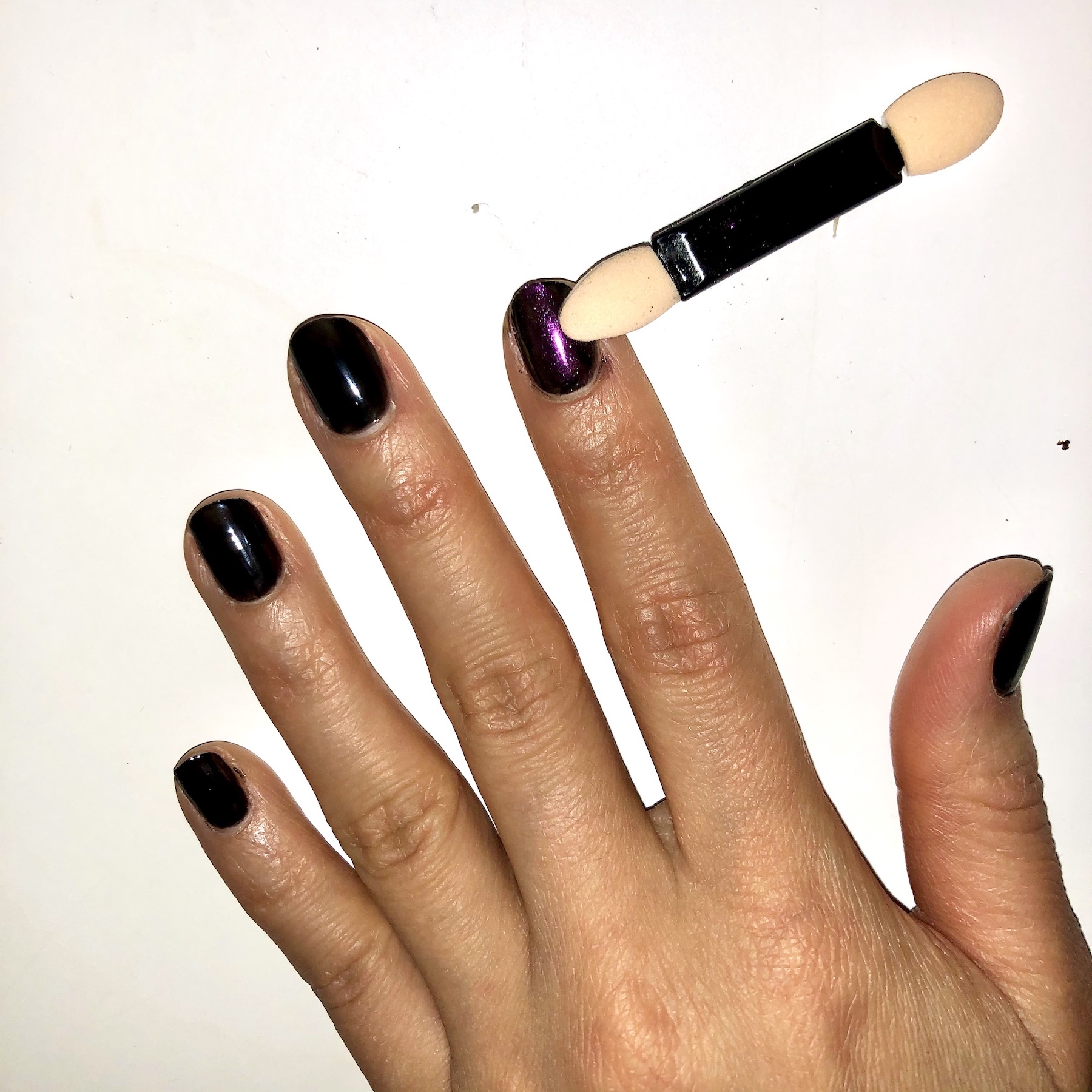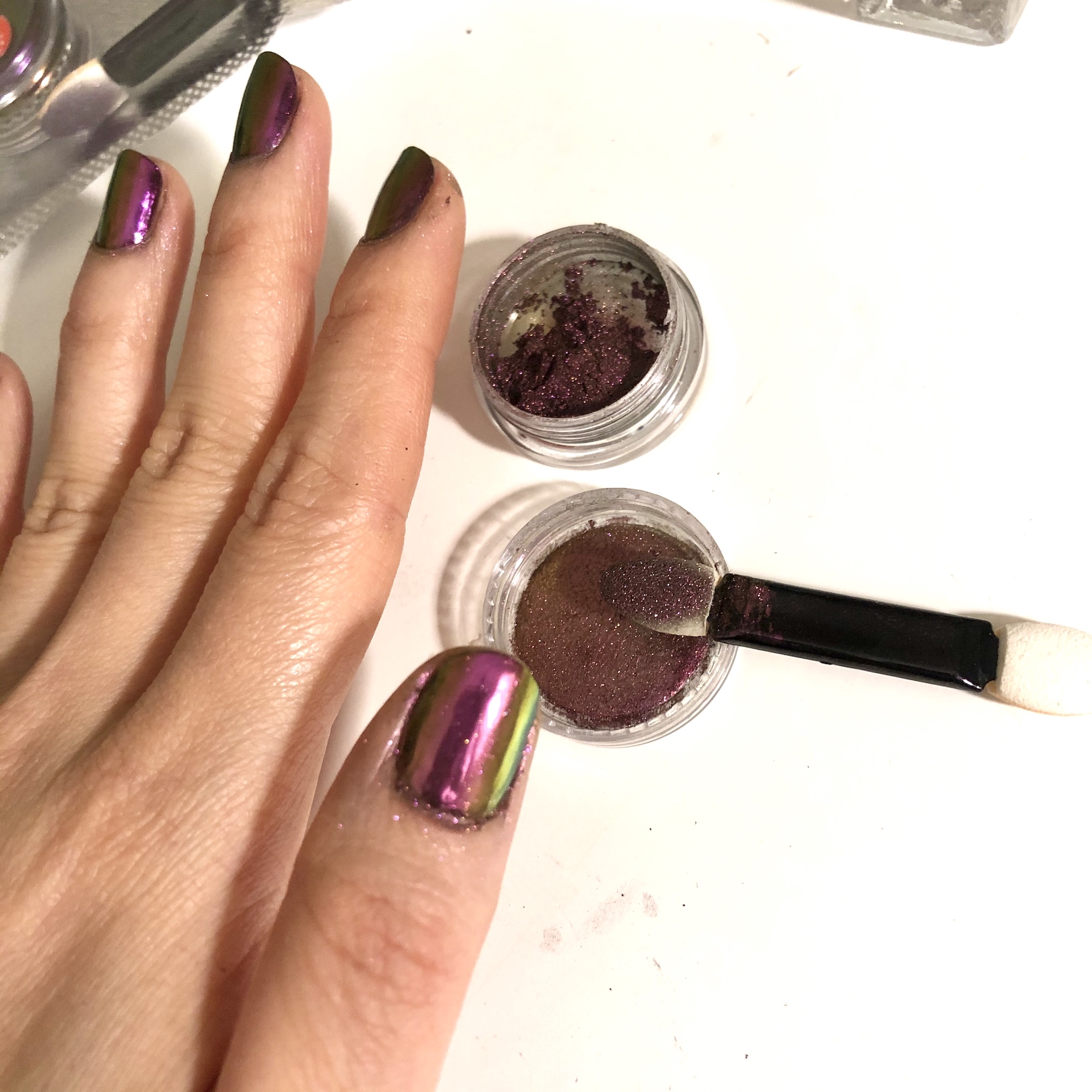 Step 3
Repeat with all your nails and then let them dry completely. Shouldn't take too long since they were nearly dry anyway.
Step 4
And then apply your clear top coat.
Step 5
Clean up your dusty cuticles. The powder that got around your cuticles comes off easily when you wash your hands, or you can dampen a cotton bud with either nail polish remover or micellar water and that does the trick too.
I found that applying another layer of top coat a day or two afterwards really extends the wear of this manicure and makes the chrome even shinier. To remove it, you just use nail polish remover and a cotton pad — just like any old regular manicure.
But yeah, it's that easy. You're done. Now go blind some people with your digits! If anyone decides to try it out, share below!