Skin care and (unfortunately) sun damage, are a normal part of being human. So came the inspiration for Charlotte C. Pienaar's brand, Everyday Humans, which focuses on having healthy skin that is protected from sun damage. "We are a next-generation SPF brand that's on a mission to inspire humans to wear SPF everyday," she says.
Supergreat fans love Resting Beach face, an SPF 30 sunscreen serum and have left 137 reviews. "It feels really refreshing 'cause of the green tea," says @fernandita_vel.
On Creating Everyday Humans
Charlotte's inspiration came when she realized too late all the damage that had been done to her skin. "I used to tan a lot in my teens, and now that I'm in my 30's and seeing the first signs of aging." Most people don't know they need to wear sunscreen everyday as a preventative measure for aging and skin damage.
Charlotte attributes part of her inspiration to the increase in research and education around preventive care and photoaging caused by sun damage in the past few years. She was one of the first people to hop on the education train and start teaching people about what their skin really needs. "That's why I started Everyday Humans," she says, "a conscious sun-led skincare brand that is designed to vibe with you and your skin."
On Charlotte's Skin Care
When it comes to taking care of her skin, Charlotte refers to herself as a minimalist. "I wash my face with water in the morning and apply RBF as my 3-in-1 step, since it works as a serum, primer and an SPF, I don't have to worry about the rest and can get on with my day with just a touch of concealer. At night, I remove my SPF and concealer with an oil based cleanser."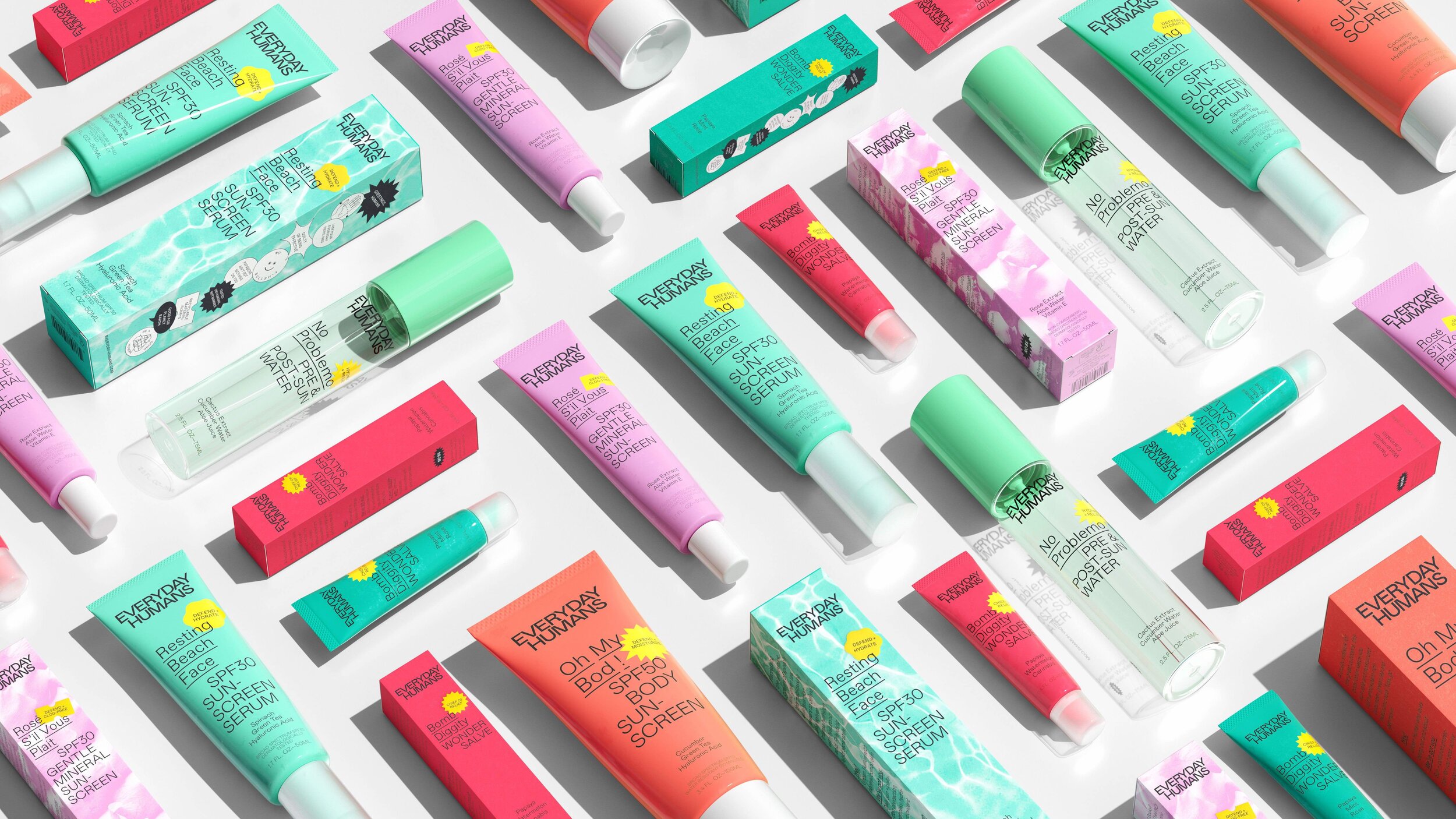 Everyday Humans
On Creating a Better Sunscreen
Everyday Humans isn't just about teaching people to use SPF, they also set out to design a better sunscreen. Charlotte wants everyone to have an enjoyable time with their skin care routine. "Prioritizing comfort, ease of use, and added skincare benefits, so that sunscreen is a first-in-mind step and not a chore, will help condition more people to incorporate SPF into their daily routine," she says.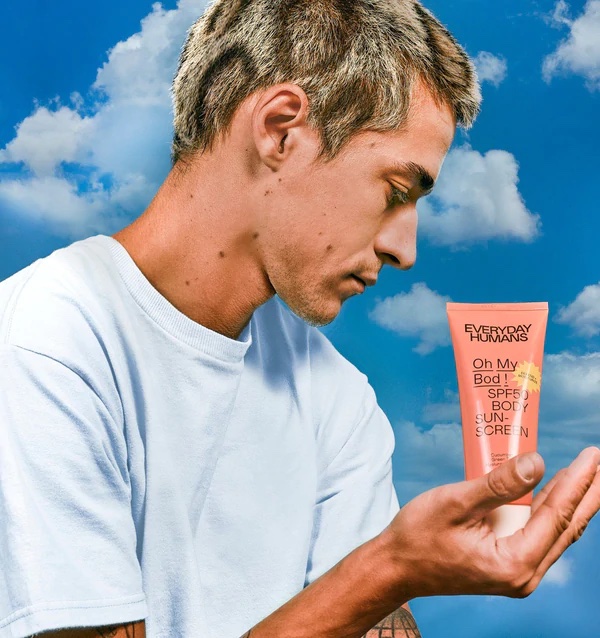 Everyday Humans
On Branding and Packaging for Gen Z
With the emojis and stickers on their website and social media it's clear that Everyday Humans caters to the Gen Z aesthetic. Their photos with a blue sky background and models in colorful t-shirts feels like it came straight out of the 90's and was ironically readapted for the 2020's. "We're actually just a bunch of eco conscious nerds hiding behind a Gen Z facade called Everyday Humans," says Charlotte.
Their branding takes inspiration from a combination of street fashion and internet culture. "Our vibe is about breaking rules and embracing change, that's why we do not follow typical beauty branding playbooks and rules," she says.
On Staying Eco-Friendly
Everything is made out of PCR (post-consumer recycled) plastic. Which basically means all their containers are made of recycled materials. "For our 1st year anniversary, we partnered with alternative plastic recycling company Precious Plastic to utilize Everyday Humans' plastic waste to create interesting products for customers - including a carabiner that is 100% made from discarded plastic packaging from the brand," says Charlotte.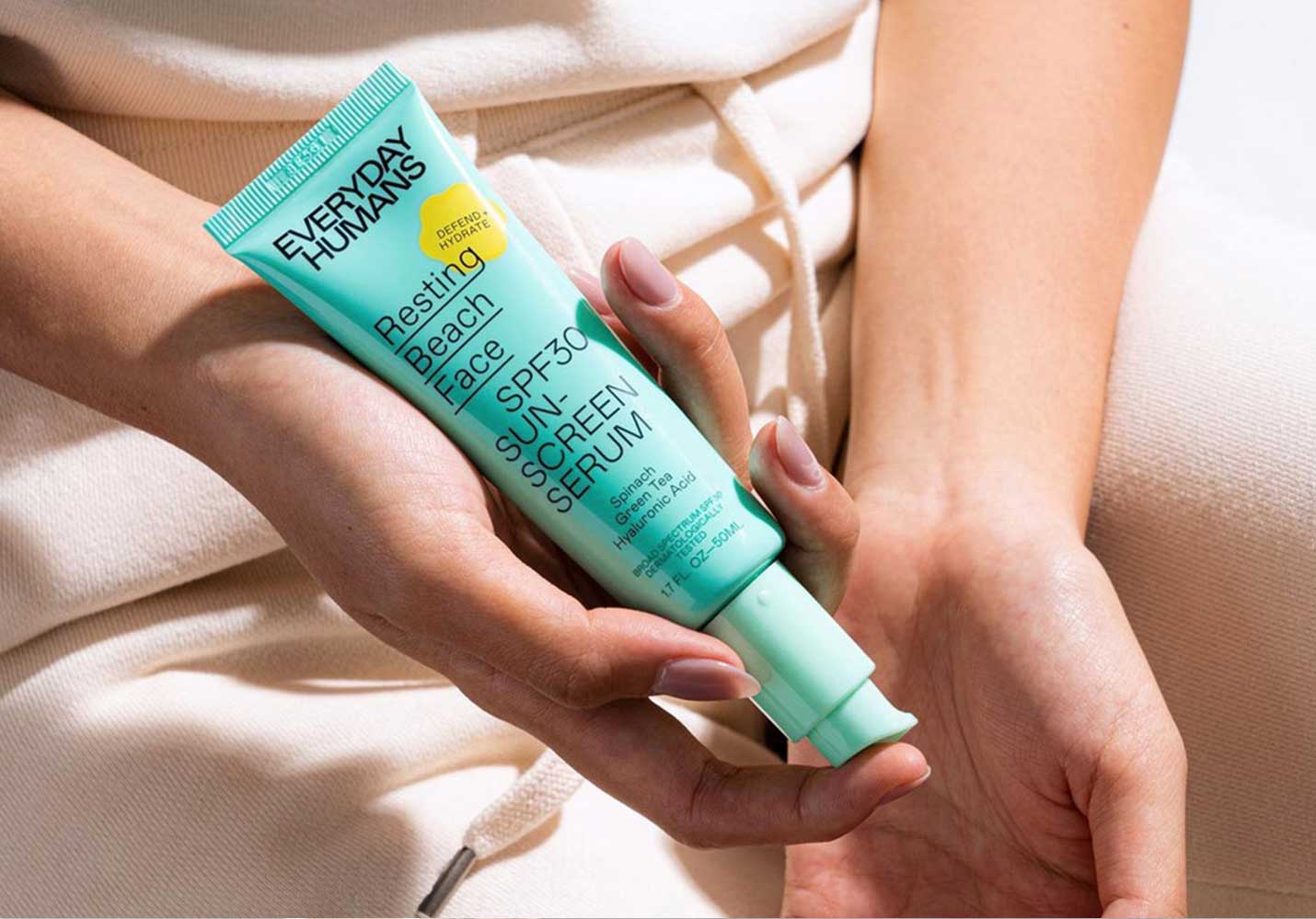 Everyday Humans
On the Future of Everyday Humans
Charlotte's main goal for Everyday Humans right now is to keep pushing sustainability and create new ways for her business to be eco-friendly, especially when it comes to home delivery options. "We are exploring long-term partnerships with a variety of organizations to be able to upcycle their packaging into usable items," she says. But her more immediate goal is to create reusable packaging so that customers can refill instead of recycle.
Everyday humans met its Year 1 standards for sustainability and hopes to keep pushing for progress. They are on track to double their percentage of carbon emission reduction and reduce their overall carbon footprint.
Have you ever tried Everyday Humans? Add your review below!