The summer is so close we can almost taste it. It's been a long winter—most of us have been stuck inside, confined to Zoom meetings FaceTime calls instead of real-life hangouts. Fortunately, with the vaccine on its way and the pandemic slowing down, it's looking like this summer could be the most buzzing one in years—thank goodness.
After spending the winter in loungewear or pajamas, it seems like the entire world is ready to show off their summer style. You just can't capture the full effect of an outfit on a virtual happy hour, and believe us, we've tried. This summer, however, we'll finally be able to show off all the little details and accessories of every trendy look, up close and personal.
Of all these small style details, we might be the most excited about finally getting to flaunt our summer nail designs. No more hiding those nails off-camera during Zoom meetings!
That is why we decided to compile a guide to our favorite nail ideas for summer 2021. From the trendiest colors to the most unique designs, if you're looking for some nail-art inspiration, we've got you covered.
The Trendiest Colors for Summer 2021
Before we get into complicated designs, let's begin with the nail polish shades that are going to be huge this coming season.
Sometimes, when you do your nails at home, you have to keep it simple—we can't all be world-class artists. So, for these DIY manicures, all you need is a bottle of long-lasting nail polish and a steady-ish hand.
Let's delve into the must-have colors for summer 2021.
Mint Green
Mint chocolate chip ice cream just screams summer, right?! It seems like mint green has been trendy for a while now, and we're here for it. The shade matches every skin tone, it's perfect for any occasion, and it adds a nice little pop of color to every outfit. What's not to like?
Coral Red
Red is an absolute classic nail color, and we're happy to report that it'll still be going strong this summer. This bright shade, coral red, is an attention-grabber. It's fun, flirty, and perfect for summertime. It's cousin shade, a slightly more orange coral made famous by Essie's ultra-popular Clambake nailpolish is also a top contender. And did you hear they've started selling it again after it mysteriously vanished?
Neutrals
Now, time for a full 180: neutrals. Of course, neutral nails are not quite as striking as bright, bold colors, but they're equally pretty. Neutrals tend to work all year round, but warm-toned shades are ideal for the summer. If you want to keep it lowkey and stylish, opt for a neutral manicure.
Rose Quartz
Rose quartz is a shade that's been gaining popularity over the past several years, and we are thrilled to say it's still sticking around. This light, soft hue is fashionable and feminine, and it's neutral enough to work with any outfit. Our past partners Cirque Colors even made a Rose Quartz set so you can turn your nails into pretty stones.
Pastels
Pastels are usually the center of attention every spring (I mean, pastels? For spring? Groundbreaking). This year, it seems like the pastel-love will carry over into the subsequent season. Fruity pastels, like blue, green, and purple, will be everywhere this summer.
Bright Pink
As Elle Woods once said; 'whoever said orange is the new pink was seriously disturbed.' And she was speaking facts—pink will never go out of style. Be on the lookout for hot pink this summer. After living through a pandemic, it's safe to say we all need a little extra joy and positivity in our lives. That's bright pink.
Creative Designs to Show Off This Summer
Now that we've discussed the most popular colors of this coming season, let's explore something a little more complex: nail art. If there was ever a time to experiment with fun, creative designs, it's now. The summer will be here before we know it, and it'll be time to show off those manicures.
We've compiled some of our favorite trendy nail designs to give you some style inspiration. Some of these are easy enough to DIY, but others may require professional help. But who knows—why not give it a shot? Without further ado, here is a list of the best summer nail looks.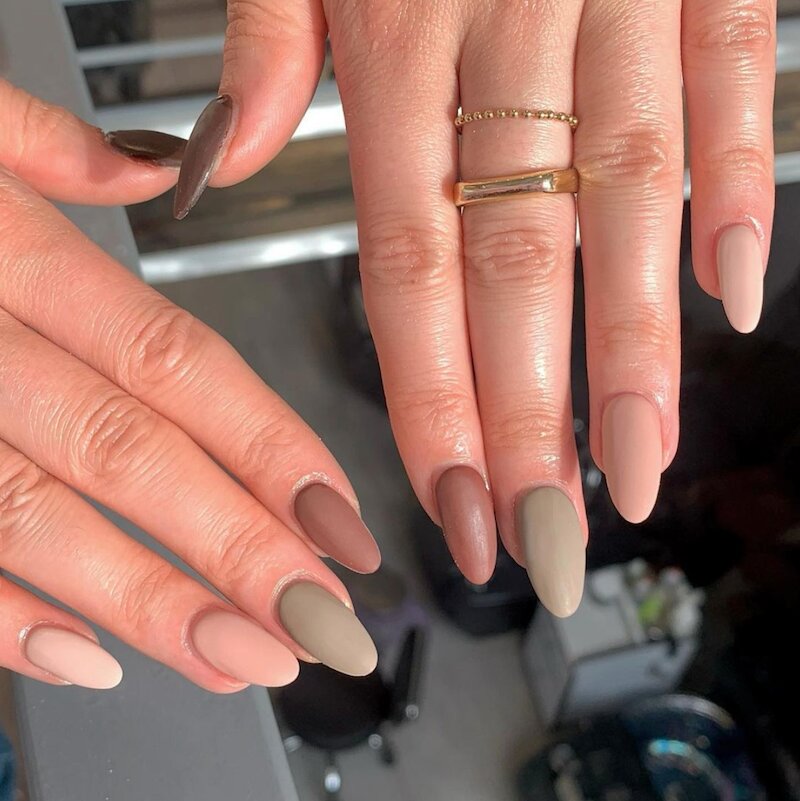 Instagram @brandnailstudio
Color Blocking
Color block nails are a super fun style for the summer. They're perfect for any summer activity you can imagine, from swimming at the beach to picnics in the park to going out to clubs with friends. So versatile.
Even better, the color block design is a breeze to DIY. First, you'll need to pick out two colors (preferably, two shades that complement each other).
Say you choose pink and green. Simply paint your first four nails pink, and color your pinky finger green. Then, once the first coat of polish is dry, grab the next color. Paint half of your thumb, pointer, and ring finger to create that iconic color-block look. Feel free to use as many colors as you like!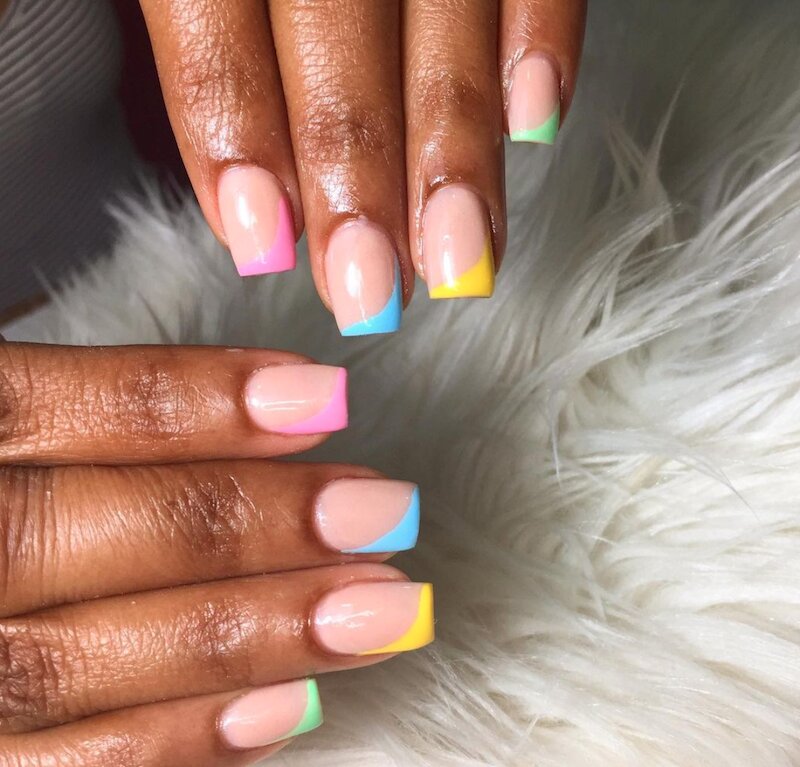 Instagram @teneishas_touch1
Multi-Colored French Tips
French tips are another classic nail design that's been around for ages. Every year, it seems like there's a new variation on this old favorite. This year, we're anticipating plenty of bright, multicolored french-tip manicures. This is another design you could probably achieve at home—yay!
All you need to do is pick out your favorite colors and paint on a diagonal swipe of polish from the top of the nail towards one side. Then, once those blocks of color have dried, choose some more colors. Paint the same shape, this time moving diagonally in the other direction. Then, seal off each nail with a coat of clear polish.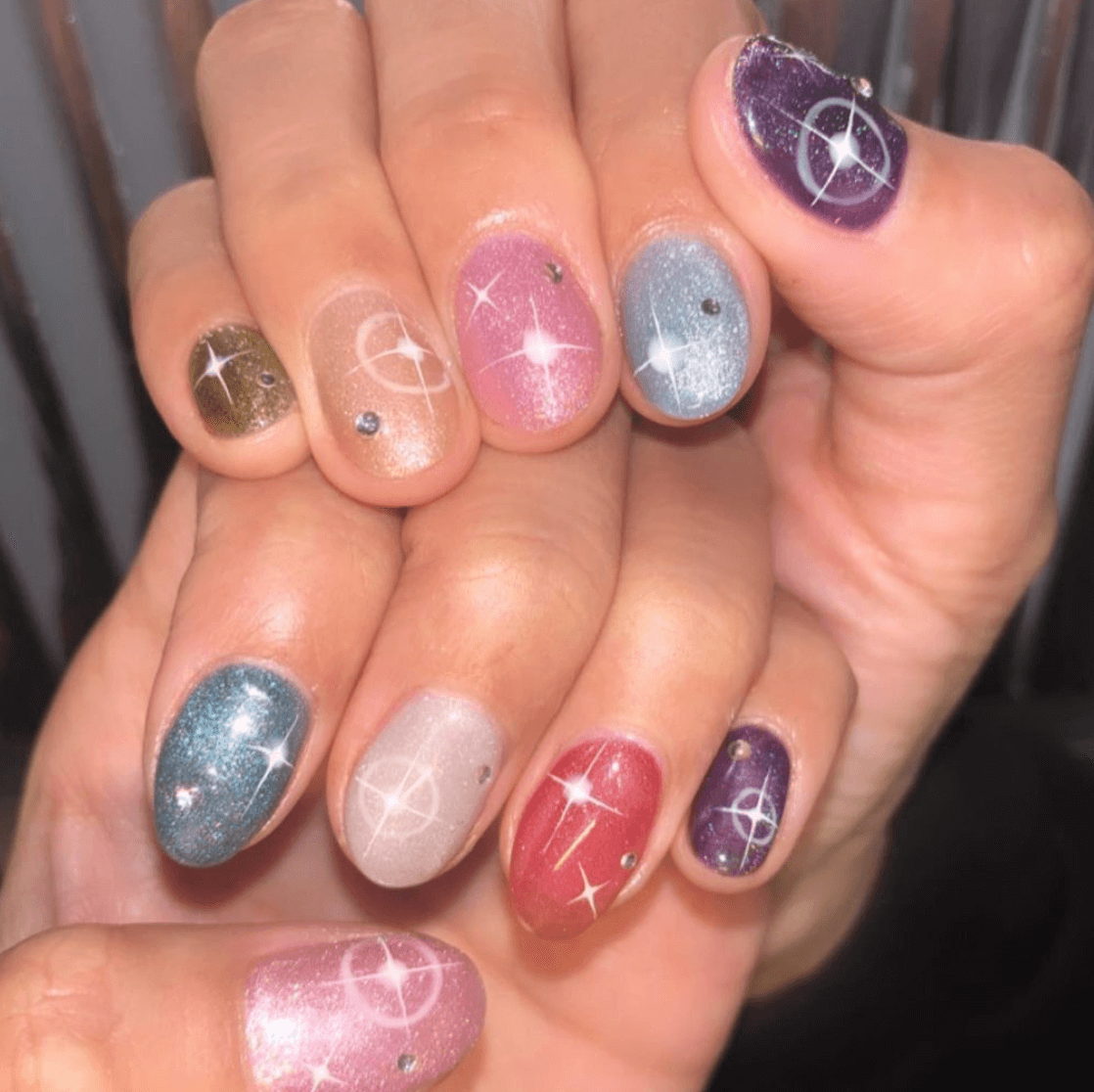 Instagram @nailsbymei
Glitter Nails
Who doesn't love glitter? Different variations of glitter nails seem to crop up all year round. This summer, in particular, we will see a wave of bold, chunky, multi-colored glitter manicures.
Here's another reason to go with glitter: anyone can DIY a glittery manicure. It's just like painting your nails with regular polish.
For an easy, sparkling manicure, start with a nude coat. Once it dries, pick out your favorite chunky glitter polish and paint it over each nail. Add a clear coat on top, and your work is done.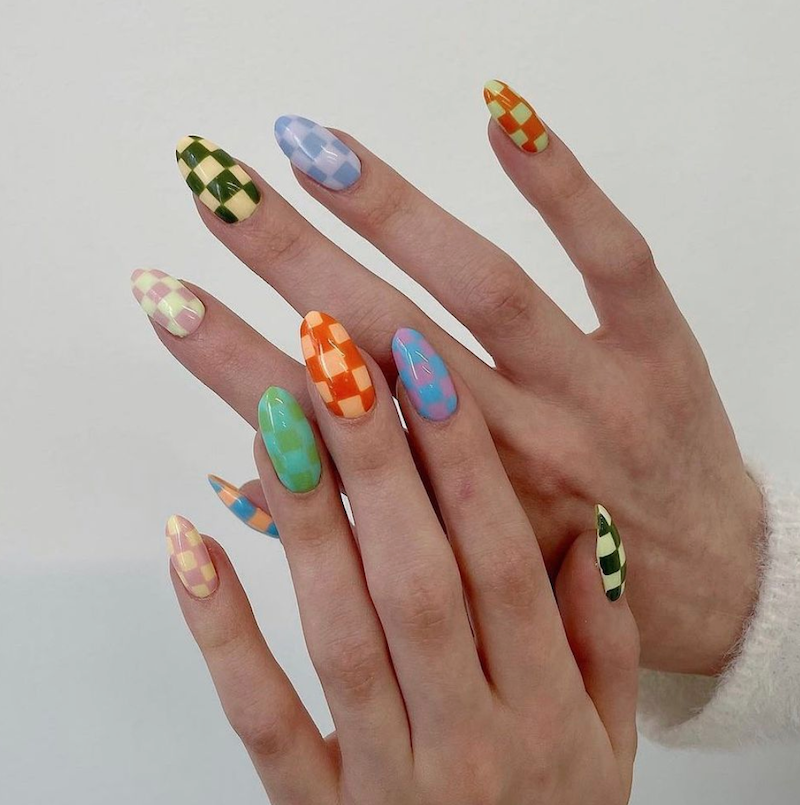 Instagram @yeswhatnails
Checkerboard
Checkered nail designs seem to be the next big thing for the summer. This one might be a little trickier to paint at home, but that's why we have nail salons!
This bold design makes the perfect addition to any trendy summer outfit. Of course, you can pick any colors you want for the checkerboard, but we love a classic black-and-white look. Or, for an even bolder design, you could try the bright red or hot pink shades we mentioned earlier.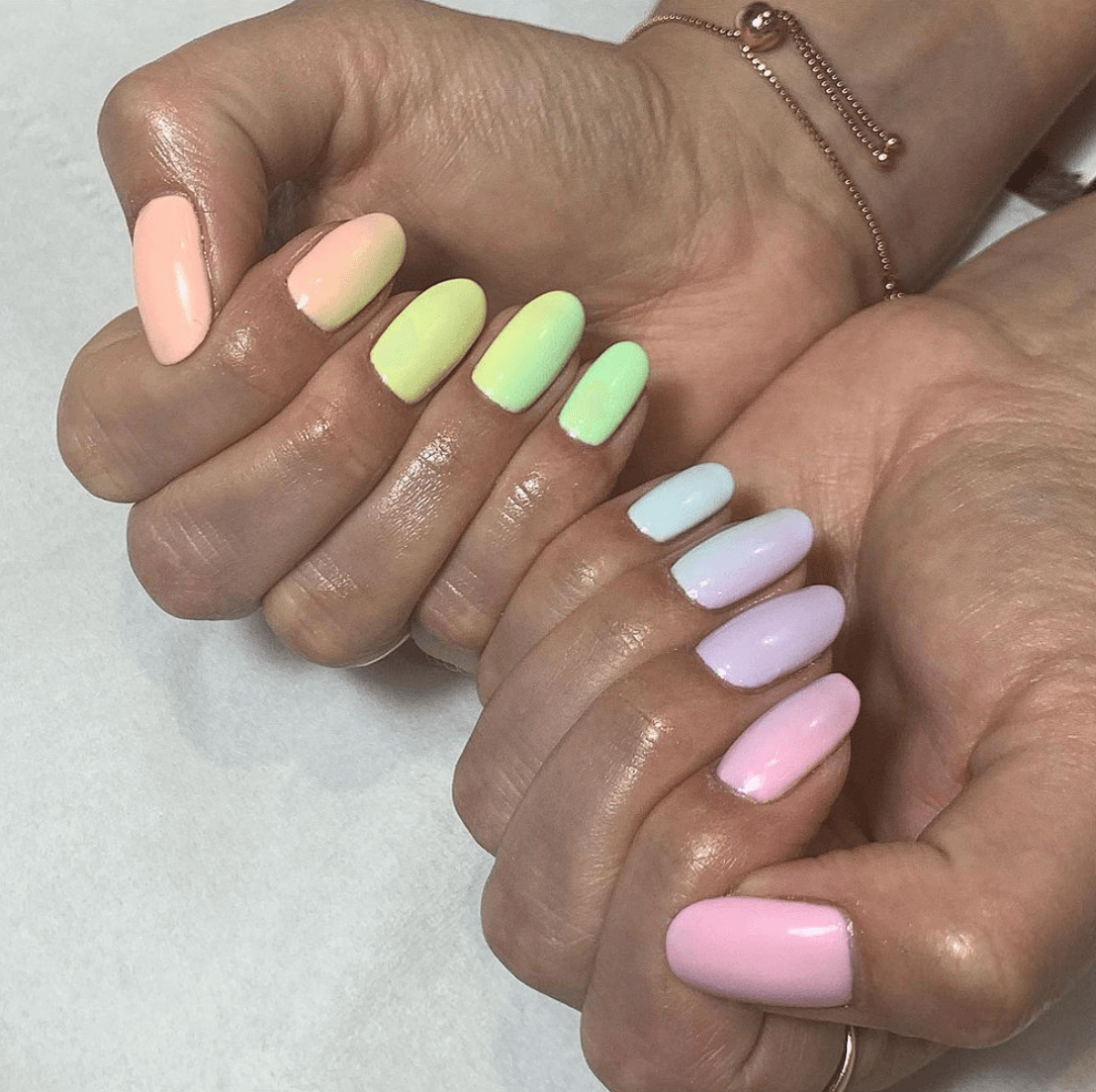 Instagram @beauty_by_vikki
A Pastel Rainbow
This design offers a chance to incorporate all those fruity pastels we listed above. If you're a pastel lover, this is the perfect, easy DIY design for you.
To achieve a pastel rainbow design, just pick out five pretty shades. Then, paint each color on each of your five nails, and repeat with the other hand.
Clearly, this subtle-yet-stylish look is super easy to achieve. If you're feeling lazy, this design requires minimal effort.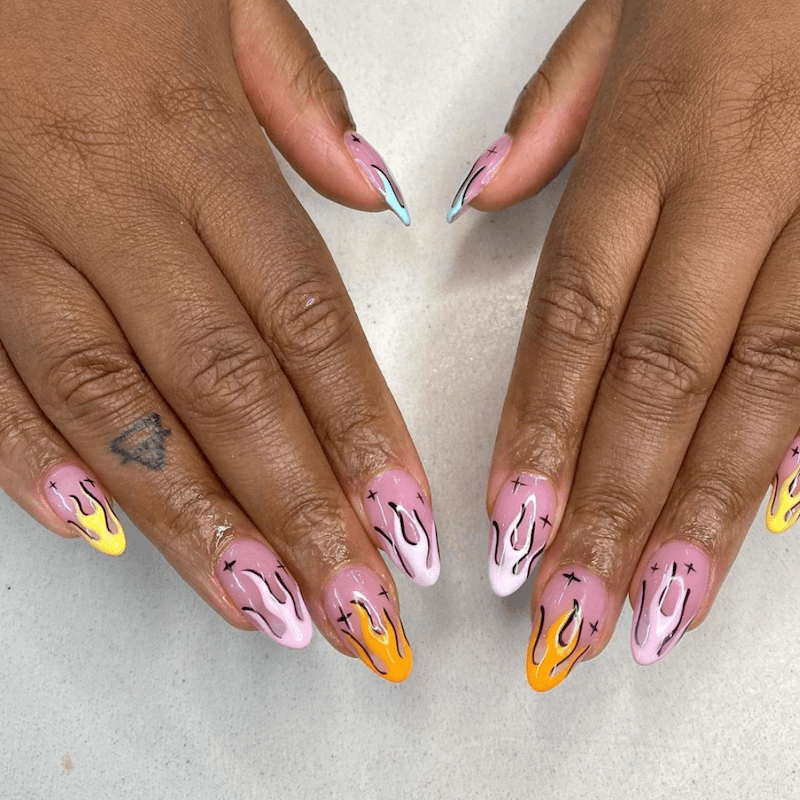 Instagram @ateliersusu_
Flowing Flames
Fiery nails have been all over Instagram recently. Personally, we think the pastel flame design is amazing.
This look consists of pastel-colored flames cascading downwards from the top of the nail towards the cuticles. While the design could work on natural nails, it looks best on coffin or square-shaped acrylic nails. Unless you're an expert, you may want to head to the salon for this one.
This fashionable design will surely make an impression on everyone you meet.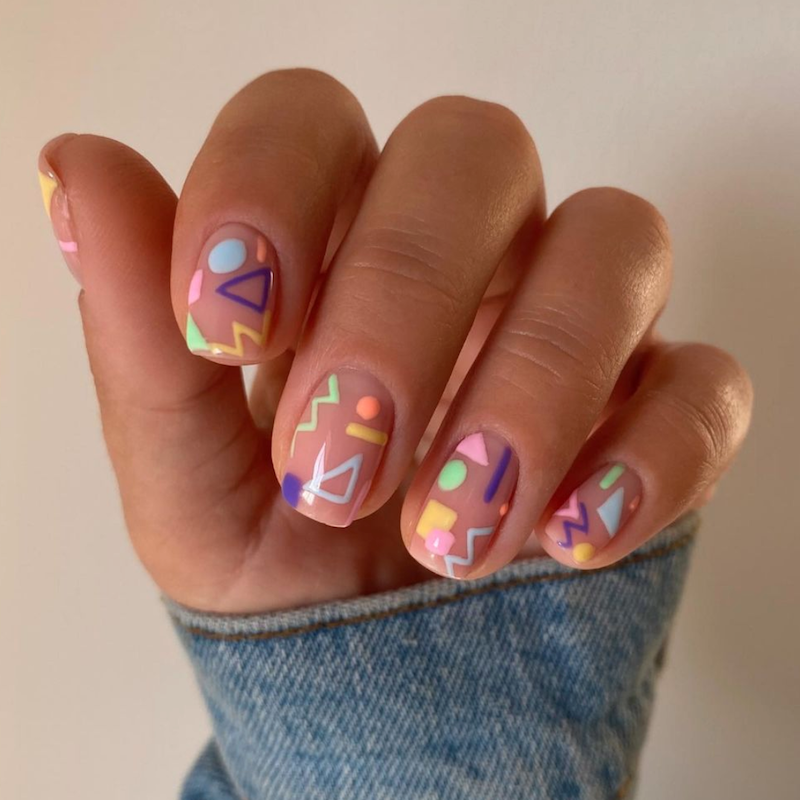 Instagram @charlotteemilybeauty_
Abstract Art
Maybe the pandemic has us missing art museums, because abstract-art style nails are huge right now.
This style leaves the creative design element up to you. Feel free to experiment with different shapes, lines, and bold colors. Look at some modern art and let it inspire you.
One look that we love involves bright, asymmetrical blocks of color on each nail, accompanied by a single, thin line in grey or black. This look is relatively easy to achieve—all you need is a steady hand to draw those straight lines.
Nail Ideas: Wrapping It Up
It's never too late to start planning your summer looks, from nail designs to makeup to outfits.
Hopefully, this article has left you feeling motivated to gather your nail supplies and get down to business. Don't be afraid to screw up—it's all part of the process! If you start experimenting today, you'll be a nail-art expert by the time summer finally arrives.
For more nail ideas from avid beauty fans, download the Supergreat app. We've got tons of articles, videos, product reviews, and shopping hauls to get you inspired. If you decide to try any of these looks, add your review below! We want to see what you create.