We've spent so much time going over the ins and outs of makeup and skincare that we wouldn't be all that surprised if you assumed we forgot about perhaps the most essential component to your everyday look—your nails!
Here at Supergreat, we always say that makeup is simply another form of artistic expression. It is a way to share yourself with the world and create new identities, new looks, and experience escapism. Nail art is nothing to laugh at either. Whether it's your first time purchasing some polish at a local drug store, or you've got your favorite nail technician on speed dial, the free canvases on your fingers are meant to be embellished—and we've got you covered when it comes to ideas.
However, you may be stumped on how to achieve the desired look. Not to worry, Supergreat has you covered. Allow us to point you towards nail designs based not only on your ideal, modeled image but on the shape of your natural (or synthetic) nail.
Nail Nurture
Before we get into the various shapes that you can file your nails into and the best designs for each, we're breaking down specific ways to take care of your nails for effortless and healthy looks. Supergreat user Jannakrystal has racked up over 100 reviews on our platform, and her trustworthiness in all things beauty qualified her to outline some incredible nail and hand care hacks for our community.
Here are a few of her favorite products and their uses:
Udderly Smooth Udder Cream
This flawless skin moisturizer doesn't need to live up to its price ($1 at the Dollar Tree and comparable outlets), yet it still manages to outshine the competition. With a non-greasy, non-sticky formula, the product leaves minimal residue and seeps right into your skin for smooth and soft hands.
Moisturizer is especially important during the winter months when dry skin is abounding. What makes this moisturizer even better is that it is entirely cruelty-free.
Burt's Bees Hand Salve
This product comes in a variety of size options, all of which are in a compact, on-the-go pot that you can pop into your purse. It is meant to be placed onto your hands but should be warmed up with your fingertip's natural body heat first for a melted effect, then rubbed into the skin. It may begin with a tacky consistency, but once it is heated, it adds incredible moisture.
Pro tip: don't use it immediately before picking up a writing utensil or typing—it can leave a slightly greasy residue that fades in time.
Burt's Bees Lemon Butter Cuticle Cream
Not only does this product smell amazing and just as advertised (Jannakrystal likened the scent to lemonade), but the cream is made to rub on your fingers and buff into your cuticles for an extra layer of protection against harsh actions that may occur with a manicure.
Ulta Beauty ULTA Quarter Jaw Nippers
This tool is basically a glorified pair of tweezers, but it is so sharp and delicate that it gets right into hard-to-reach hangnails or torn pieces of skin for easy removal. This is best used before your polish goes on, as it helps to remove excess dead skin that may get in the way.
Caudalie Hand and Nail Cream
This moisturizer is best used after the completion of your nail polish and design, once the dust has settled and your nails are dry. The final step is also common among professional manicures to rejuvenate the areas which may have been irritated.
This cream is lightweight and smells great, too, leaving no sign of grease on your hands and fingertips so you can go out and show off your new look.
Size and Sort
Now that we've covered the bases on proper nail care, let's dive into how to separate your nail type for optimum design and everyday usage. It can be determined correctly by a few factors, and here are some questions to ask yourself or discuss with a nail technician:
How long are your nails? Are they difficult to keep long, or do they tend to crack and break easily? Have you recently taken off a set of acrylics that left your nails brittle and dented? How active are you on an average day? What is your job? Do you spend a lot of time typing on a keyboard or doing manual labor that may get in the way of a longer nail design? Can you stand having nail glue on? Are you prone to heavy lifting? Would a slimmer nail design be hard to maintain with your usual lifestyle?
After you've considered these queries, let's look into some possible nail shapes, ranging from classy and timeless to trendy, modern, and downright unique.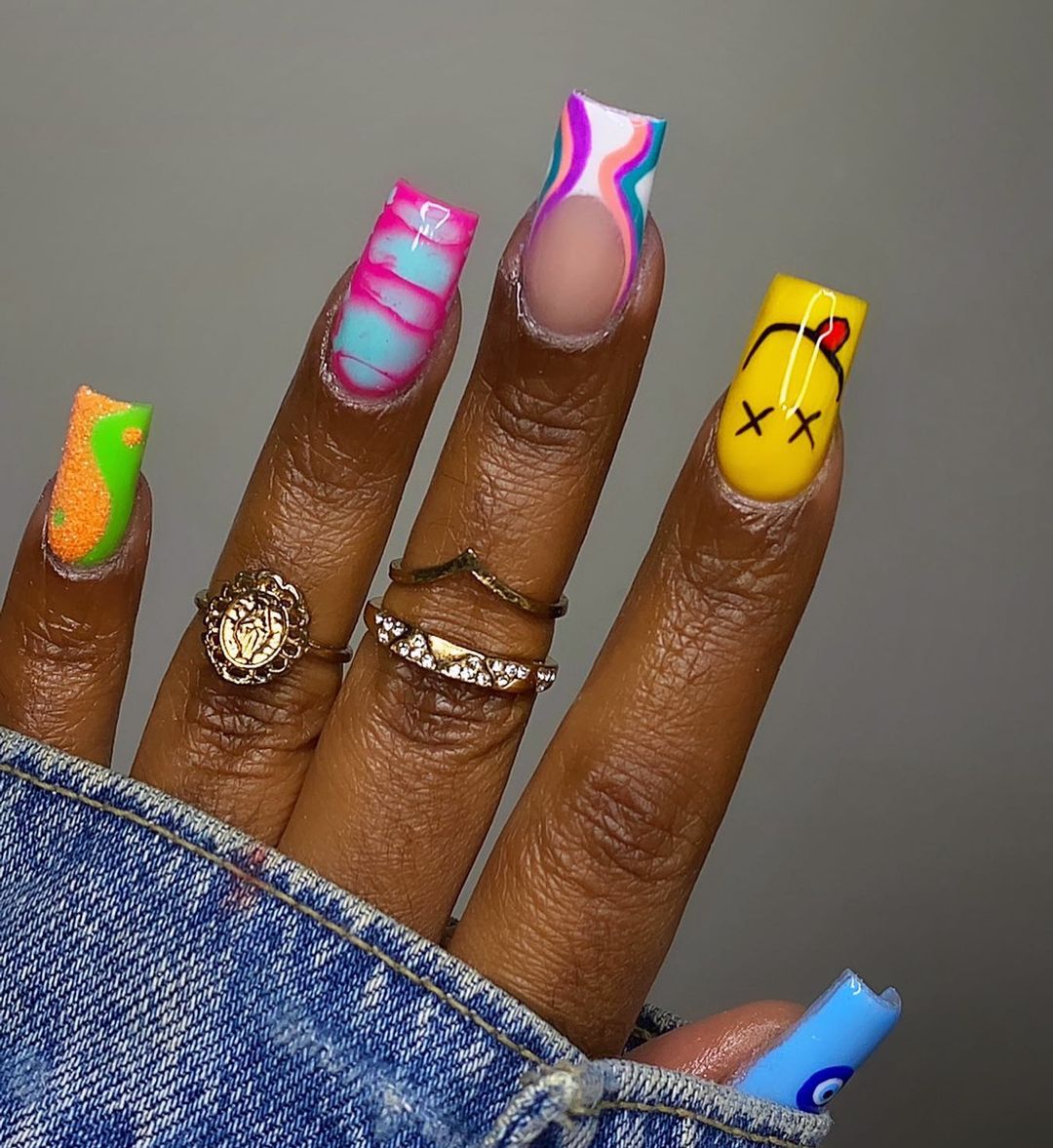 @morghyn_nailedit
Square Nails
This shape consists of a flattened, straight top with corners that remain outright and straight across. They quite literally resemble the side of a square. They can be worn well regardless of nail length but are preferable for people who have narrow nail beds. They're pretty easy to keep up with, even at your own home, as they only require a routine file down to keep the top as flat as possible.
Longer looks may be preferred to avoid the effect of shortened fingers, and this can be achieved with acrylics. These are also great for anyone with a very rounded cuticle. Try alternating between the more modern, super short square nails and the 1990s-inspired longer square nails. They stand out when paired with deep tones of polish.
If you're creating this look, or any, with acrylics, they will need to be filled routinely. This typically is necessary once every one half to two weeks. Before trying this out, make sure it is a good financial investment and feasible within your budget and how much time you may have to get them done.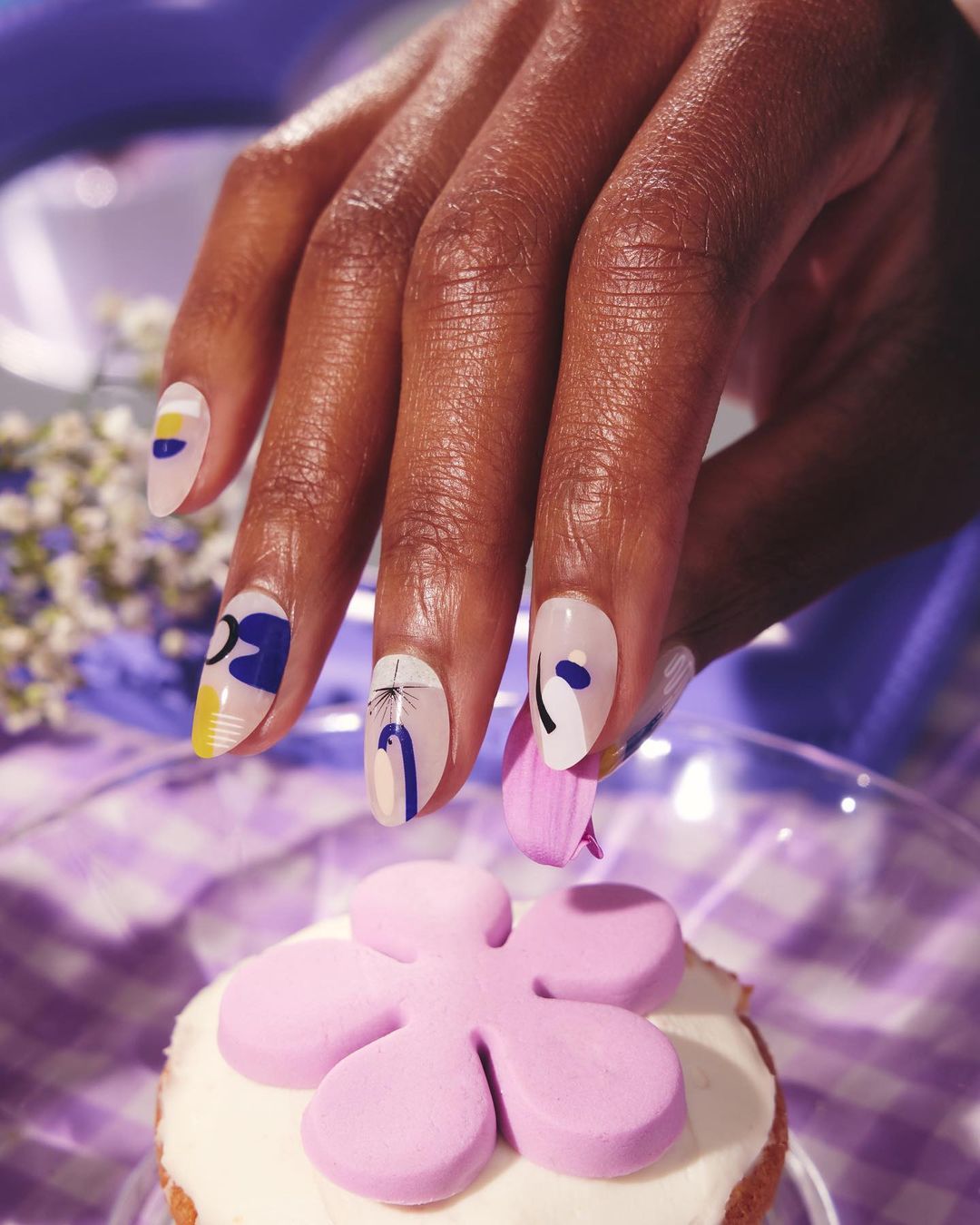 @manime.co
Oval Nails
Nails that are oval have been filed down on both sides, along with the tip, creating a curvature that shows off an elongated look of your fingers. They tend to have a very romantic and dreamy look to them and can pop when left on the longer side of slim hands. If you have a wide nail bed, try adding a fake tip to the end to emulate that slimmed-down look.
Oval nails tend to look best in medium lengths. They are incredibly classic, making them the perfect culprit for all nail art which focuses primarily on color and not designs. Try playing around with multiple colors at once to make the best use of your shape—we recommend trying out ombre nails in this shape.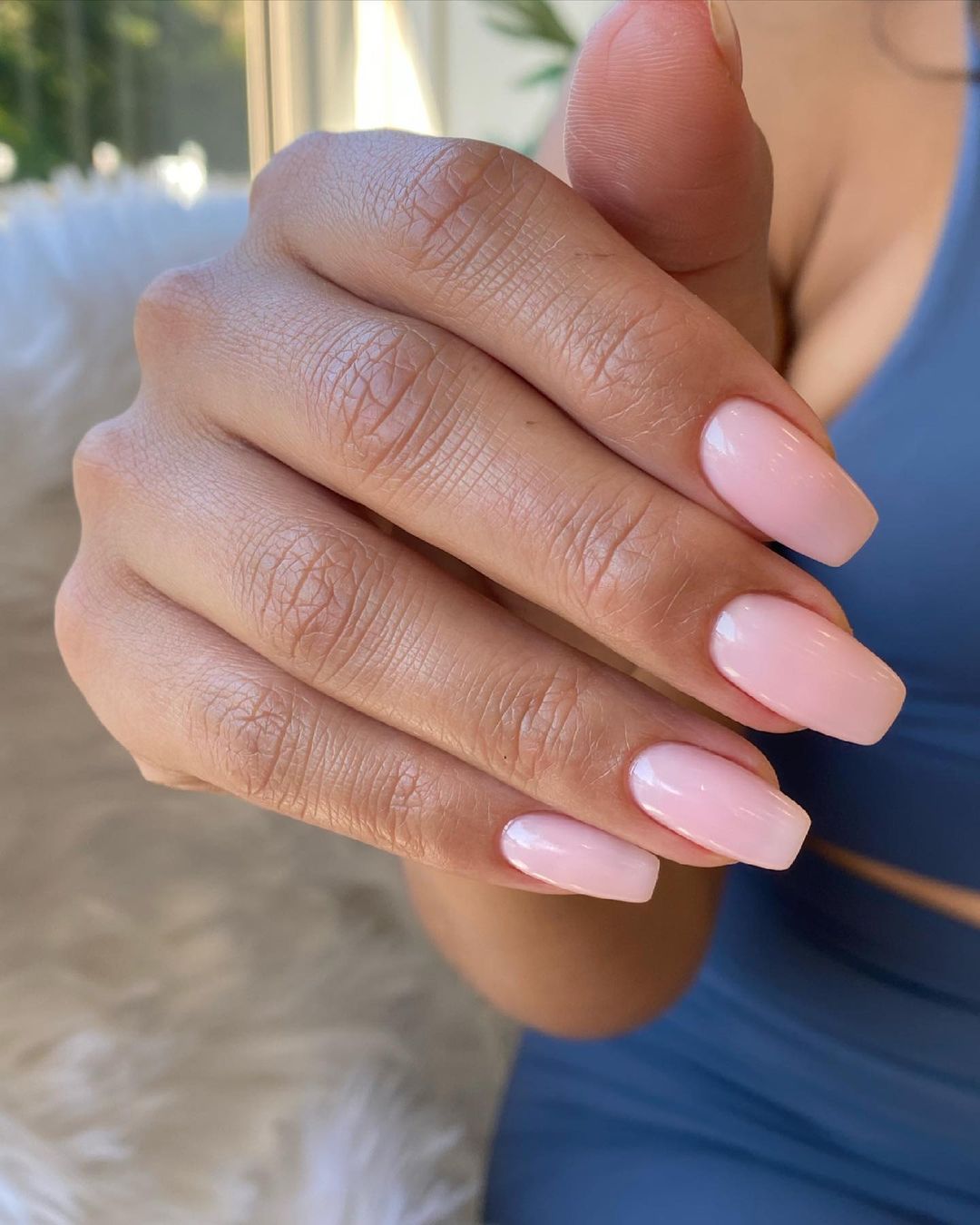 @stephanieyianni_
Squoval Nails
A combination between the aforementioned square and oval nails, this shape features the flattened, straight edge of square nails without the pointy corners for a smoothed-down effect on the sides. It is universally flattering for all hands. Dimension is given by the oval aspects of the look, but the contour comes from the square top.
Tips can be added for additional length, as always, and help accentuate short fingers. Squoval nails are actually best in medium to short lengths and are maintainable for someone with an active lifestyle who may fear breaking longer shapes.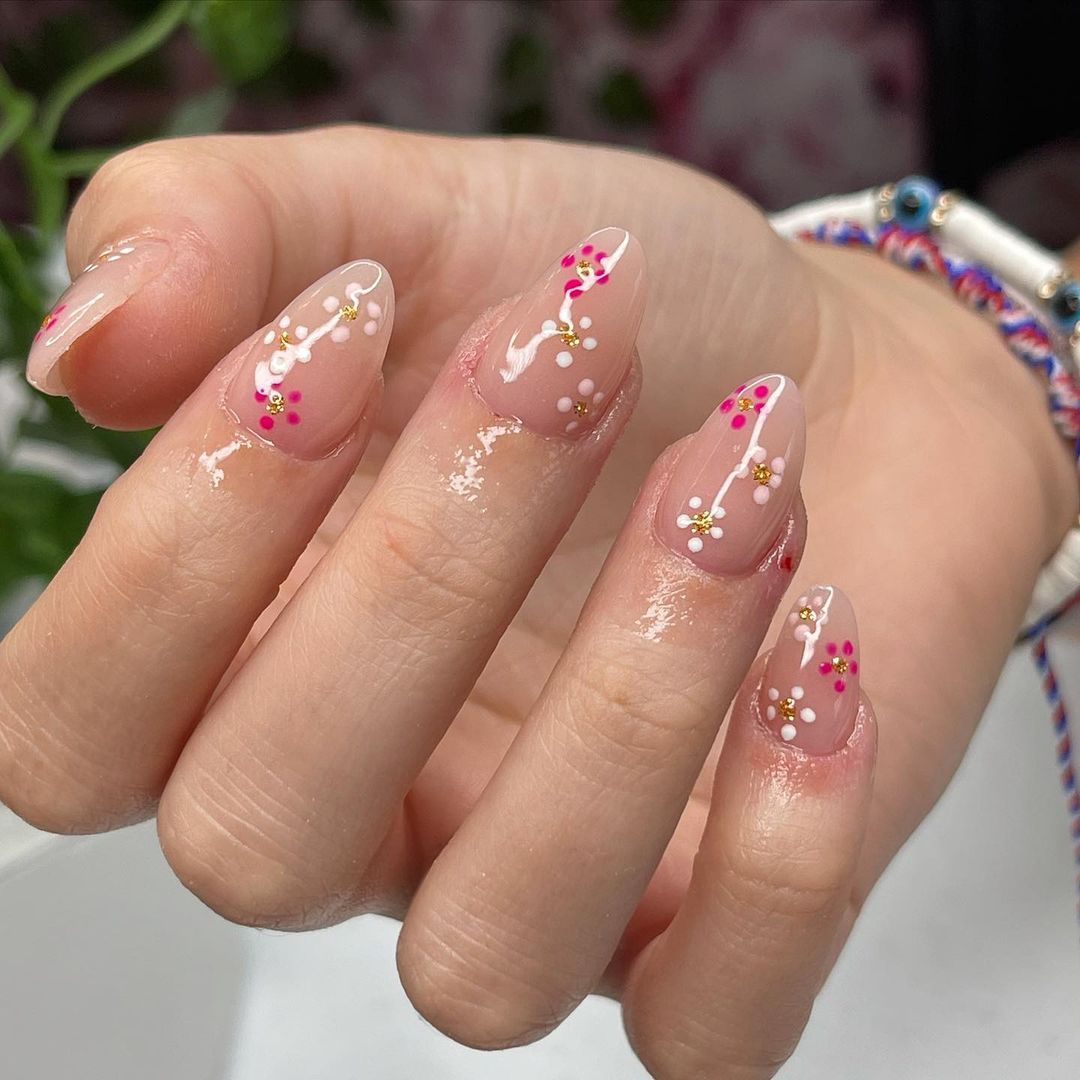 @nailsbymariee
Almond Nails
This shape made waves a few years ago and hasn't seemed to go away since. It is categorized by filing along the sides of the nail with a tapered-in nail wall that creates a rounded, almond top. It can be quite difficult for a natural nail to stick to this shape, and therefore gel and acrylic options are usually used. This look is great for a fashion-forward professional who wants to showcase their knack for nails in the office or the boardroom.
If you aim to grow out your own nails to get this shape, try a serum like the Isdin SI-Nails Nail Strengthener for fast results.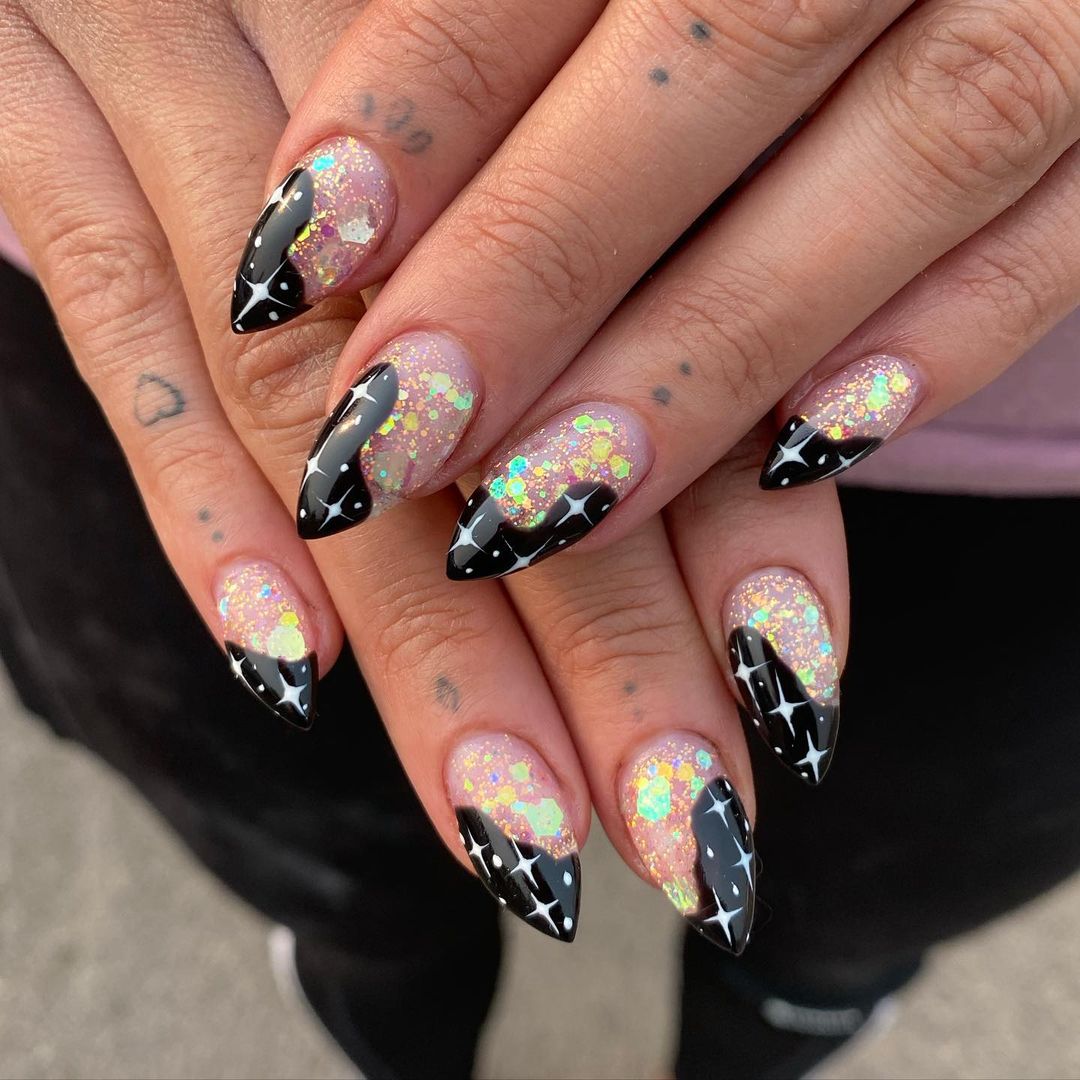 @nails.by.valerie
Stiletto Nails
For bold and brash, unapologetic nails look no further than stiletto shapes. They point at the tip with a super-sharp spike, enough to ward off anyone trying to do you harm. These are great for those with narrow nail beds and were popularized largely through acrylics—you can even try press-on options.
Be wary of how you use them, as they can break quite easily with such a thin tip. Rhinestones can be used to accentuate the spike by placing them at the very top of each nail.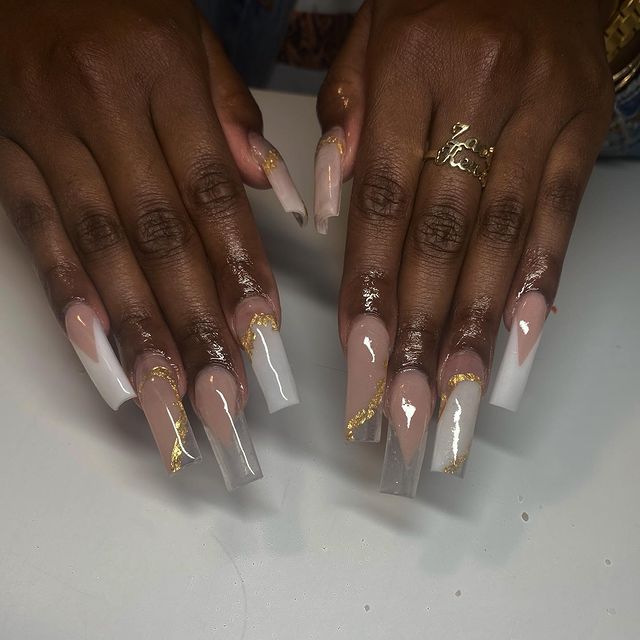 @_serenitynails
Ballerina/Coffin Nails
If your nails are naturally super sturdy and have excellent length, look into ballerina or coffin nails. These are really trendy and turn heads on slender fingers. Recently, they've been popularized with matte finishes.
As always, lengthier options can call for acrylics but may need a cheaper outlet. Try the Kiss Night After Gel Fantasy Sculpted Nails for $9 or the Static Nails Dusty Rose Coffin set for $14.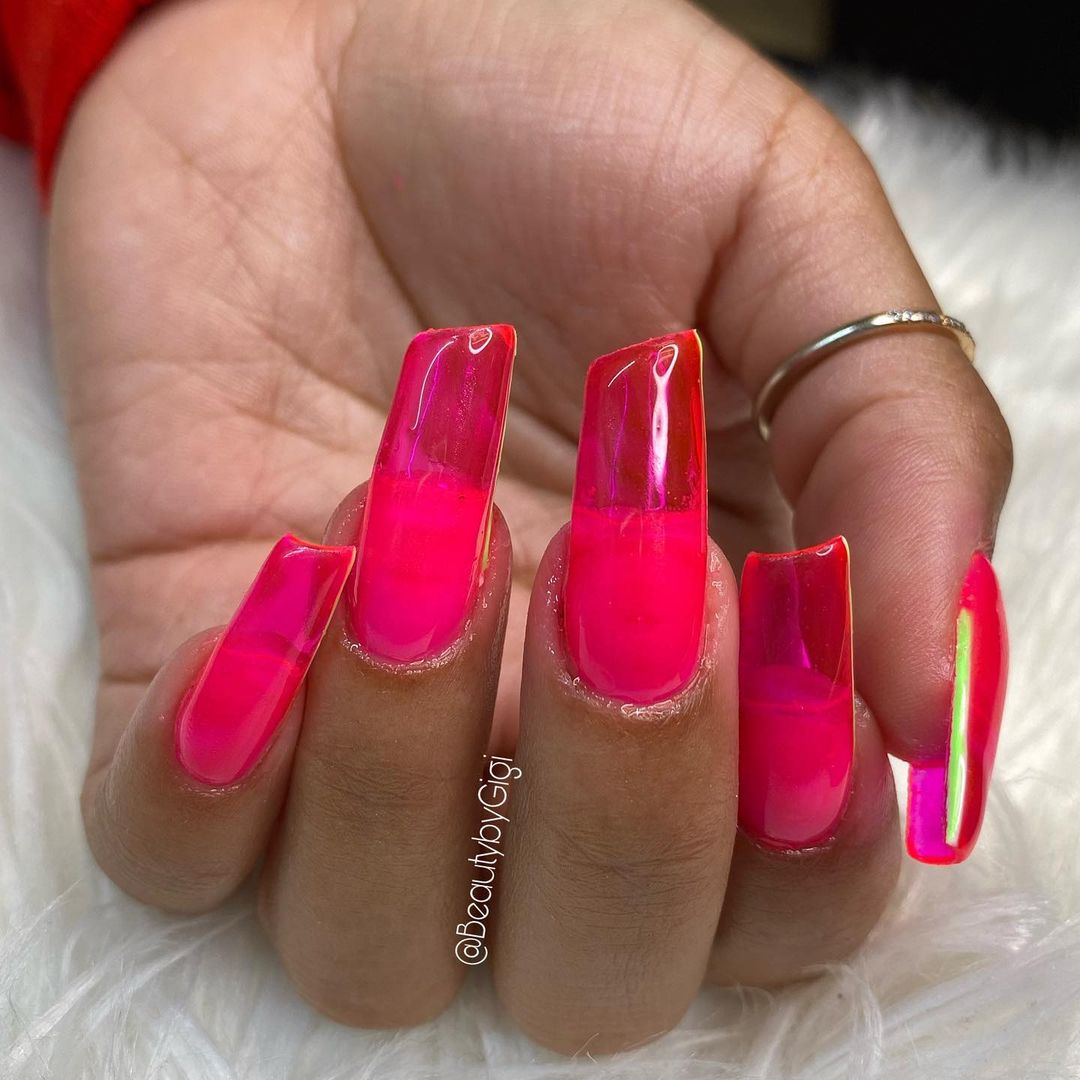 @beautyby_gigi
Lipstick Nails
Talk about interesting. These nails are so unique that you may have never even seen them on a hand. Featuring a diagonal tip likened to that of an unused, fresh lipstick, the angle cut is great for multi-colored French tip fun or minimalistic, geometric designs.
Color Corrected
Once you've settled on a nice shape, check out a few colors of the summer season. Mint green evokes that ice cream feel, coral red is perfect for days at the beach and tropical vacations, rose quartz is as hot as can be in a subtle way, and some bright pink never hurt anybody.
If you're more into what goes on top, check out color-blocking. It's a great way to maximize your color usage and bring contrasts. Glitter nails never go out of style, checkerboard designs are raging, and abstract art like blocks, lines, and freestyle shapes is as 2021 as it comes.
What To Consider Next
If you're in a pinch, check out a local nail salon and pay a visit. After COVID-19 restrictions, they'll be happy to get you started with a set of nails so killer, they're to die for.