What better way to pamper yourself after a long day than a warm and relaxing bath? The thought of the water mixing with the colors and scents of my favorite bath bomb is enough to calm me. And just when I thought things couldn't get any better, CBD bath bombs were invented!
If you want to know more about the CBD bath bomb, its benefits, safeness, and how to use it, then keep reading. As a bonus, we'll also look at how a CBD bath bomb differs from a regular bath bomb, plus how to make your own!
What is a CBD bath bomb?
First, let's examine what "CBD" means. CBD stands for cannabidiol, which is one of the active compounds found in the cannabis plant. Cannabidiol (CBD) oil is diluted with a carrier oil. Early research around CBD has revealed that it's beneficial for sleep and effective at reducing pain, anxiety, and inflammation. CBD is so popular that it appears in lotions, creams, gummies, and even skincare products!
A CBD bath bomb is a ball-shaped product added to bathwater for a delightful combination of fizz and fragrances. Other bath bombs add colors, too.
CBD bath bomb vs regular bath bomb
Put simply, a CBD bath bomb is a regular bath bomb with CBD in it. Just like other bath bombs, CBD bath bombs are made of essential oils, terpenes, salts, and a few more key ingredients to help them dissolve in water.
Bath bombs are one of the most popular bathtub products because of how relaxing and fun they are to use. Bath bombs, made with CBD or not, come in a variety of shapes, scents, and hues. Fun fact: bath bombs were invented in 1989 by Mo Constantine, co-founder of Lush Cosmetics.
How to use CBD bath bombs
Use a CBD bath bomb the same way you would your favorite bath bomb.
Fill your tub with warm water.
Drop the bath bomb when it's full. You can use a regular Lush Bath Bomb or try a CBD bath bomb from Amethyst + Alchemist.
Bath bombs will begin fizzing and releasing oils and fragrances upon contact with water. Wait for the bath bomb to dissolve completely.
Enjoy your warm bath.
Now, I'm sure you're wondering if using a CBD bath bomb might affect your mental state.
Effects of using CBD bath bombs
No, using a CBD bath bomb will not make you high. CBD is different from tetrahydrocannabinol (THC), the compound responsible for marijuana's psychoactive properties. Instead, CBD is usually used to help with pain and inflammation, which is why some people seek CBD oil for treating these conditions. However, it's still best to be careful when buying CBD-based products because some might contain traces of THC. If you don't want that, make sure to buy bath bombs with broad spectrum CBD or CBD isolate.
CBD bath bomb benefits
While we've been using bath bombs for over three decades, there aren't many scientific studies about the health benefits of bath bombs or bath salts. Nonetheless, we can examine existing studies on the impact of CBD and cannabis on skin for starters.
CBD was revealed to have potential therapeutic effects on acne, seborrhea, eczema or dermatitis, and skin barrier function.
CBD has promising anti-acne properties because of its impact on sebocytes, which are the cells that produce the oil responsible for pimples.
The cannabis plant has also been found to have antibacterial and antifungal properties.
In short, CBD can be good for managing acne and other skin problems.
How safe are CBD bath bombs?
Due to the lack of scientific research on the long-term effects of CBD and its impact on the skin, there is no 100% foolproof answer to this. But as with any other skincare product, discontinue its use when you develop a rash, swelling, or any kind of irritation after using a CBD bath bomb. Note that irritation may be caused by CBD or the essential oils in the bath bomb.
A few people may also experience some side effects (e.g., fatigue, weight change) upon trying CBD. So, consulting your doctor before using CBD is a good idea.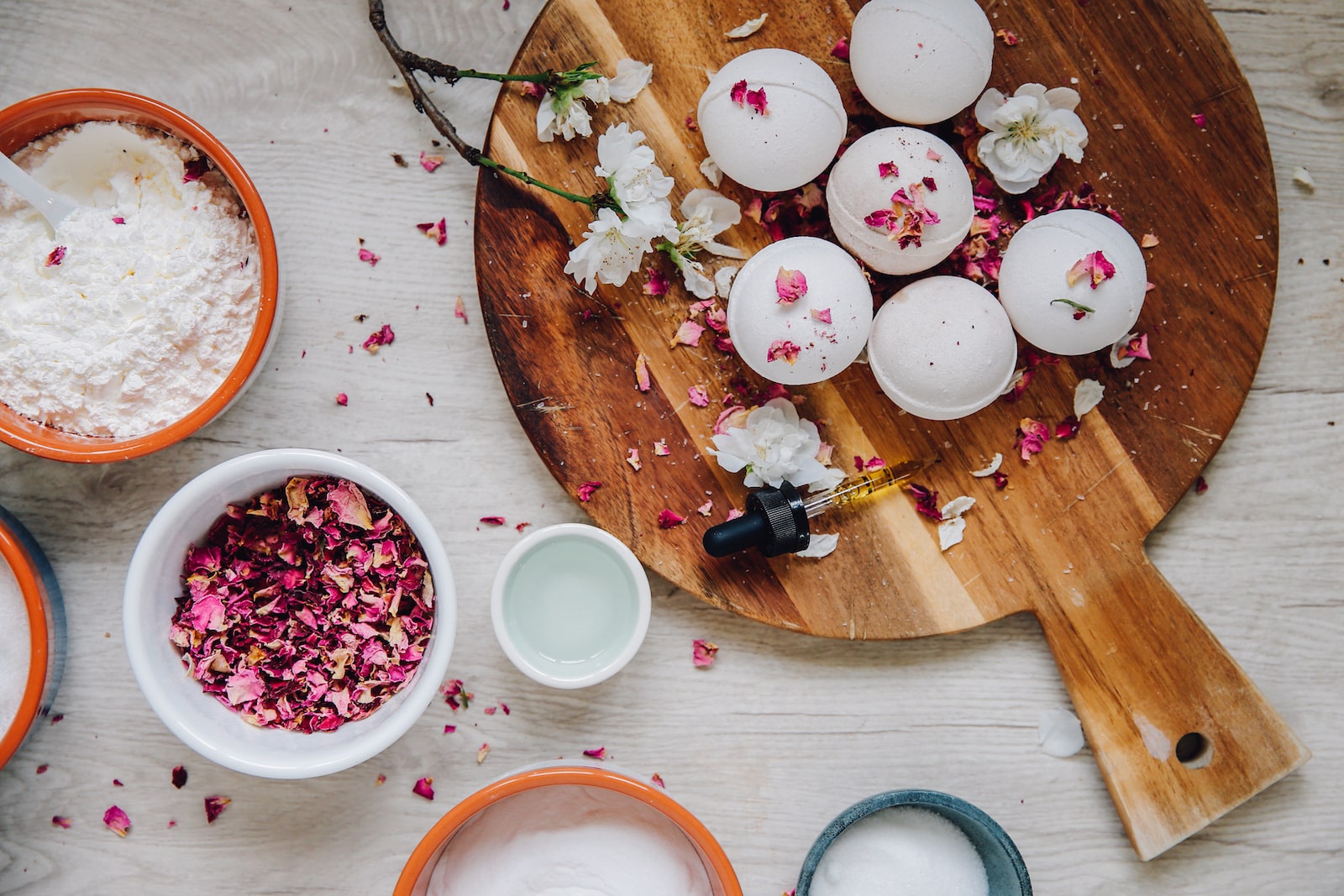 CBD DIY
Bonus: How to make CBD bath bombs
Baking soda, citric acid, and cornstarch are the essential bath bomb ingredients. Meanwhile, a CBD bath bomb recipe has the following key ingredients:
1 cup baking soda
1/2 cup citric acid
1/2 cup Epsom salt or sea salt
1/2 cup cornstarch
2 tablespoons coconut oil
1 tsp water
10-15 drops of essential oils
3 mL of CBD oil (preferably broad spectrum) or 0.3 grams of CBD isolate
Mix baking soda, salt, cornstarch, and citric acid in a bowl, and stir until the mixture is consistent.
In another bowl, combine coconut oil, CBD oil or tincture, essential oils, and water.
Combine the dry ingredients with the wet ingredients slowly. Mix thoroughly.
When the mixture is done, it should be generally dry, but moist enough to stick together when packed.
Pack the mixture into the mold of your choice. Press firmly to create compact bath bombs.
Leave the bath bomb to set in the mold for an hour.
Remove it from mold. Let it dry for at least 24 hours before using it.
Key points
CBD bath bombs are a new way to enjoy your cozy baths. With CBD's anti-acne properties and the relaxing effects of essential oils and warm water, you're bound to feel brand new after a dip.
What's your favorite CBD Bath Bomb?
Add your favorite below!