Last time I had a 1 hour facial, I was woken up at the end by the esthetician who said: "you've been snoring."
She was incredibly nice and my skin looked great afterward, but I was bummed that I had missed the whole process because 1, I love asking a million questions about skincare and my face, and 2, I like to know what I'm paying for so I can find the best possible facial and stick to it.
I should preface this review by saying that I've been to Rescue Spa, Hey Day, and a bunch of one off places in New York City and I've never met a facial I didn't like. I've tried the most and least expensive facials out there—I love them all, whether I'm getting extractions, having my jaw and cheeks massaged with product, or trying out cool zapping gadgets and LED masks.
After trying Glowbar for the first time (the service was free, and I went live on the app to show you all the process) I have now found my go-to place for facials. Here's why.
It's fast as fk:
Glowbar facials are only 30 minutes long. "A few years ago, Rachel Liverman, the CEO and Founder of Glowbar, realized that she wasn't taking proper care of her skin and seeing an esthetician as often as she knew she should, despite being a trained esthetician herself," says Glowbar Community Coordinator Laura Morse. "She came to understand that it boiled down to two main things: time (facials are lengthy!) and money (they're also expensive!), and she knew I could create a more efficient and effective option for the consumer to help them take better care of their skin, consistently."
When you visit Glowbar, you wash your own face (with IS Clinical cleanser, might I add) before your facial to avoid all the time wasted on estheticians washing your face—it's honestly genius. Why should anyone be paying for that? As soon as you walk into your room, you get a quick consultation based on what your skin needs. Catharyn, the esthetician who helped me and whom I am now obsessed with, immediately noticed that I need some deep exfoliation and moisture. She asked me if dermaplaning, high frequency, a chemical peel, and LED would work for me—honestly she could have offered me anything and I would have said yes.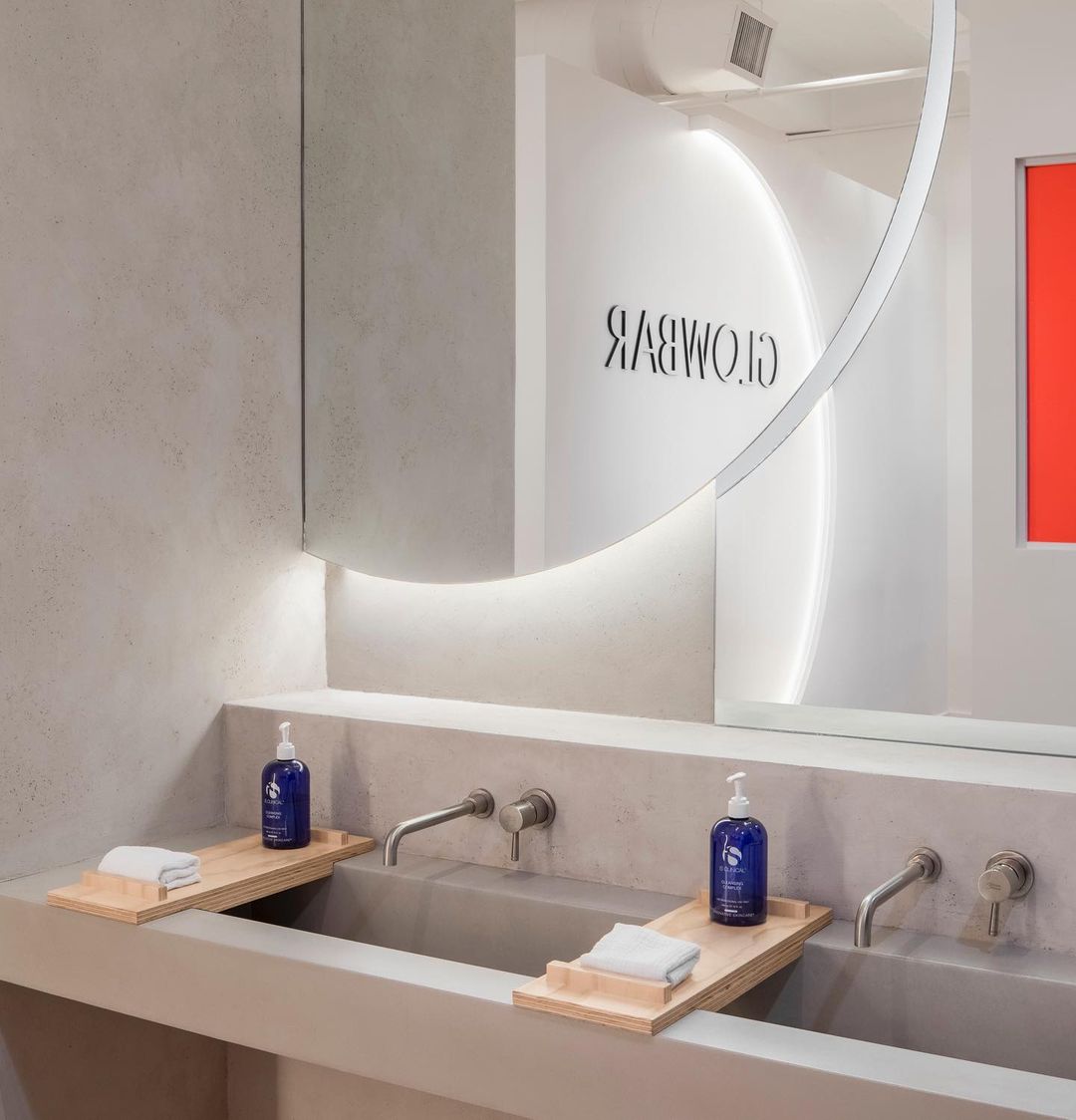 The face washing station at Glowbar
It's affordable as heck:
Glowbar facials are $65. "Each treatment looks different based on what your skin needs that day," says Morse. The treatments they offer are things that you can't do at home unless you are extremely brave (and possibly reckless) or a professional, such as dermaplaning, manual extractions, cavitation, chemical peels, micro-current, high frequency, and LED. This means no time or money spent on things you already do for your skin in your own bathroom, including serums, creams, masks, and moisturizer.
Everything I got in 30 minutes:
Dermaplaning: "I know you got a lot of reactions to it during this part of your Live Glowbar treatment," says Morse, who was standing over me during my live event and fielding all your questions. "Dermaplaning is the process of using a surgical blade to remove dead skin cells and peach fuzz from the surface of the skin, leaving your skin smooth and glowing while allowing for better product penetration."

High Frequency: This tool is used to treat and prevent acne, reduce the appearance of fine lines and wrinkles, shrink enlarged pores, reduce puffy eyes, and fade dark circles—all the good stuff.

Chemical peel: This treatment uses a chemical solution to remove dead layers of skin, reduce the appearance of fine lines and wrinkles, acne, scars, and uneven skin coloring.

LED: I wore a red LED mask, which reduces redness, swelling, and bruising, and speeds up the healing process for acne and scars.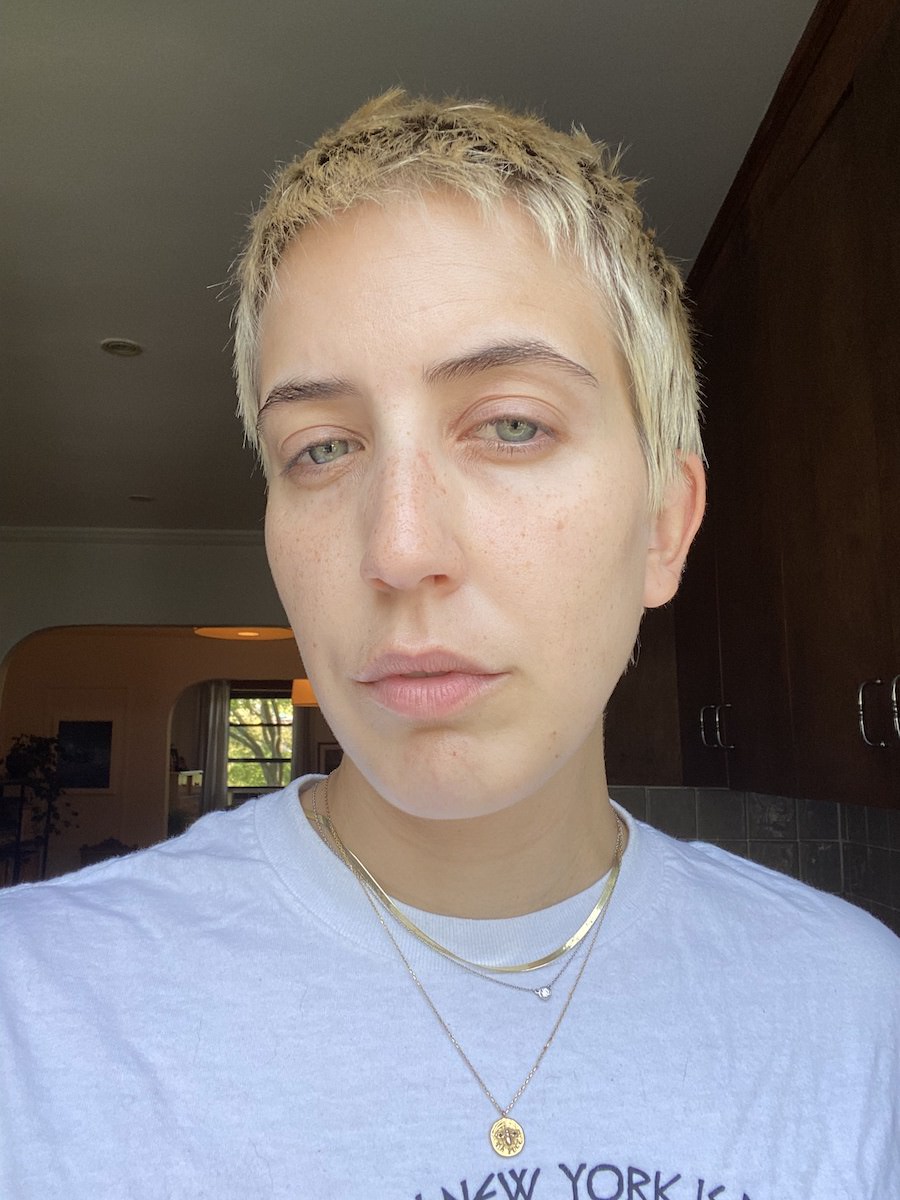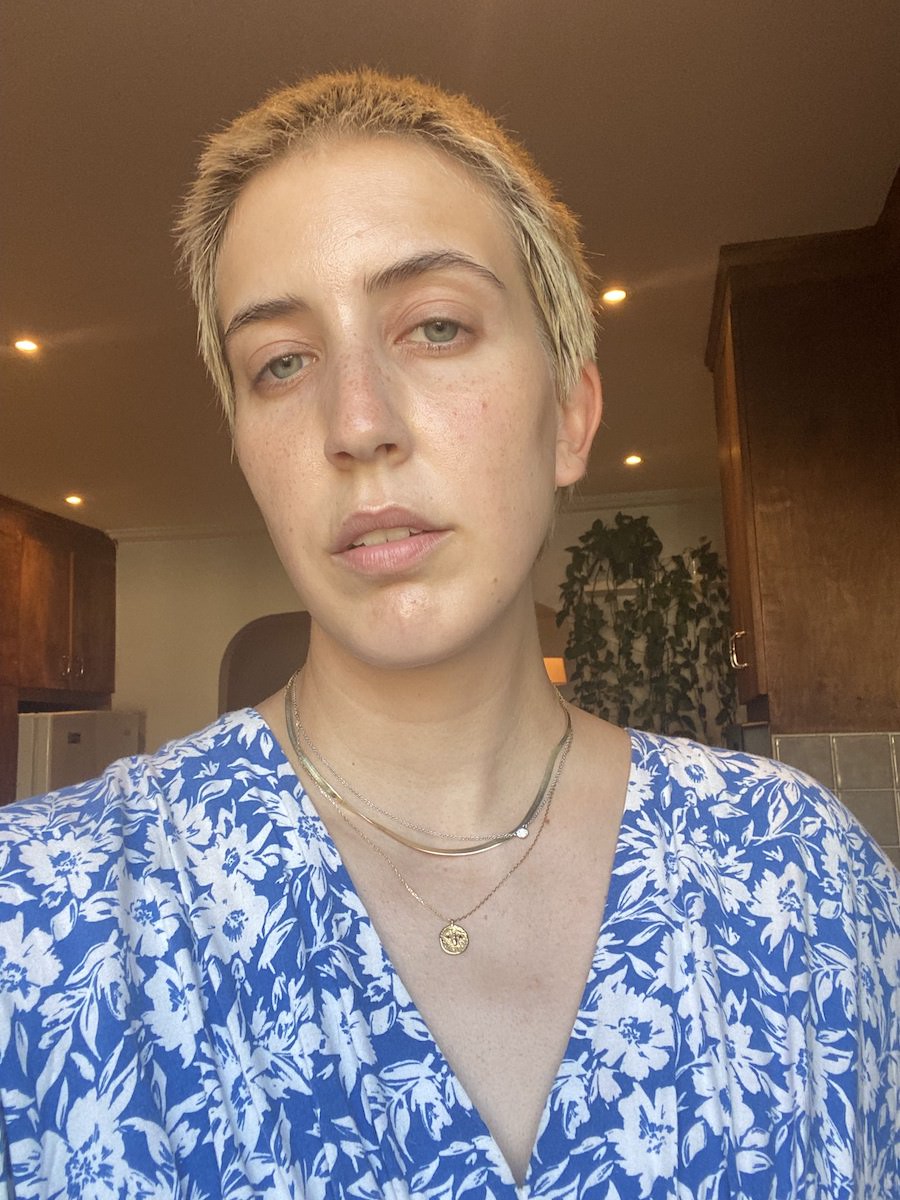 My face felt like a baby seal after they were done with me—even after several hundred dollar facials, my skin was never this smooth and glowing. I sent photos to all my friends and was very obnoxious but a lot of them have since booked their first appointment.
The products they use are dope:
"We carry clinically tested skincare products from our three exclusive brand partners: Environ, IsClinical, and EltaMD," says Morse. "We love carrying these brands as they can't be found in a Sephora or an Ulta, they are the type of product that you would find in a dermatologist's office. At the end of your Glowbar treatment, your esthetician will fill out a "Seal the Deal" where they will recommend products to implement into your routine that will work hard at achieving your skincare goals in between each Glowbar visit."
Everything else you need to know:
Here's a crazy fact; Glowbar founder Rachel Liverman's grandmother, Catherine Hinds, founded the first accredited esthetics school in the U.S. in the 70s—it's called the Catherine Hinds Institute of Esthetics and it's still around today. Liverman worked in beauty for a decade before starting Glowbar, working and consulting for brands including Birchbox, Stila, and Eyeko. She also worked in Business Development at Beautyblender for three years. Basically, her grandmother pioneered the skincare industry in the 70s, and she did the same in 2019 when she launched Glowbar—forever changing the way we get facials. The first location was in Tribeca, in New York City, and they've since opened up shop in the UES and Westport. They plan to have 12 locations by 2022, so follow them on Instagram and keep an eye out.
Look at my beautiful skin, right as I walked out and then one week later: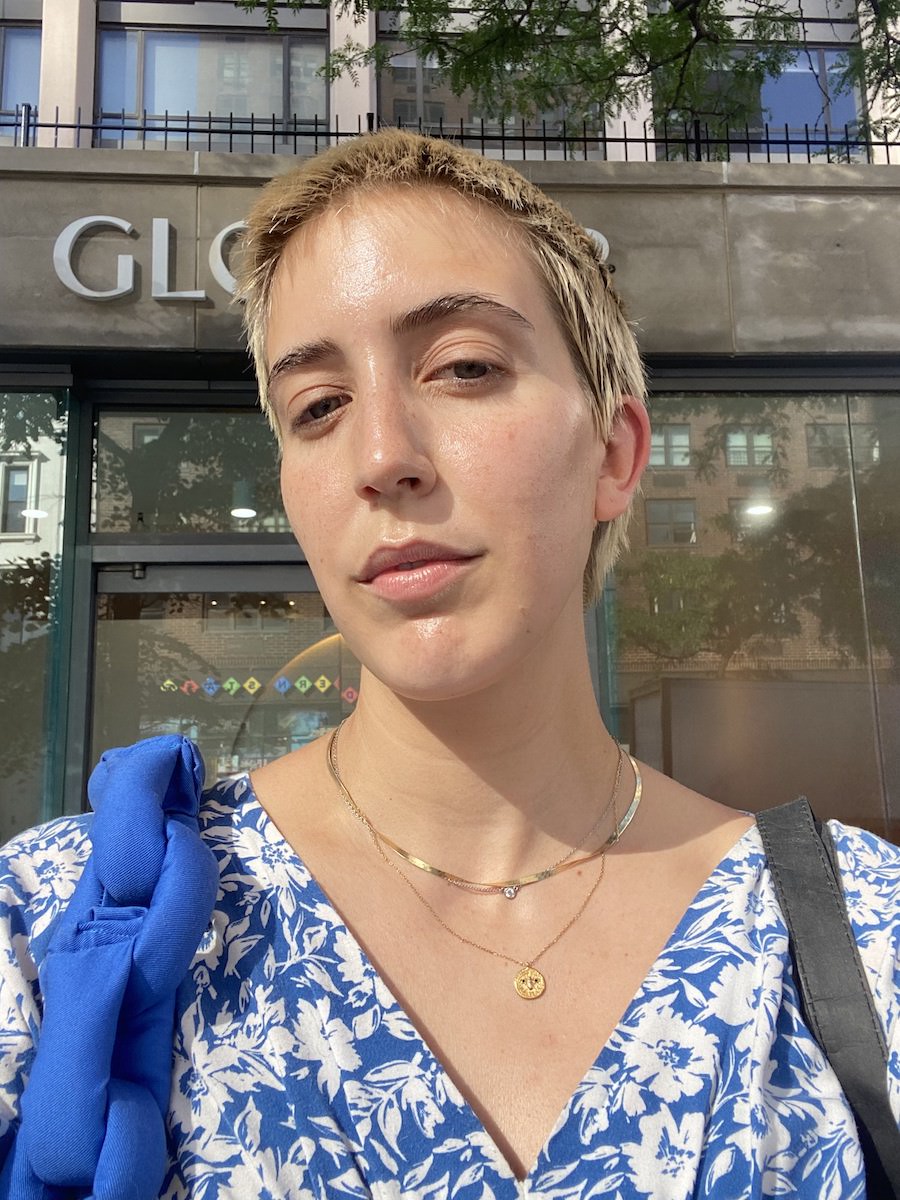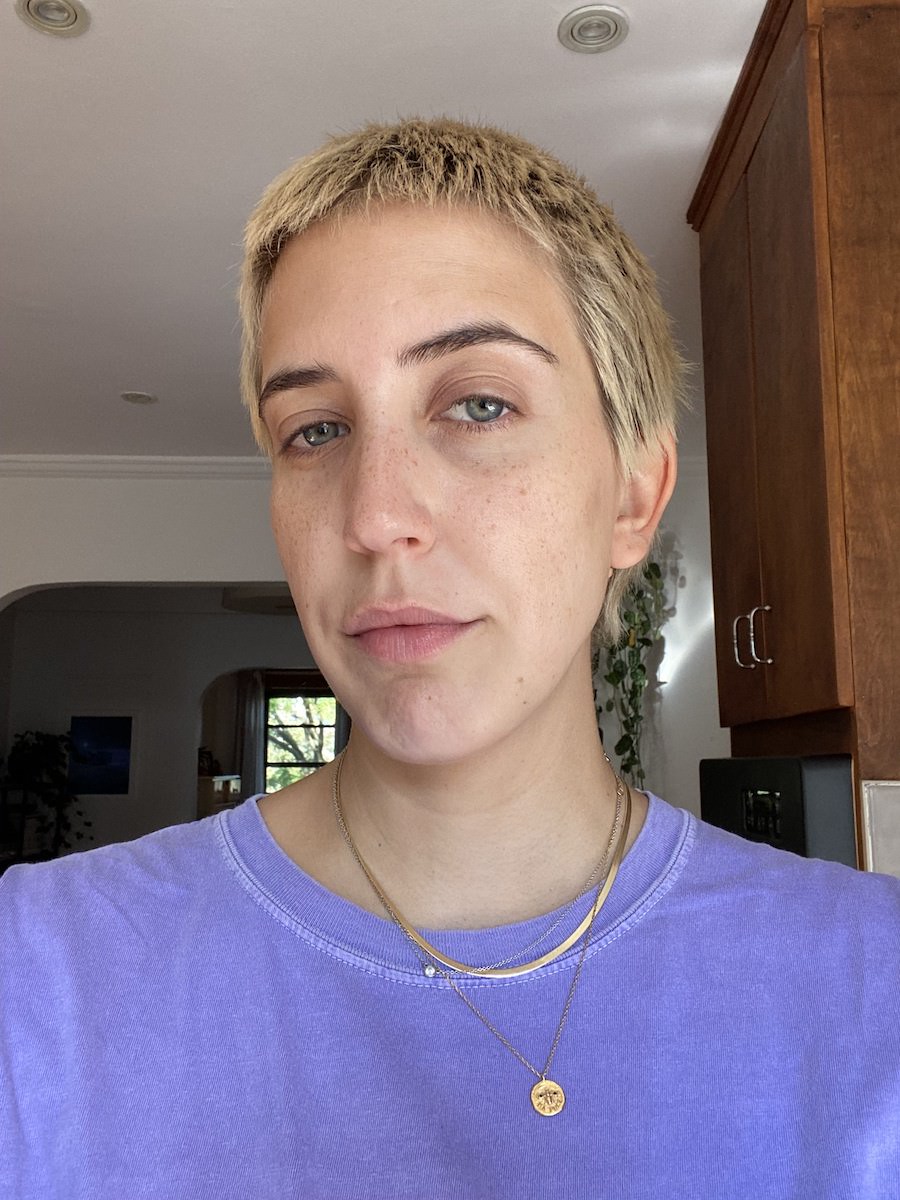 In the days following my treatment, I didn't break out and had no irritation or redness whatsoever. Catharyn (the esthetician) did warn me that I might have some redness because of the chemical peel, but it had disappeared by the time I walked out. Some minor breakouts and redness after facials is normal, but I didn't break out and my skin was shiny for weeks—I'm already planning my next facial for an upcoming wedding.
Glowbar memberships are $55 for 1 facial per month—this is significantly less expensive than other membership facial programs I know of. If you refer a friend, you both get $10 at Glowbar! Read more about them here.