Back to school is here, so we here at Supergreat are giving you a very special education from Skin School. There are so many ways to take care of your skin: the k beauty 10 step routine, regularly applying SPF, washing twice a day. The options can be overwhelming.
This week we are educating you on everything skincare so you can know exactly what you need to take care of yourself. We have tons of lives and some very special drops. You won't want to miss out. Time to pack up your backpack with the essentials you've been missing out on.
But that's not all! If you're interested in extracurricular activities, we also have 24 Back to Skin School Live shows hosted by our Superhosts and Supercreators so get our your no. 2 pencils and composition notebooks! It's time to learn about your skin!
Update from Supergreat
Did someone say "Add to bag"? You may have noticed multi-item checkout in Supergreat's latest update! What does this mean for you? You can now checkout multiple products from your favorite brands all at once. This means one shipping fee per order, one order confirmation and multiple goodies with just one package! Keep in mind, with the ability to buy multiple products from the same shop, Supergreat will no longer cover multiple shipping fees for products purchased within a 12 hour window. So make sure you stock up those bags and checkout all at once!
Lives from Superhosts You Don't Want to Miss
8/16
4PM EST - @bohemianladki is Aadeep dive into what ingredients work for dry skin and how to care for this particular skin type vs other skin types.
4PM EST - @DaniDoesntDare is hosting a face shaving 101.
4PM EST - @MelOnAir is doing a deep dive into all the products APTO Skincare has to offer.
4PM EST - @hausofebon is talking about minimizing pores and having clear, healthy skin.
7PM - @jylocklear is teaching skincare 101: Every Step of a Night Time Routine.
8/17
2PM - @Iamnorma and Indie Lee will be giving a run down on ways to help the skin transition to fall.
2:15PM - @vale13 is talking about aha, bha and physical exfoliators.
4PM - @lilytree is discussing clean Skincare products that work and the benefits of choosing a clean product.
6PM - @macyrcrawford is investigating clean beauty including typical ingredients, claims and regulations.
8:30PM - @BeautyEnergizer is talking about products that they use that are clean that will help other Supergreaters transition into more clean skincare products.
9:30 PM - @-edith- is discussing their take on combination skin.
10:30PM - @Airee21 is talking about different types of acne and how to treat them.
8/18
9AM - @Luvjorde is talking about PCOS and your skin.
4:30PM - @Ohemmagee is talking about how to prep on the night before the first day of school.
5PM - @S-Drew is discussing their favorite skincare tools.
5PM - @beccah is talking about clean beauty.
7:15PM - @jylocklear is teaching a class on Contouring 101
8PM - @KimberlyIreneFowlkes is teaching about skincare tools, their uses, and how to keep your skin clear.
8/19
2PM - @mini_arora03 is talking about how to get healthy glowing skin.
9PM - @Ellecookie is teaching the 10 step beauty routine featuring some of their favorite products.
Monday August 15th
LIVE EVENT: We are starting off the week right with BioRepublic hosting a live drop. They will have 50 units each of their Lost Baggage Under Eye Emergency Repair Mask, Lip Mask, and Peptide Therapy Mask. Tune in with @zameena @ 5 PM EST.
LIVE EVENT: The skincare adventure continues with JORI. Unlike other lives this one will feature a dermatologist who is here to answer all your skincare questions. They are hosting a live sale where you can get free shipping. Check it out @ 6PM EST with host @joshzeichnermd.
Tuesday August 16th
CHALLENGE: Our skincare regimens are greatly improved since we were teens. We weren't using serums or sleep masks. Our poor skin cells. Show us what skincare products you use today that you wish you had back in high school.
LIVE EVENT: What's that I hear? Another drop? Chemist Confessions will be dropping 100 units of their Pro Glow Kit which includes Aquafix & Gold standard. Get yours @ 7PM EST with host @iyaniwuraOA.
Wednesday August 17th
LIVE EVENT: Another sale is coming your way, this time it's from Doll10. Get your skincare essentials and then some. Be there @ 7 PM with host @gretta.
Thursday August 18th
CHALLENGE: Did your teenage makeup look age well? Probably not. Recreate a school photo to show us what you were rocking back in the day.
LIVE EVENT: Stratia is coming at you with a live drop and sale. They will be dropping 98 units of Liquid Gold, there moisturizing spray. Join @SkinBaeSaidSo @ 1PM EST.
LIVE EVENT: Join Thirteen Lune and their founder and learn about their new in house brand. And of course their will be a live sale as well so you can try out all their new products. The show starts @ 6PM EST with @sarah_novio.
LIVE EVENT: Clear Start is clearing up all your skin issues with their live show. They will be dropping 100 units of their Break Out Clearing Liquid Peel. Get in on the action at 7 PM EST with @sonya.
Friday August 19th
LIVE EVENT: End your week right with this live from Touch in Sol. They will be dropping 75 units each of their No PoreBlem Eye Primer and their No PoreBlem Hybrid Primer. Check it out @ 7 PM EST with host @gretta.
In Other Beauty News...
Today Verb released their Curl Foaming Gel. It offers frizz by up to 84% for three days in high humidity. The gel was made in collaboration with Manes by Mel to be accommodating to all types of curls.
Caliray released So Blown, their new primer with collagen peptides. It plumps and hydrates skin. It can be worn as a clear foundation or as a base for the rest of your makeup.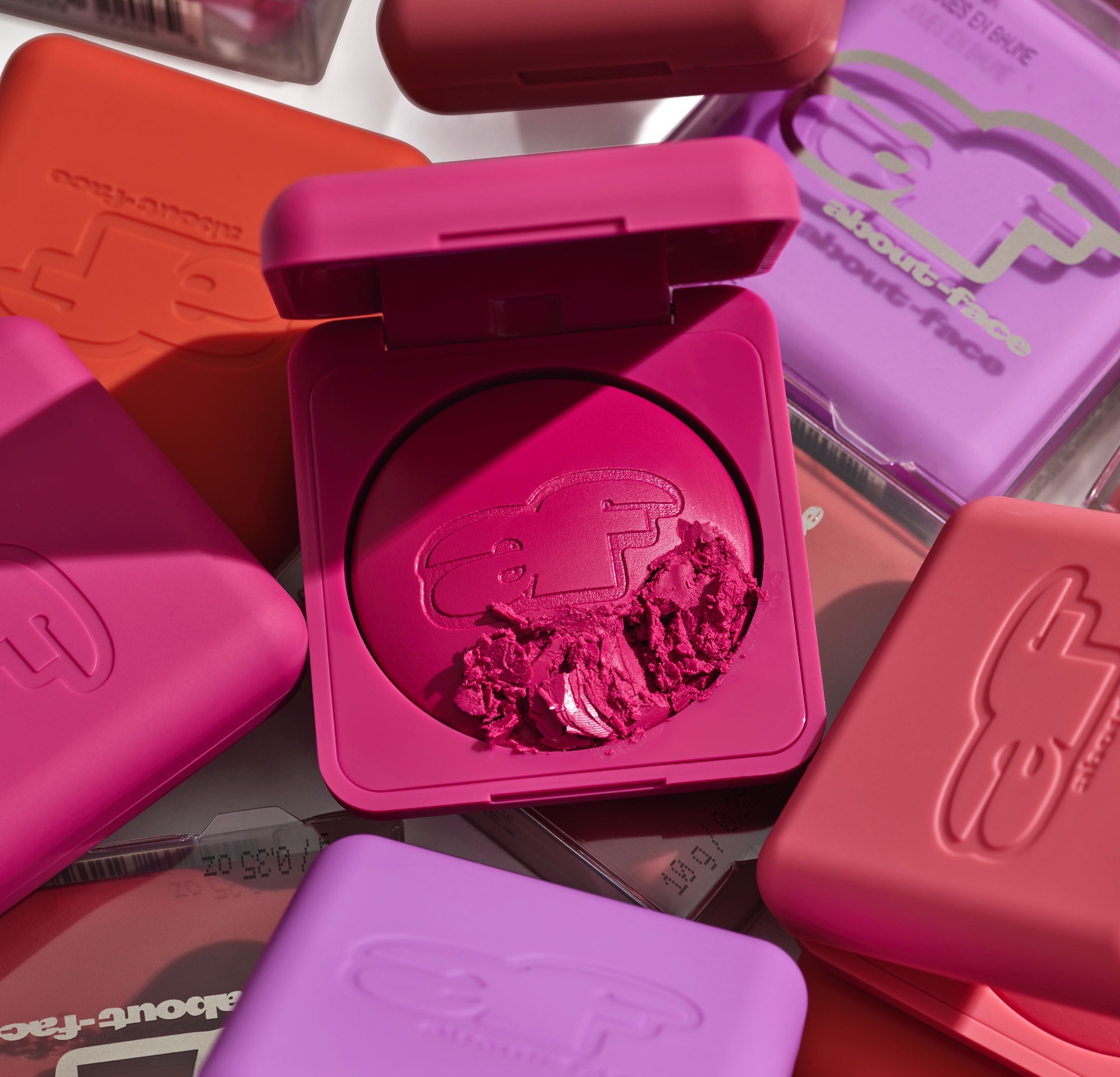 Image Courtesy of about-face
The Body Shop brought back their pumpkin line as of today. Fall is just around the corner and we are ready for some pumpkin spiced lattes. You can get candles, hand cream and more all in a festive scent.
Last week about-face introduced Cheek Freak, their new blush line. This cream blush comes in 10 shades. It also include hyaluronic acid and meadowfoam seeds to help nourish your skin.