Welcome to the Supergreat Games! From August 2nd to August 8th, we will be hosting non-stop challenges testing you in the fields of makeup, nails, hair, look recreation, and skincare. The stakes are high; each challenge will have 3 winners. The bronze medal winner will get 300 coins, silver will get 400 coins, and gold will get 500 coins. Every participant will get 50 coins, just for trying. Only one entry per person, per challenge, will be counted. So give each challenge your best shot, and may the best in beauty win!
This challenge is all about creating the most artistic look possible–demonstrating the most skill–inspired by gymnastics uniforms from years past & present anywhere in the world! The body awareness, muscle memory, control, discipline, and strength of gymnasts leave me in absolute awe and I can't look away. I grew up in ballet and other forms of dance, but gymnastics are a whole other level. It's simply amazing, I was born in the 80's and grew up in the 90's, so the gymnasts that mesmerized me at the time were the amazing Dominique Dawes and Amy Chow. As the sport grows I am often amazed and stunned by the talents and dedication of these athletes, especially the most recent USA team.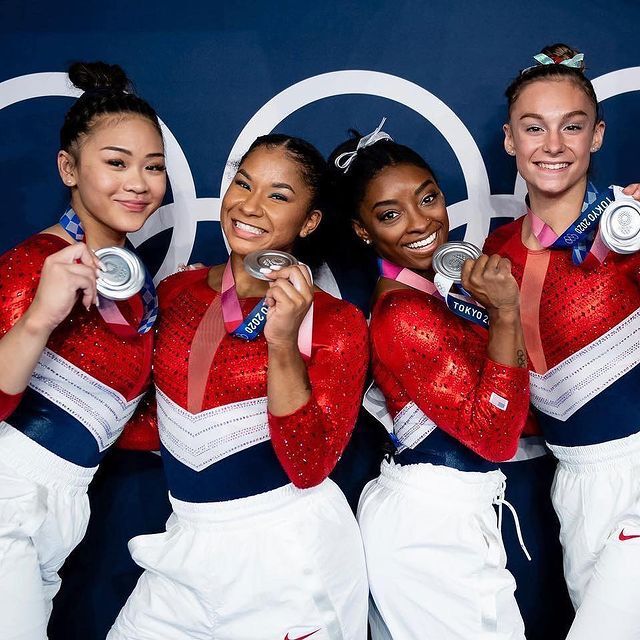 @simonebiles
For this challenge, don't be afraid to experiment outside the box! Play with makeup. At the end of the day before your evening skincare routine; try different techniques, test out different shapes with your eyeshadow application, dive into contouring different areas of your face to get comfortable with the process. After all, it washes off! The thing that really got me with this look was actually the time it took to apply these tiny, slippery rhinestones...I was NOT prepared, lol! Don't get me wrong, I LOVE rhinestones, so when I saw this particular leotard accented with waves and rhinestones, I NEEDED to have it and recreate it on my face!
TBH, I'm a bridal and special events makeup artist–so colorful, freeform creative looks like this are always a little out of my comfort zone. The more we play and practice things that we aren't necessarily the most comfortable with, the more we learn and grow! Never limit yourself...and ALWAYS have fun with it!
CHALLENGE: Create a makeup look inspired by gymnastic uniforms and leotards! Only one entry per person will be counted, and you'll get 50 coins for participating. Bronze gets 300 coins, silver gets 400, and gold gets 500. You have until 08/12 to enter!!!!!!!