In an interview last week, one of the first questions I asked Julie Schott and Cathryn Woodruff was; "Is everyone else who's interviewing you freaking out as much as I am?" I had recently been sent samples of their product, Plus body wash, an eco-friendly dehydrated body wash that comes in 100% compostable and water soluble packaging—after you've used it, there is nothing left to throw away. "I think that liquid body wash should be freaking out," said Schott.
Plus was created by the team behind Starface, Julie Schott and Brian Bordainick, as well as Cathryn Woodruff. Their body wash comes in 3 fragrances (one of which is unscented) and can be shopped here. The shower product space is way behind when it comes to environmental innovation, so it should come as no surprise that the team that changed the way we see our acne is now attempting to change the way we wash.
Learn more about Plus below, watch my reviews of their body wash and check out their Instagram here.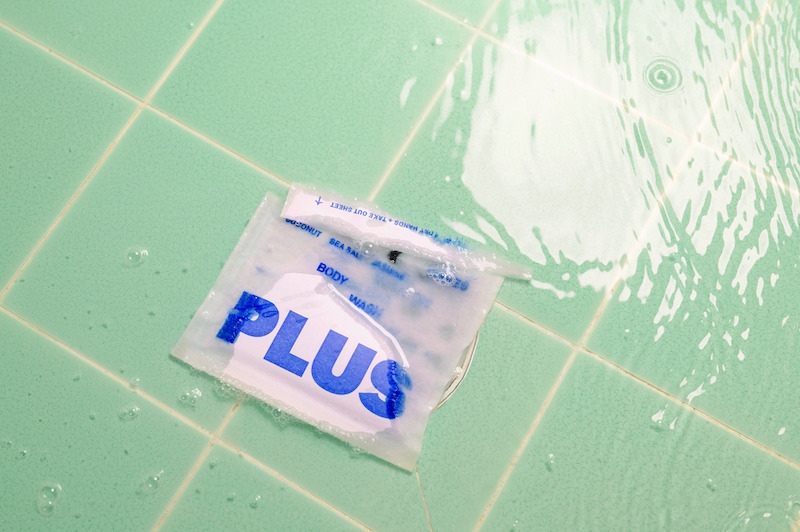 On Cathryn's background and how she teamed up with Julie and Brian:
Cathryn: "My background is in the foods space. I met Brian and Julie through mutual friend. I've been an admirer of Starface and I loved how they changed behavior in the acne space. And they had this vision for Plus in the personal care space and how we could make behavior change and make personal care more environmentally friendly. And I just got super excited about the idea through conversations with them about the mission. So I came on board as a co-founder to help with execution and bringing the brand to life."
On the product's 3 scents:
Julie: "Cloud is unscented. Waves is very beachy because of the coconut and the jasmine. Summer, to me, is extremely luxurious because of Neroli, Neroli just smells so expensive."
On why they made Plus:
Julie: "This just was something that I was so aware of from working in beauty, the way that things are packaged and shipped. It's so bad. It's always been a goal and it's the least we can do as people in this space, to reduce some of the ways we cause waste. And of course, there are products that have to live in bottles, because of the active ingredients, we know this from a regulatory standpoint. But body wash just isn't one of them. And if you can reduce the water and take away the bottle, why not do it? The more we talk about it, people will begin to question how much water is in this bottle. And why did I receive a however many ounces bottle when it could be virtually weightless and send it through USPS?
Just observing and learning about the waste in this industry and knowing that it's responsible for one in three bottles in a landfill. Knowing that body wash or shampoo can be up to 90% water, you've just got to ask yourself, why? We're all looking for little ways that we can make changes across the board in different areas of our lives that are better for the planet. And so when we envisionned Plus we were so excited to create this new format for body wash and be a part of that conversation about why have we showered the same way for decades. Why do we throw these bottles out, and they're not actually recycled?"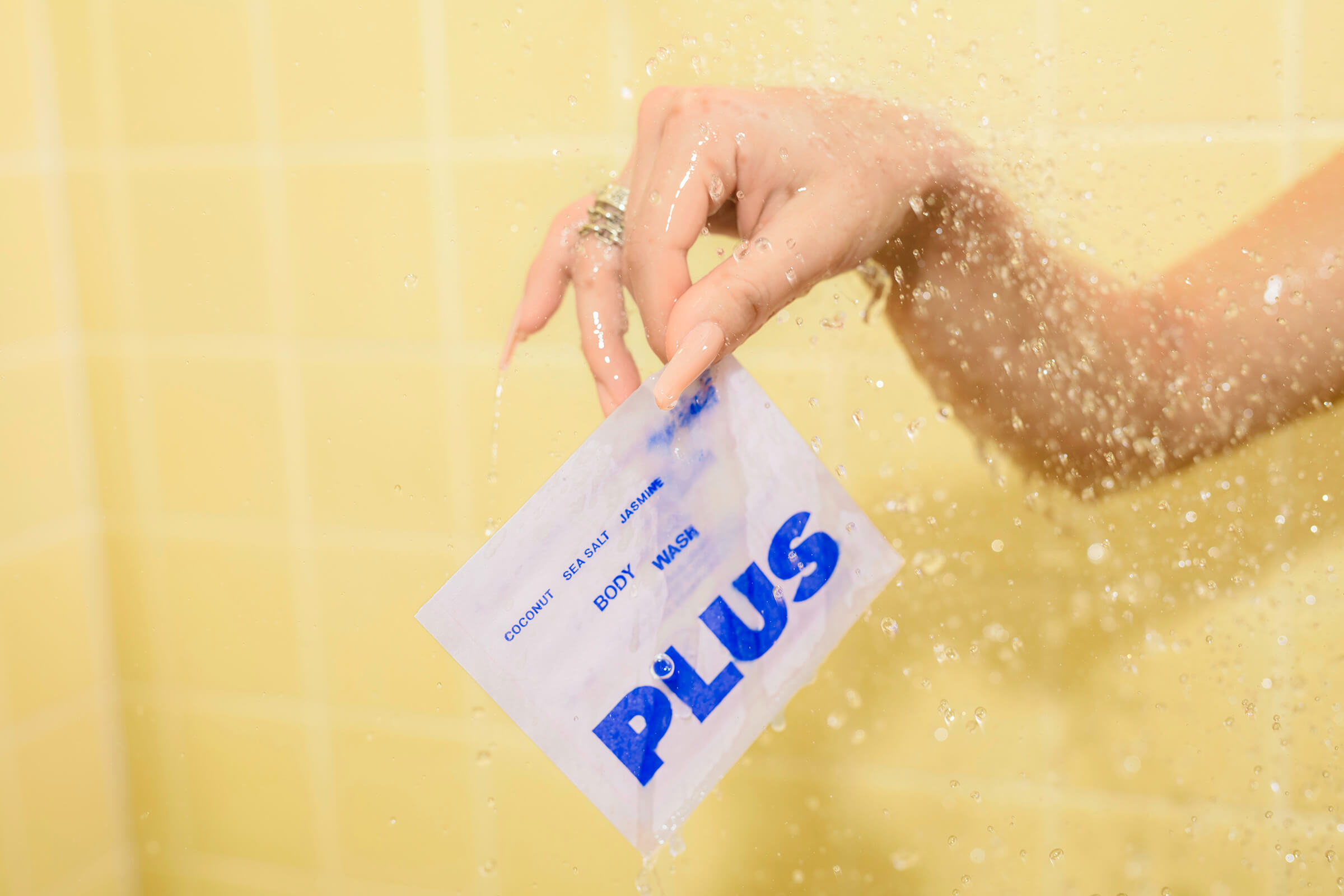 "Just observing and learning about the waste in this industry and knowing that it's responsible for one in three bottles in a landfill. Knowing that body wash or shampoo can be up to 90% water, you've just got to ask yourself, why?"
On their 0 waste packaging and how to use it:
Julie: "We recommend keeping the individual packs in the clear bag until you're done. Or you can put them in a drawer if you want. Then when you're done with the clear bag, it's 100% compostable, if you have access to compost. All you do is rip that individual packet open across the top, and drop that on your shower floor. It's actually magic. Then you have the body wash in your hand. If you're a loofa person, it works great with that. We all have our favorite ways of using it. Some people just like to lather it up in their hand. And that's it. It has all the active ingredients that are in regular body wash, so shea butter, aloe leaf, eucalyptus. It's exactly like a liquid body wash, but it's just a dehydrated format."
Cathryn: "When we were creating this product we were setting out to inspire people to make a behavior change, because it is different than what we're used to. It had to be fun and magical and something interesting. We wanted you to be excited to hop in the shower and do something right that doesn't make you feel guilty. Part of the reason we called it Plus is we're looking at it on the positive side—how do you get people excited about making choices that are better for the planet?"
Julie: "It's also great for travel. It's funny because when we were right in the thick of it, travel wasn't a conversation. And we didn't know what it would be but it's great that it is again. We're so excited to get Plus out there and see what people create with it and how they experience it. And we're just really excited to bring this new thing to the world and start a sustainability conversation that's fun and optimistic and magical."