Lulu Cordero doesn't do anything haphazardly. From the creation of her first product (the Forbidden Oil, which she made for herself to treat her traction alopecia), to the ingredients she sources and her brand's very reasonable price point, absolutely everything is done carefully and intentionally. And now that everyone and their mother is launching a beauty line, it's a breath of fresh air to speak to a founder who doesn't just release products for the sake of releasing something new or trendy. "Product is king and the product should speak for itself," she says. "When I launch products, there's a lot of intent behind that. You can't assume what people want and then roll out 10 things."
Learn more about Bomba Curls and how this founder went from being a pre-med student to launching her own hair care line inspired by her Dominican heritage, and tune in tonight 02/18 at 8pm EST for a LIVE interview, sale and reward drop with Cordero.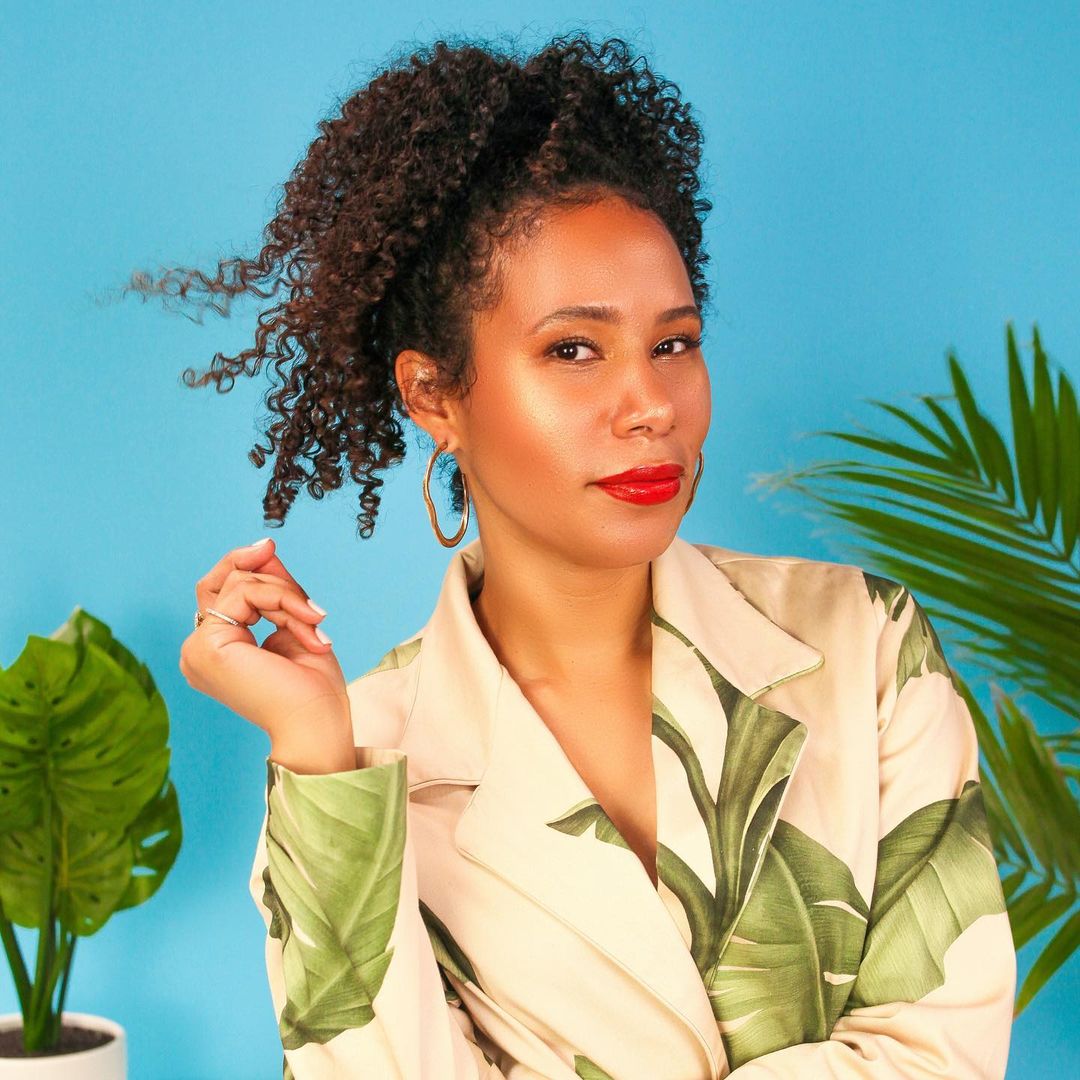 Instagram @bombacurls
On her background:
"Prior to starting Bomba Curls, I started off college as a pre-med student. I of course ended up going in a completely different direction, but I love the sciences and I discovered I had a real gift. Namely in chemistry, and that's certainly something that has come in handy in creating and formulating products for Bomba Curls. I actually ended up changing my major to economics and I graduated from the University of Chicago with a degree in economics.
Afterwards I went to South Florida, to help my father build his business. My sister and I were the ones that had the American education. That was our way of paying it forward and paying it back, to help him build that business. For a very long time I put my own dreams on the back burner, to be there for my family and support my family in this country. My family came here from the Dominican Republic when I was a child so it's been a journey."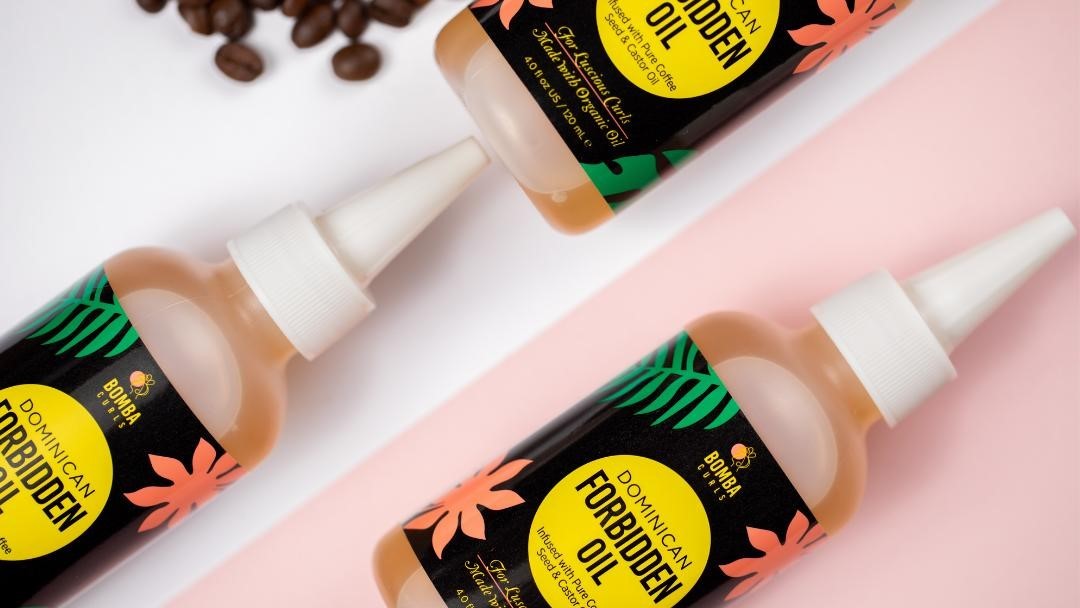 Instagram @bombacurls
On creating her brand:
"I had been making my own products for 10 years. I actually suffered from severe traction alopecia when I went natural. I stopped relaxing my hair and I decided to just embrace my natural texture. I live a green lifestyle so that's one of the reasons why I chose to let go of relaxers, just to live a cleaner life. I didn't know how to manage my natural, kinky curly hair. So what I would do is just pull it back super duper tight, and then over time my hairline pretty much started to recede. I was losing all my edges. It was so stressful and it chipped away at my confidence. But it's okay because that led me on a journey that led us here today, right?
I made my first product, the Forbidden Oil, 10 years ago. And that was the formulation that I came up with to help me deal with my traction alopecia. At the time, I was in school, and I decided to take my background in chemistry and put it to good use. I did a whole bunch of research and I challenged myself to come up with a product. I used coffee seed oil, which is something that we use back home in the Dominican Republic for hair growth. That's one of our old secret remedies. I coupled that with other ingredients that I've done research on, like black cumin seed oil, which is full of antihistamines, which are prescribed to alopecia patients. People started to notice changes in my hair and they started to see my hair come back. And not only come back, but come back strong. I always tell people I never had this much hair before. So people were like, 'can I buy it off of you?' And they started to ask, 'can you make me some kind of conditioner?' That was kind of like my side hustle.
And I'm like, you know what? This could actually be a business. So eventually it got to a point where I had done my part. I'd helped everyone else build their dream but me. So I took the moment to live out my dreams and make my dreams happen for once. Bomba Curls launched in September of 2019 with just one product, my Forbidden Oil. I used up my savings to self fund our very first production run."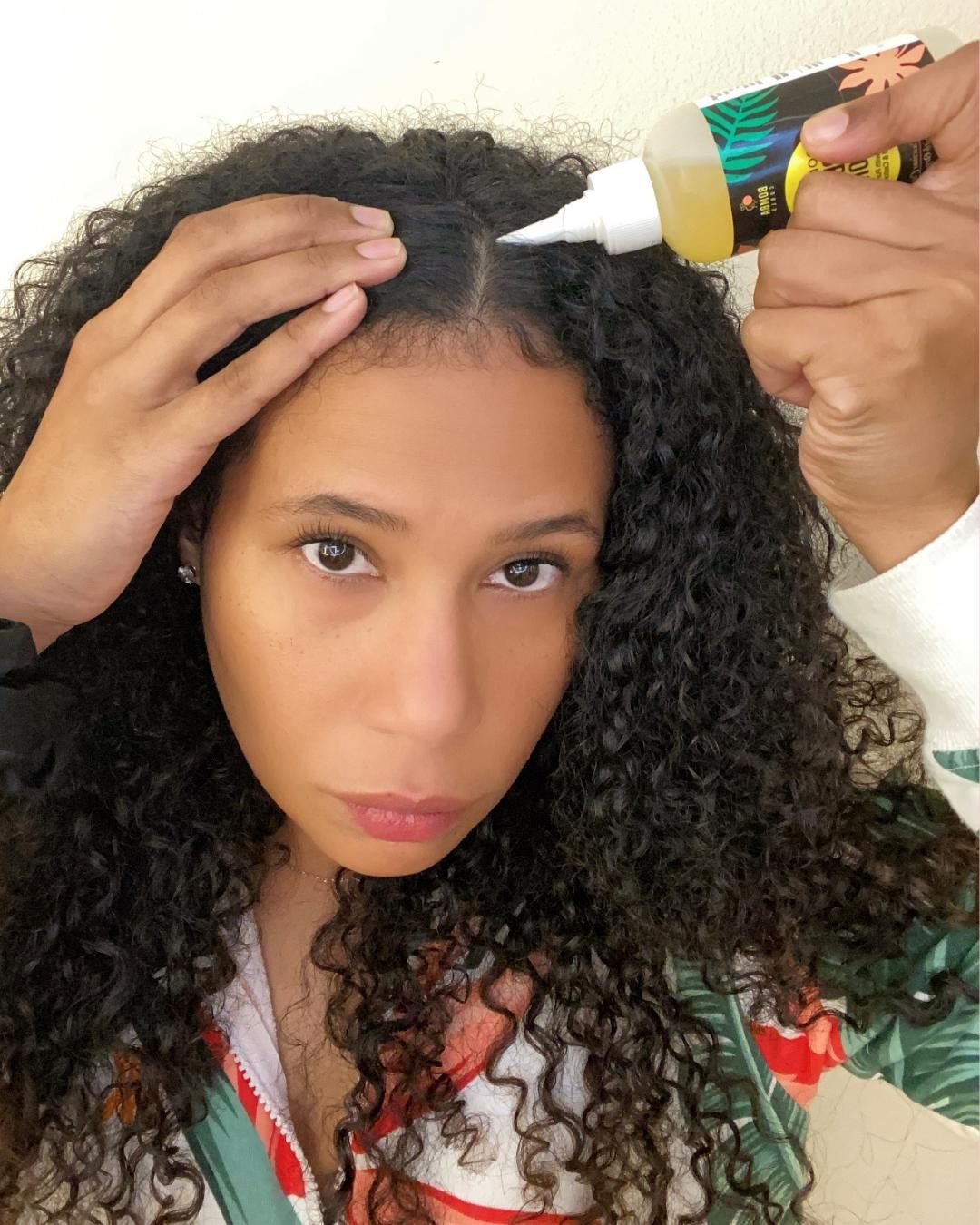 Instagram @bombacurls
On the ingredients:
"Bomba Curls is heavily inspired by my island and our love of haircare. We love anything related to growing hair, and we're kind of like the App Store. You know their saying, 'There's an app for that'? Well, for us it's 'There's a blend for that.' We've got a blend if your hair is feeling dry, we've got a blend for thinning hair, we've got a blend for everything.
I take from the ingredients that I grew up with. The Forbidden Oil has castor oil, which is a West Indian favorite. It's got coffee seed oil, Rosemary extract all of which are packed with antioxidants. It gives you a happy healthy scalp which is essential for achieving happy healthy hair growth. It's also got banana oil, pistachio oil, water of cinnamon extract. It's literally the Caribbean in a jar. Everyone's first remark is, 'this smells delicious.' Some folks say that it reminds them of Dominican cake, but don't eat it. [laughs]
We do not cut corners when it comes to ingredients, and you even attempting to do so on my watch is the quickest way to get on my bad side. I may be very nice, but I can be like, 'how dare you put bad butter in front of me?' Everything is organic, I'm so picky and I only use the top of the top for ingredients."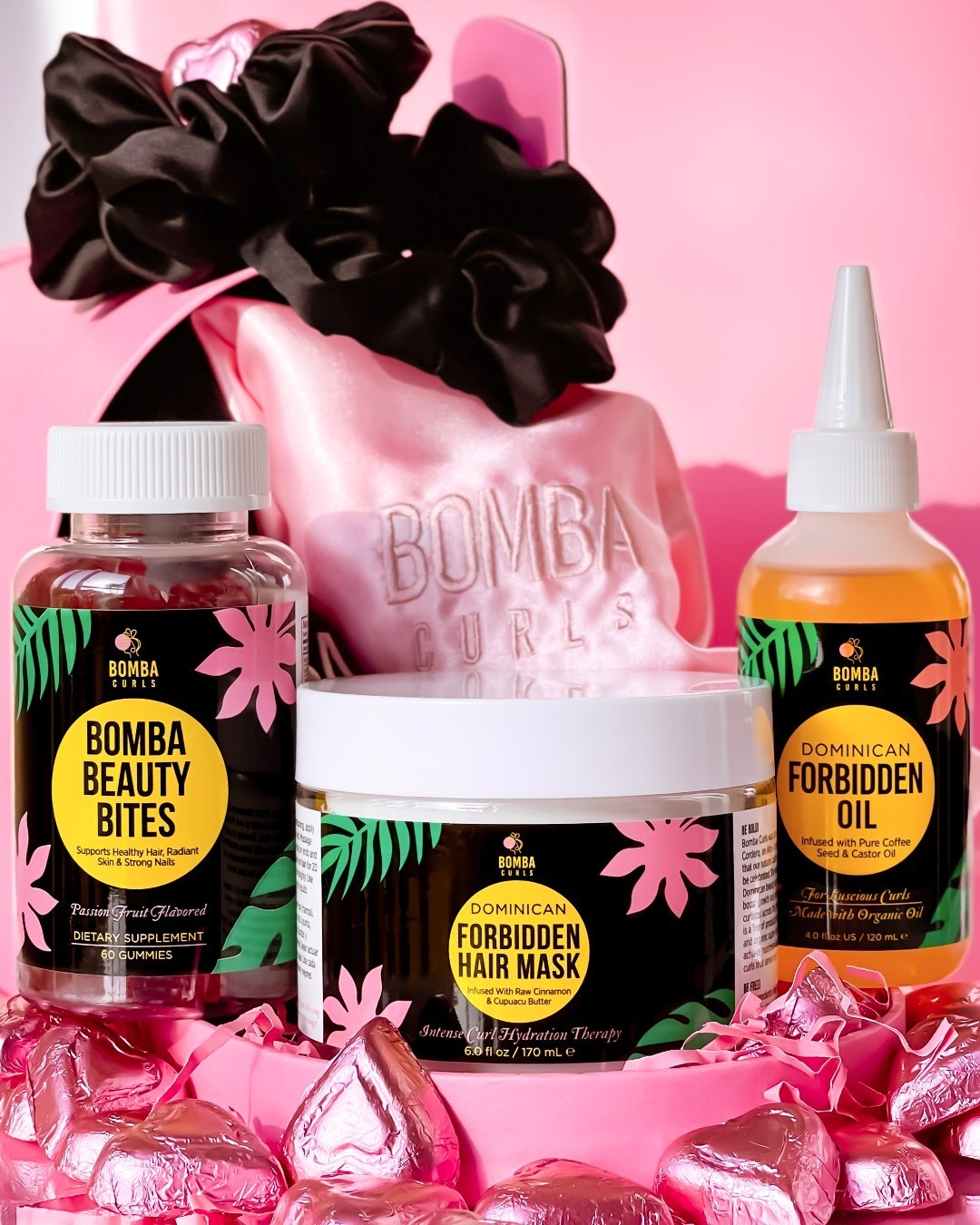 Instagram @bombacurls
On the future:
"We are available at Nordstrom in store and online, and we got a few other things in the works. I can't speak about it but something is coming. We're trying to give the people more product launches, I listen to my customer and what they want."
Tune in to the live event tonight 02/18 at 8pm EST to get your own Forbidden Oil.