Raise your hand if you redeemed the Humanist Beauty Herban Wisdom Facial Oil in our recent live event? ✋I did too, and it's been saving my winter chapped skin.
Jennifer Norman is the founder of Humanist Beauty (you may remember her from the live interview) and out of all the Founder Stories we've done so far, she might have the most extensive background in the beauty industry. If you've read any of these interviews before, you know that I have a soft spot for founders who see a gap in the market and seize the opportunity to create their own brand. Norman did exactly that, and went above and beyond to create a brand that puts the environment and ethics first.
Learn everything you need to know about the Humanist Beauty Movement and add your review below if you've tried the facial oil!
On her career background in beauty:
Jennifer: "I've had the honor of working in the beauty industry since 1997. Upon graduating from Georgetown University with my MBA, I was recruited by L'Oréal to work in marketing at its US headquarters on Fifth Avenue in New York City. Working in beauty came so naturally for me. Ever since being a teenager, I had always experimented with my hair, makeup and wardrobe styling. I was also an avid artist on the side. I loved all things glamour, and I gravitated to the concept of advertising. You could say that passions for art, aesthetics, design and style were fulfilled through my career in the beauty business.
At L'Oréal, I worked on marketing nail enamel, lip color, eyeshadows and eye liners, then hair color for its US business. I was promoted quickly, then I was headhunted by Victoria's Secret to work in marketing for its catalogue business. It wasn't long before I was tapped by Neutrogena to help catapult its newly launched cosmetics business. I did very well there, so then I was asked to help turn around its lagging hair care business. After making some savvy adjustments, including the introduction of the Triple Moisture brand, I became known as the 'fix it' queen and was largely recognized for my ability to identify problems and turn around lackluster businesses for considerable growth. I then went on to manage the marketing and product development for some of Neutrogena's largest and most strategic categories such as Facial Moisture & Treatment, Sun Care and Body Care. After my time at Neutrogena, I decided to spread my wings and explore my unique ability to help grow other beauty brands. I started my own consultancy which gave me the opportunity to work with the likes of Stila, La Fresh, Jordana, Milani, Jouer, ColoreScience, and many others.
My first major foray into natural skincare was as VP of Marketing for Derma E. It was there that I developed a comprehensive understanding of clean ingredients, and my eyes were opened wider to the beauty industry's impact on the environment. I held additional brief executive roles at other beauty companies after Derma E, however it became clear to me that they were not culturally or ethically aligned with my values. In 2019, I decided to strike out on my own once again. I founded a company called The Human Beauty Movement. Its mission is to foster wellness, inclusivity and eco-sustainability in the beauty industry and beyond."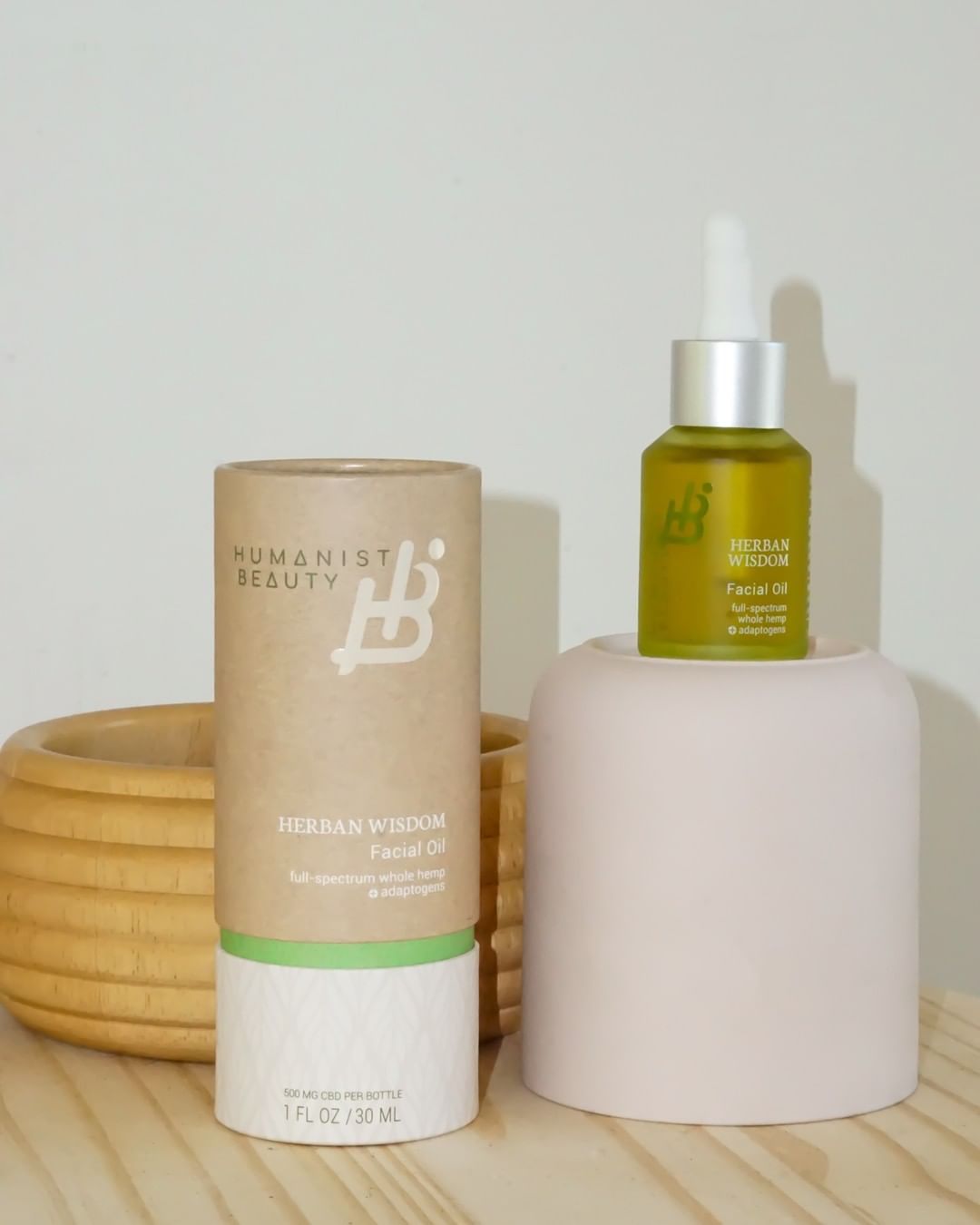 Instagram @humanistbeauty
On creating her brand and it's positive impact on beauty:
Jennifer: "The HBM encourages real, honest conversations about our relationship with beauty. How is society shaping the way we see ourselves? What is the beauty industry's impact on our mental and emotional health? How can we discover who we really are and arrive at better balance? What can we do to celebrate more diversity in beauty? These conversations take place on our open-to-the-public Facebook Group as well as through content put forth on Instagram, Twitter, YouTube, LinkedIn and Medium. I'm taking every step I can to ensure that The HBM upholds the highest standards of integrity, putting people and planet before profits. In 2020, The HBM became B Corporation Certified to reinforce its commitment to positive social and environmental impact. The Humanist Beauty brand was introduced in 2020 to bring all that goodness to life. It represents these three simple universal truths: humans are better when we love and respect ourselves (wellness), humans are better when we love and respect each other (inclusivity), and humans are better when we love and respect nature (eco-sustainability). So the Humanist Beauty brand is all about serving up Better Skincare for Better Humans. Through our products, our operations, and our messaging, we focus on self-acceptance, diversity appreciation, and caring for our planet."
What was the first product you created that you loved and felt confident about?
Jennifer: "Herban Wisdom Facial Oil is the very first product introduced by Humanist Beauty. I designed the formula from scratch with complete appreciation for the healing power of ancient herbs and medicinal botanicals to address visible skin wellness. Upon its introduction, Herban Wisdom Facial Oil was recognized with a NEXTY Award for Best New Personal Care / Beauty Product. NEXTY Awards are given to new products that embody the best of integrity, inspiration and innovation in the global natural products industry. Given that this was the very first product from my very first owned brand, I felt completely honored, but it is a true testament to the love and mindfulness that went into creating the product."
On wellness:
Jennifer: "Think about it this way: the mind, the soul and the body all intertwine to create the magic ball of energy that is you. Your thoughts (mind) can impact the way you feel (soul) and the way you look (body). Similarly, the way you feel can impact the way you think and the way you look. And lastly, the way you look can impact the way you think and the way you feel. If you're skeptical and need proof, try this experiment: smile! Even the physical act of smiling can make you feel better and trick your mind into thinking that you're happy. Here's another experiment to try: repeat the words to yourself, 'I am amazing.' This simple training of your subconsciousness helps you feel more confident, helps to physiologically release the feel-good hormone serotonin, and helps to diminish the stress-related hormone cortisol, which in turn helps to reduce signs of stress that show up on your skin. That's why the power of positivity is so important. How many times do we talk bad to ourselves, then feel depressed, then notice all our skin problems or body issues, then feel even worse? It's time to put the brakes on this anxiety freefall and snap the fck out of it. Empowering mantras work. Stress-reducing meditation works. Exercise works. Eating organic foods and apply healthy skin products work. Even just a few minutes a day of positive behaviors can help rewire your whole energetic system to operate at a higher, healthier frequency."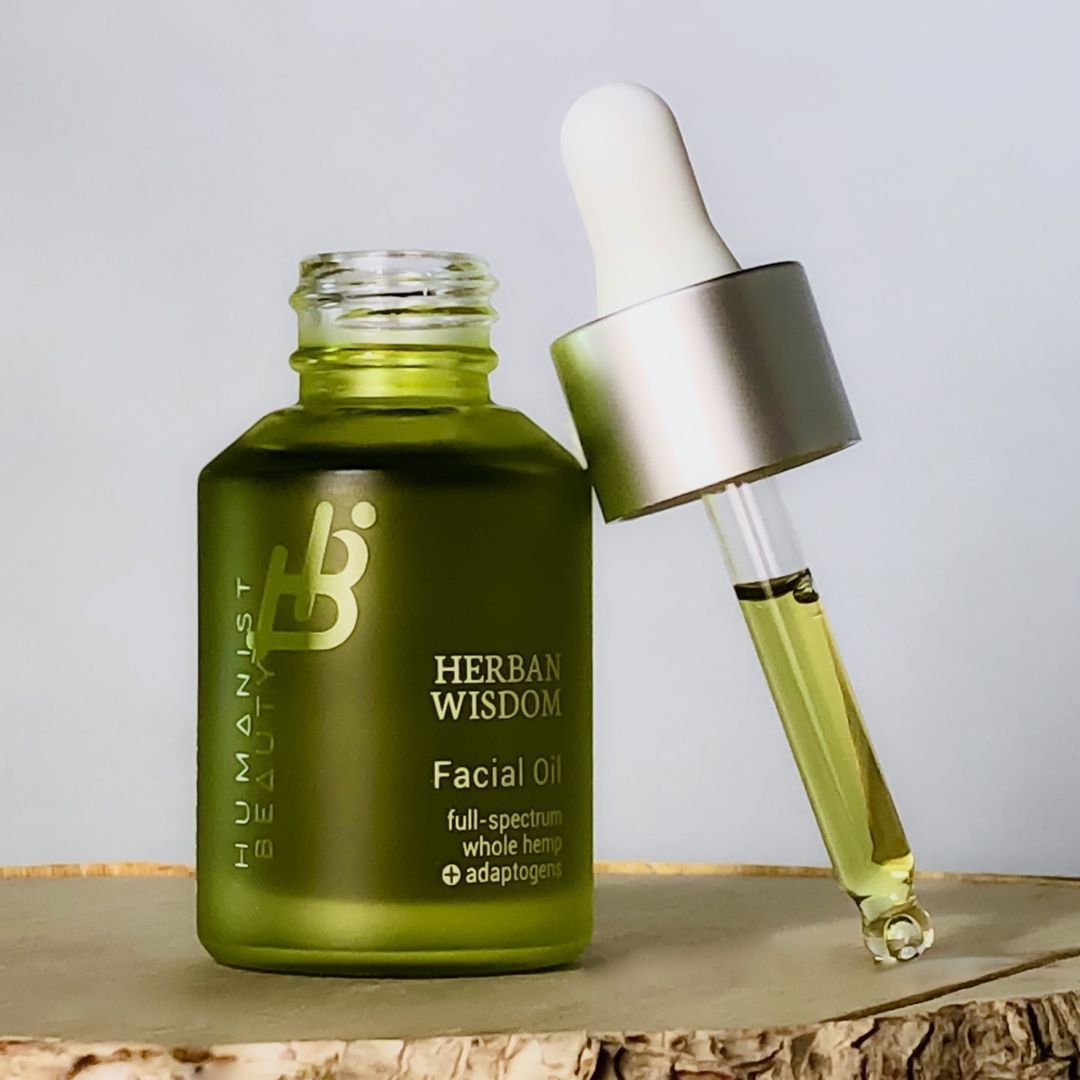 Instagram @humanistbeauty
On the Herban Wisdom Facial Oil:
Jennifer: "I developed the Herban Wisdom Facial Oil especially for dry, sensitive, stressed-out skin. The formula harnesses the power of ancient botanical wisdom to calm, soothe, balance, and condition skin so it glows with a look of pure, healthy wellness. It's a super-powerful facial treatment loaded with CBD, adaptogens, antioxidants and botanical anti-agers. Each ingredient was carefully selected for being super clean, super safe and super effective. As far as details, the Herban Wisdom Facial Oil formula contains 500 milligrams of organically cultivated, triple-tested, full-spectrum whole hemp CBD per ounce. It features a proprietary form of adaptogenic Sacha Inchi clinically proven to preserve skin's lipid balance and improve skin texture. It's formulated with proprietary Korean fermented oils clinically proven to boost antioxidant activity. It's steeped with antioxidant-rich botanicals Rosehip, Camellia, Pomegranate, Raspberry, Cranberry, Tamanu, Kakadu Plum and Seabuckthorn. It's designed with bioidentical lipids Jojoba, Argan, Squalane and Meadowfoam plus omega-rich Argan and Avocado for nourishing, well-balanced moisturization. It's enhanced with Ayurvedic herbs Coriander and Black Cumin for cleansing, tonic and skin wellness benefits. It's infused with natural essential oils Frankincense, Blue Tansy, Vetiver and Orange at safe, non-sensitizing, non-phototoxic levels for aromatherapeutic benefits that help you feel calmer, more grounded and balanced. It's 100% plant-based and 100% vegan. And it's Leaping Bunny® Certified cruelty-free."
Watch Jennifer's reviews below to learn more about the Herban Wisdom Facial Oil and her tips and tricks.