One thing I think about a lot is how hard we work to have glowing skin, but only on our faces. Don't you think it looks a little weird to have glowing skin on your face, but dull skin on the rest of your body? If I could, I would do my full skincare routine on my whole body, but I don't have the time or the money for that. The next best thing is to fake the glow. I've looked into a few body oils and Fenty Beauty's Body Lava seems to be one of the best. The only problem is it's $59 for 3 fl. oz., which is actually quite a lot of product, but the price still makes my wallet weep. Luckily the TikTok algorithm blessed me with a video detailing how to create a DIY dupe for this magnificent magma using only two products. It sounds too good to be true, so of course, I had to test it out for my favorite online community, Supergreat.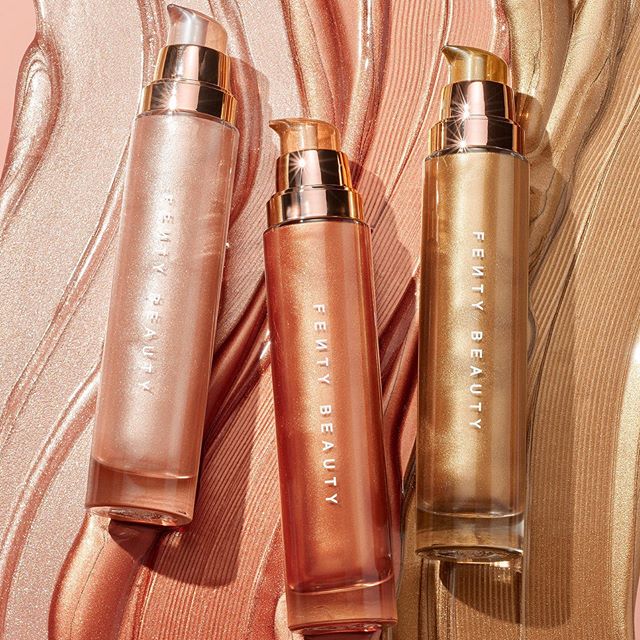 Instagram @fentybeauty
About Fenty Body Lava
If you've ever been tempted to dust your Killawatt Highlighter all over your body, you're not alone. According to Rihanna, Fenty Beauty's Killawatt Freestyle Highlighter in the shade Trophy Wife, a hyper-metallic gold, was the inspiration behind Body Lava. "Trophy Wife is one of my all-time favorites so I wanted to make a formula to wear all over your body," said Rihanna.
Body Lava is a gel-based body luminizer that adds an all-over glow to your skin. It's perfect for a night out or a day at the beach. It comes in three shades: Brown Sugar, a glistening bronze for darker skin tones; Who Needs Clothes?!, a radiant rose gold for lighter skin tones; and new Cognac Candy, a sparkling copper for every skin tone in between. I got the shade Who Needs Clothes?! Here's my review:
Watch more Fenty Beauty Body Lava reviews here.
About TikTok's DIY Body Oil
What you need:
Baby oil
Highlighter Powder
How to make it:
If your highlighter powder is pressed, use a blunt object (I used a butter knife) to break up the pigment in the palette. Once it's nice and dusty, carefully scrape it into your bottle of baby oil. I created a funnel using a piece of paper to minimize the mess. After the highlighter powder is in the oil, fasten the lid and shake.
Which is better?
Feel: Both Fenty Beauty's Body Lava and the DIY dupe feel a little sticky on the skin. Body Lava is slightly stickier because of its gel-based formula. This actually makes it easier to apply that the DIY dupe which was so liquidy it ran between my fingers and dripped onto my floor.
Scent: While the floral vanilla scent in Fenty's Body Lava is warm and comforting, I'm not a fan of the fact that I'm committed to smelling like a baked good when I slather on the oil. If it were up to me, there would be no scent, but it isn't a deal-breaker. Smelling like vanilla is better than smelling like a newborn baby, which is what the DIY dupe smells like since it's made from baby oil.
Glow Factor: This is the real test to determine which is better. The DIY dupe provides a high dose of glow both from the baby oil and the highlighter powder, but it doesn't compare to Fenty's Body Lava, which contains chunky glitter for a shimmering effect. Because of this, I would say Body Lava is the winner. She can't be duplicated.
Have you tried Fenty Beauty's Body Lava? If so, add your review below or try the dupe version and add that too!