False lashes and lash extensions are widely beloved as the way to get robustly beautiful lashes semi-easily and in the case of extensions, semi-permanently as well. I am absolutely a lash person. I love the way they make my eyes look like a Disney princess but in the case of falsies, sometimes the strips are a bit much and everyone knows lash extensions are expensive and high maintenance.
This is why when Lashify's False Lash System came out it was so revolutionary. The gossamers (their word for the lashes) are realistic looking, buildable, and come in a variety of sizes and curls so you can really customize your own lash look. The glue was strong but flexible and together, they feel like you're wearing nothing at all, seriously. The brand founder swears that you can sleep in them, which is good to know if I'm ever again in a position of partying through the night (time will tell) but probably not something I would do just because. The Control Kit ($145) comes with two sets of gossamers in different lengths, the application tools, bonding glue in black and clear, and a sealant coat (which honestly, I've never used after the first time since I think it was a bit unnecessary to keep them on and just made them messier to remove).
But THEN Kiss (my favorite affordable false lashes) came out with a shameless drugstore dupe... for $15. I couldn't imagine how it could measure up, and I did ponder if Lashify's patent expired or something because this was like...nearly identical. Copped it, pronto.
But what about false lash singles or wisps, you ask! Ya, those are fine and all, but the clever trick of the Lashify and Kiss Falscara systems is that the lashes go UNDER your lash line and stick to the root of your lashes as opposed to your eyelid, making them blend in seamlessly with your own lashes. and I mean seamlessly. Since they're like little clusters and not a long strip, they're much easier to handle this way too.
OK, here are the brass tacks: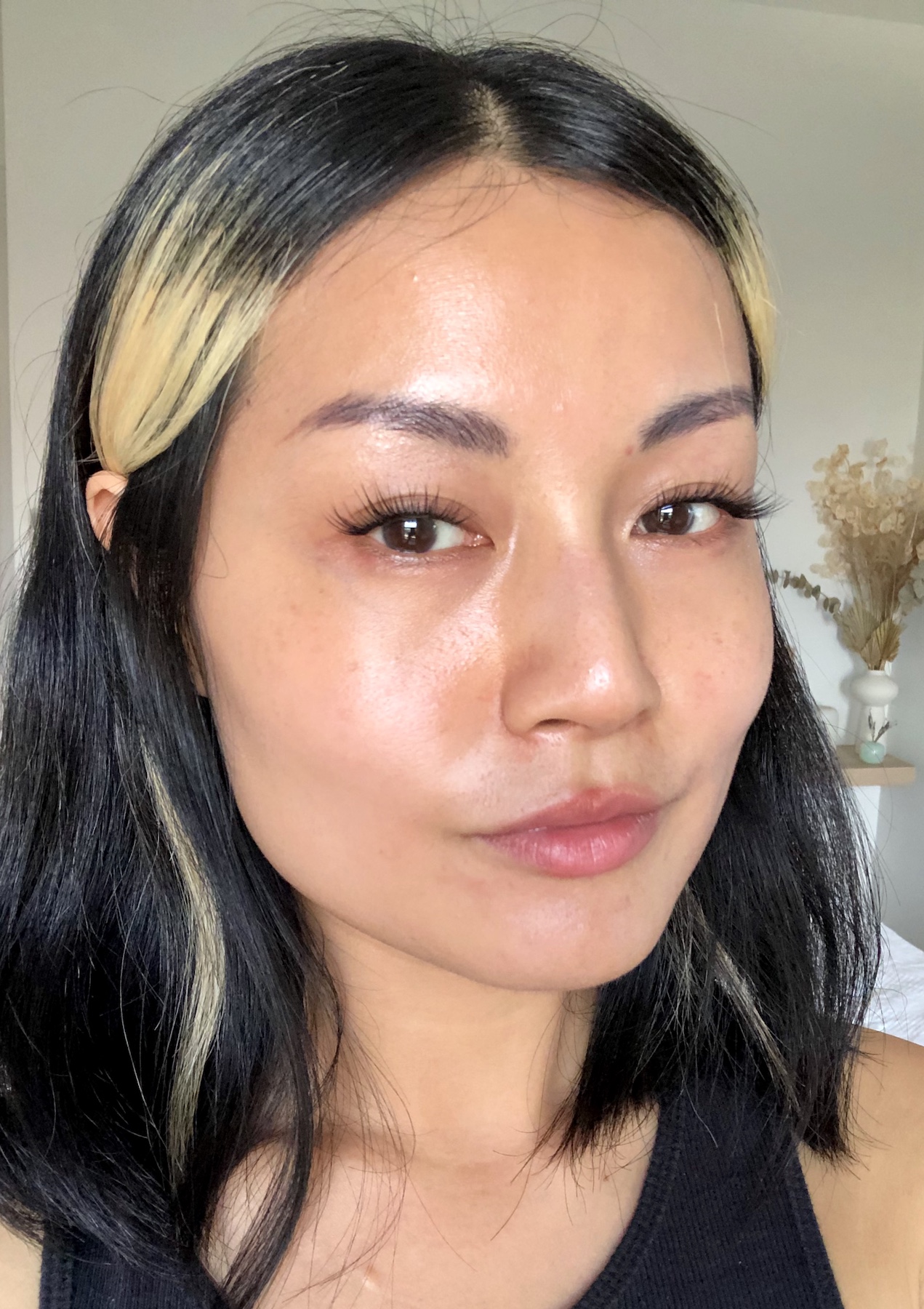 Here I am, wearing Falscara on one eye and Lashify on the other.
The Lashify Control Kit ($145)
Offers two different lash styles, which you can choose upon purchasing
The packaging has a BIG mirror, which is really helpful if you're taking this on the go, and the compact protects all the components
The little oval gossamer pods make it easy to keep them neat for re-use.
The tool is SO HELPFUL. Its silicone-covered scythe tweezers are meant to grab a line of gossamers from the pod itself (see how they're shaped complimentarily?) and then plop them right onto your lashes in one fell swoop. I'm not that deft with them yet, so I use it backwards and apply the gossamers one at a time, which works just fine.
The bonding glue has a double-sided wand in black and clear, to blend in seamlessly with your natural lashes or add slightly more drama with the darker one.
One set of lashes
Double-sided wand includes black bonding glue and clear sealer. The wand's brush is at an angle,which is helpful to apply, since you're supposed to "stamp" it on the underside of your lash roots rather than brush it through, like mascara.
The application took is fine but doesn't have as easy-to-use of a grip as the Lashify application tool.
Feels weightless and lashes blend perfectly with my own lashes, adding a bit of drama without looking like a lampshade.
I'm wearing them on different eyes and you can't really tell which is which! As far as wear goes, that all depends on your application — you don't need a lot of bonding glue at all, but you do need to apply it in the right place (right at the root of the underside of your lashes) and then it'll hold all day. Also, if you use too much they'll kind of hurt when you tug them off. You don't want that.
I definitely think the Lashify kit is much more sophisticated in the choices you have of lashes (there are four different curl types and four different lengths of each!). But it's a pretty wide cost margin for that ability to customize. If you're semi-enthused about false lashes but don't like the obvious-ness of traditional false lash strips, then definitely grab a Kiss Falscara kit and get going. And then if you truly love it and want to level up your lashes (but don't want to deal with lash extensions, which cost nearly as much) then spring for the Lashify kit.
What are your favorite false lashes?