First, it was trimming your own bangs. Then, it was buzzing your whole head. And now for all your Golidlockses who passed on both, you may find yourself staring down the drain, watching the water turn whatever color to clear as your rinse your freshly dyed mane. I mean, we all want to do something to our hair during quarantine, right? (Why is our hair always the first casualty whenever there's some crisis?)
Unless you're an experienced pro, I'd shy away from any sort of double-process and anything with bleach (unless you're experienced bleaching your own hair and don't mind the surprise chemical reactions that may occur, obviously).
But that doesn't mean there isn't a plethora of at-home hair colors you can do in your bathroom for a little change-up from staring at the same reflection day-in-day-out because we're trapped in our own hall of mirrors (you've got one of those too, right?). Unsure where to start? As someone who has been to that rodeo before (and probably won't return), I bestow upon you whatever wisdom remains in my follicles if you wish to color your own hair at home.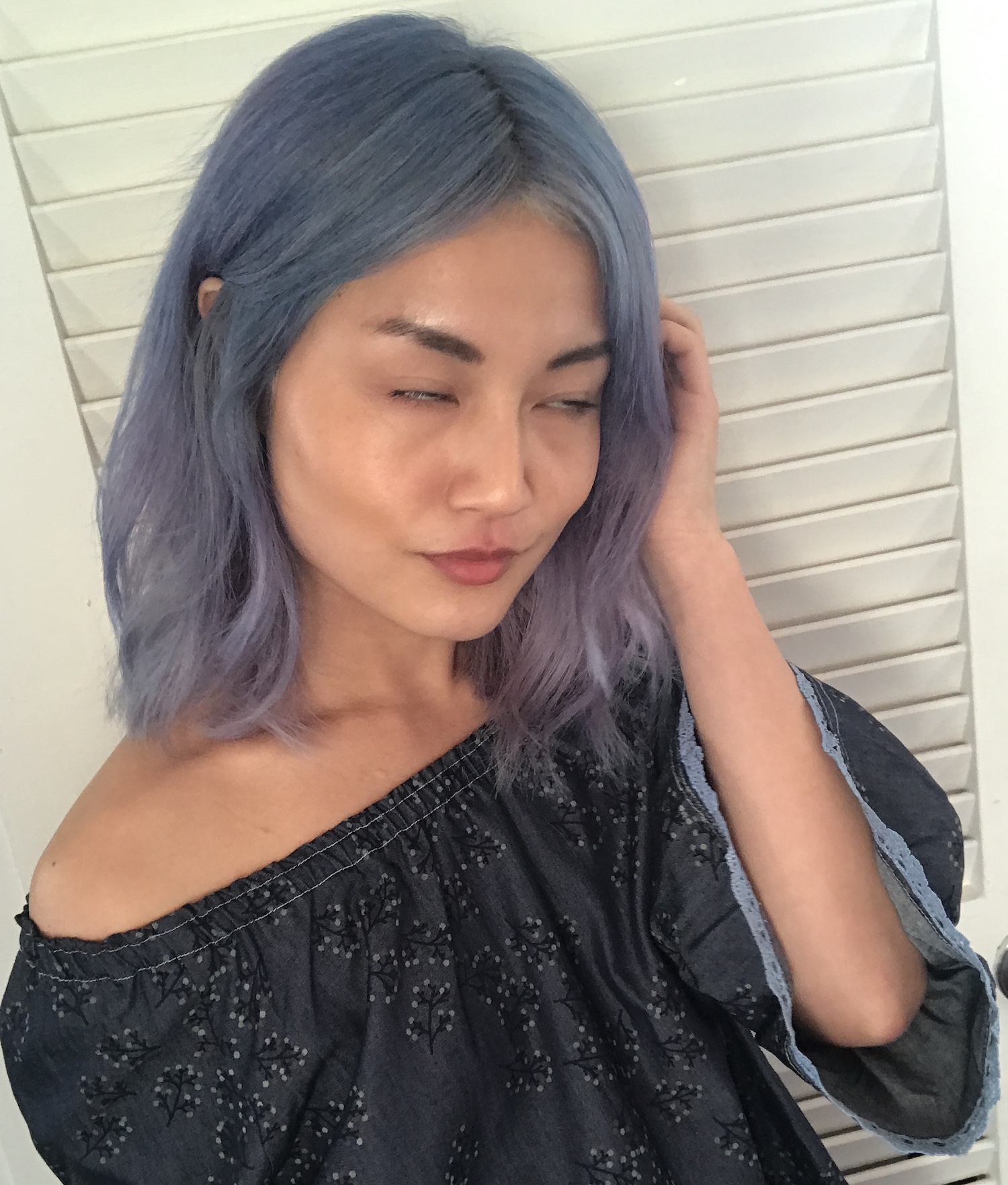 Me, after I blue myself, 3 years ago.
1. Manic Panic Semi-Permanent Color Creme
Of course, this is the go-to punk training wheels of all at-home hair coloring. Unfortunately, unless your hair is bleached or quite light already, you won't really be able to see those vivid and bright shades in all their glory — although they can tint your hair. If you're going darker, these will definitely do.
You can just plop this onto dry or damp hair, wait for it to process, rinse and you're done. It's semi-permanent, meaning it will wash out over time, but something I learned from my Manic Panic days was that even after it's washed out, bits of its chemicals remain in your hair shaft (especially, if it's porous and bleached), which do affect any other chemical process you do to your hair in the future, including coloring it professionally.
But, that Electric Banana shade is just too seductive...
2. L'Oreal Paris Colorista Semi-Permanent Hair Color
OK, so I tried this one, back when I was totally platinum and it worked alright, but it did not wash out ever, despite its claims to shampoo out in 4-8 shampoos. It was the blue and purple colors — which taught me that when it comes to "direct dyes" like these, blue is the toughest color to rinse out. Something about it just clings to hair, especially when it's chemically ravage and porous like my bleached hair was. Oof. It took two sessions with my professional colorist to get it back to blonde and then my hair was basically wrecked, but it did look cool for a while when it was blue. (If you're a natural blonde I'm sure this will wash out eventually since my super-porous hair just held onto the dye and refused to let go.) They only have a few colors (blue, lavender, pink, and minty green, I believe) so if you're looking for something a bit more experimental, keep moving down the list,
3. Overtone Hair Coloring Conditioner
"But what about if I'm brunette?" you may be asking. Yes, you too can quarantint your hair. I love Overtone for its non-harshness, flexibility of pigment (the brand offers different levels of saturation for all its products), and range of "creative" colors as well as more subtle trendy shades, and more recently "normal" hair colors found in nature (like brunette).
They offer colors specifically for brunettes, which is cool. And since they're all coloring conditioners, using them is like using a hair mask that deposits color as well, so you don't have to really worry about damaging your hair.
4. Good Dye Young Semi-Permanent Hair Color
This is Haley Williams's (of Paramour) brand of hair color. Makes perfect sense for her to launch hair color for her pop-star-goes-into-beauty move since her vibrant hair colors are kind of her signature thing, you know? Anyway, I haven't personally tried this one, but I know a few people who have and they are way stoked on it (as are some of you!).
5. Arctic Fox Semi-Permanent Hair Color
This is another direct dye that seems to be a hit on the YouTubes. I haven't personally tried this one, but again, I have pals who have and they approve. The brand's range of colors is pretty vast and very creative so whatever hankering you have for a very specific tone, you're likely to find it with Arctic Fox.
6. L'Oreal Paris Feria Hair Color
I use to love using the Bright Blue shade of this box dye to make my naturally dark hair like a blue-ish animé black, you know? As far as drugstore box dye goes, this range colors your basic blondes, brunettes, and auburns, and includes a couple on-trend variations like dusty pastels and some cool metallics. I would not really mess with those last ones unless your hair is naturally light blonde or is bleached already, but for adding tone, depth, and generally changing your hair color to be not too dissimilar from what naturally grows out of your head, this one's never failed me.
OK, that should be enough ammo for you to do some dye-mage to your hair. And just like when you go grocery shopping now, make sure you wear gloves :)
For all you home-hair-coloring pros out there, which are you favorite hair dyes?