Here at SG, we love a chemist. You can test every product out there and you can read about every ingredient in them, but you still won't have the knowledge of a chemist—especially one that played a hand in creating (and innovating) some of the most iconic skincare products of the last decade.
After spending several years at L'Oréal and then Johnson & Johnson, Chirkov heard about a rising "IT ingredient" called CBD at a trade show and got testing. What he found was so exciting that he created BLUNT Skincare, a brand that refuses to "weedwash", instead aiming to educate their consumers about CBD and it's amazing properties for the skin.
The first thing that I noticed about the brand was that they weren't afraid to use photos of actual nuggets in their marketing. Most brands that sell products containing CBD or hemp seed oil tend to use vague imagery of the pot leaves or smoke, but BLUNT Skincare is being...more blunt about it. "Having those visuals we believe that we can help normalize it," says Chirkov. "It's not a big deal. There's not much of a difference, you can smoke a joint of hemp. We're not promoting the smoking part, but we want to recognize that there is a lot more culture to marijuana. Smoking is just another way of consumption."
I thought I knew quite a bit about cannabis skincare before we spoke, but this conversation was a real eye-opener—not only about the plant and it's benefits, but also about the cannabinoids already in the human body, and the ways in which some brands are profiting off the public's lack of knowledge on CBD. Read more about Chirkov below, and be sure to redeem your very own BLUNT Skincare serum on the app tonight at 7PM EST!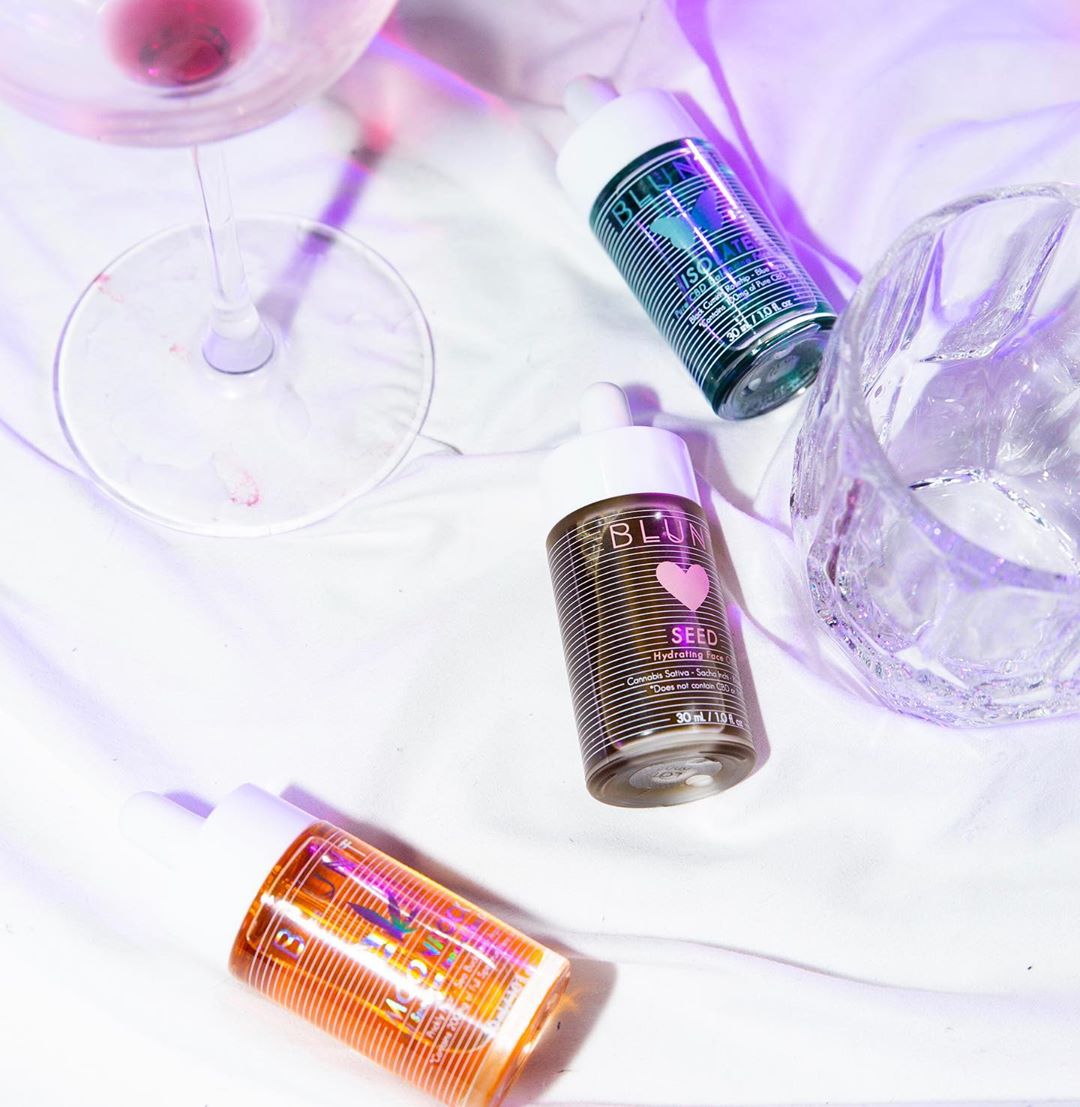 Instagram @blunt.skincare
On his career as a chemist
I studied in Moscow, Russia and I graduated from Moscow University. I have a Master's degree in Chemistry. In 2009 I graduated and I packed one bag and moved to America to pursue my American dream. I didn't know much English and I was young, but through a few connections that I made in New York City, I was able to land a job at L'Oréal and I worked there for a few years.
I was a chemist in two of their plants working on hair care products and skincare products. Then I started working on new product launches as an engineer. As an engineer you do a lot of commercialization, like working on big batches of products and making sure everything is done correctly and traveling to manufacturing sites. I did that for L'Oréal for most of their consumer brands like Maybelline and L'Oréal Paris and then some of it was luxury brands like Kiehl's and Skinceuticals.
After living in the L'Oréal world for a few years I decided to take a job as a contract manufacturer. Some labs and contract manufacturers work with basically every other brand in the industry. That world was kind of unknown to me at that time and I was amazed. I had a 360 degree look at the industry and how different companies have different approaches when it comes to testing and launching new products. I was just amazed by how different everyone's approach was, and I started learning a lot about the industry and how unregulated some of it was. I started really paying attention to the ingredient label. Right after that I started working for Johnson & Johnson, for their brands like Clean & Clear, and Neutrogena, that's when they were phasing out of those microbeads. At that time, nobody in the industry was questioning anything until beads were found in the ocean and inside whales' organs. I felt like that was a big wake up call for the industry to be cautious of what we're putting into products.
I had a short time there and then I took a job with a packaging supplier for an indie beauty brand called Florapy. There I looked at the entrepreneurial journey of my friend (the founder), how it was inspired, how everything was possible. And as a chemist I had only been using products that my friends made in the lab or myself. I wasn't really going into commercial product at all unless it was very interesting, and I would only get some Korean products because their ingredients are different. I have a passion for green beauty, green chemistry. The next thing in beauty is sustainability, using less synthetic ingredients, because a lot of synthetic ingredients are pushed on to the industry because they're byproducts of other industries and they're cheaper and more available. I had a lot of ideas about what products should be.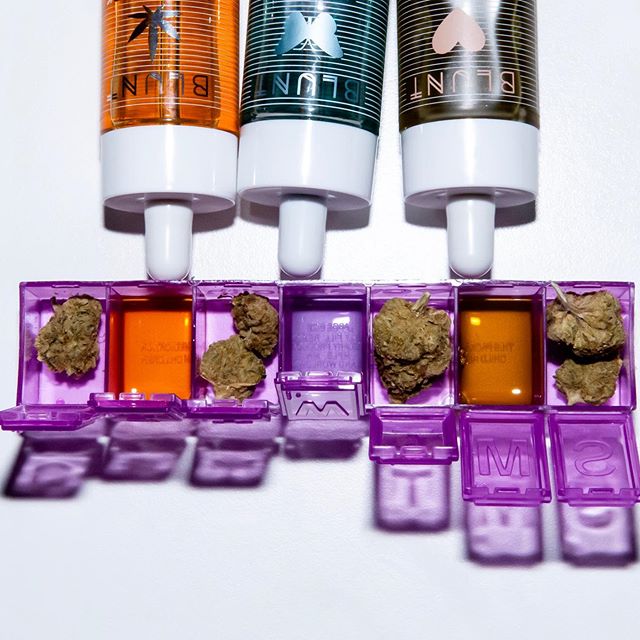 Instagram @blunt.skincare
On researching cannabis
At a trade show in 2016, I learned about CBD. At that time, I had already moved to Los Angeles from New York. People started talking about CBD as a new miracle ingredient but nobody really talked about cannabis. I was already using cannabis, my relationship with cannabis was that I tried it in college in Russia, they have a different type of cannabis, which is a hash type. Most people at the time in New York never thought of cannabis as a wellness product, but then when I moved to California it was very apparent to me that it's completely normal—although it wasn't yet legal—but it was used already for medical reasons.
After that I started learning about cannabis, and there's a science behind it, there are different levels of THC, there are different levels of CBD, and then there's more than 113 different cannabinoids. I started hanging out with people from the cannabis industry, learning from them, how they extract different types. Some of them really didn't know much because they're just farmers that are into extraction—they didn't have the chemistry background but they were so knowledgeable in terms of the effects and healers each strain has. As I started really looking into it, there was already promising research in terms of skincare on CBD. I found a few papers online and I was like, "You know what, I'm going to start testing it." As a formulator, what we would do normally is get the ingredient from the supplier and start testing on your skin for different reasons as a product. I had to get the CBD and it wasn't as readily available at that time, so I had to fly out to Denver to this farm to get CBD.
I started testing a full spectrum oil from this farm and I felt like it was definitely a good ingredient for overall skin health. I have breakouts on my skin and when I was younger I had really bad breakouts on my forehead, and ever since then my skin has been so reactive to anything. For example, I can't use salicylic acid or benzoyl peroxide. So as soon as I started using the full-spectrum oil, I felt like it was helping with managing my acne. I decided to do actual formulation, adding all other ingredients that I've been researching while working in the industry. I started concepting different products and then that's when I discovered that this is not actual CBD—this is a full spectrum oil and then we tested the ingredient and it had trace amounts of THC, CBD, CBG, CBN. Basically anything that is in the cannabis flower, there were a lot of different cannabinoids, and for that reason they called it full spectrum cannabis oil.
If you harvest the flower and extracted at a certain time you get all kinds of cannabinoids and usually the flower is primarily CBD rich. You get 80% of CBD and trace amounts of these supporting cannabinoids. There is a term in the cannabis industry called "entourage effect." People believe that you will have a greater therapeutic benefit and bioavailability if you're using a full spectrum oil. For example, you can have an orange that is rich in vitamin C. You also can have vitamin C that has been extracted from the orange and it's in the form of a capsule or a powder. People believe eating an orange is probably better than having the pill. As a scientist I was like, this is great, I can understand why that is. You definitely get a lot more compounds than the single compound which is CBD. Then I discovered the isolated CBD, which is this refined version, and I started testing that. It was a lot easier for me to test that because of the pure ingredients, so you can control the dosage. That's why I created the ISOLATE pure CBD balancing serum for acne and inflammation. In the product you get 100 milligrams of isolated CBD, which is a powder form. We included in the oil other ingredients that are also really good for acne prone skin like black cumin, blue tansy, which is balancing, and also rosehip, which is good for acne scars.
My concept for the collection was we have different types of extracts of cannabis. Each one is completely different. Also in the industry at that time, there was something happening called "weedwashing."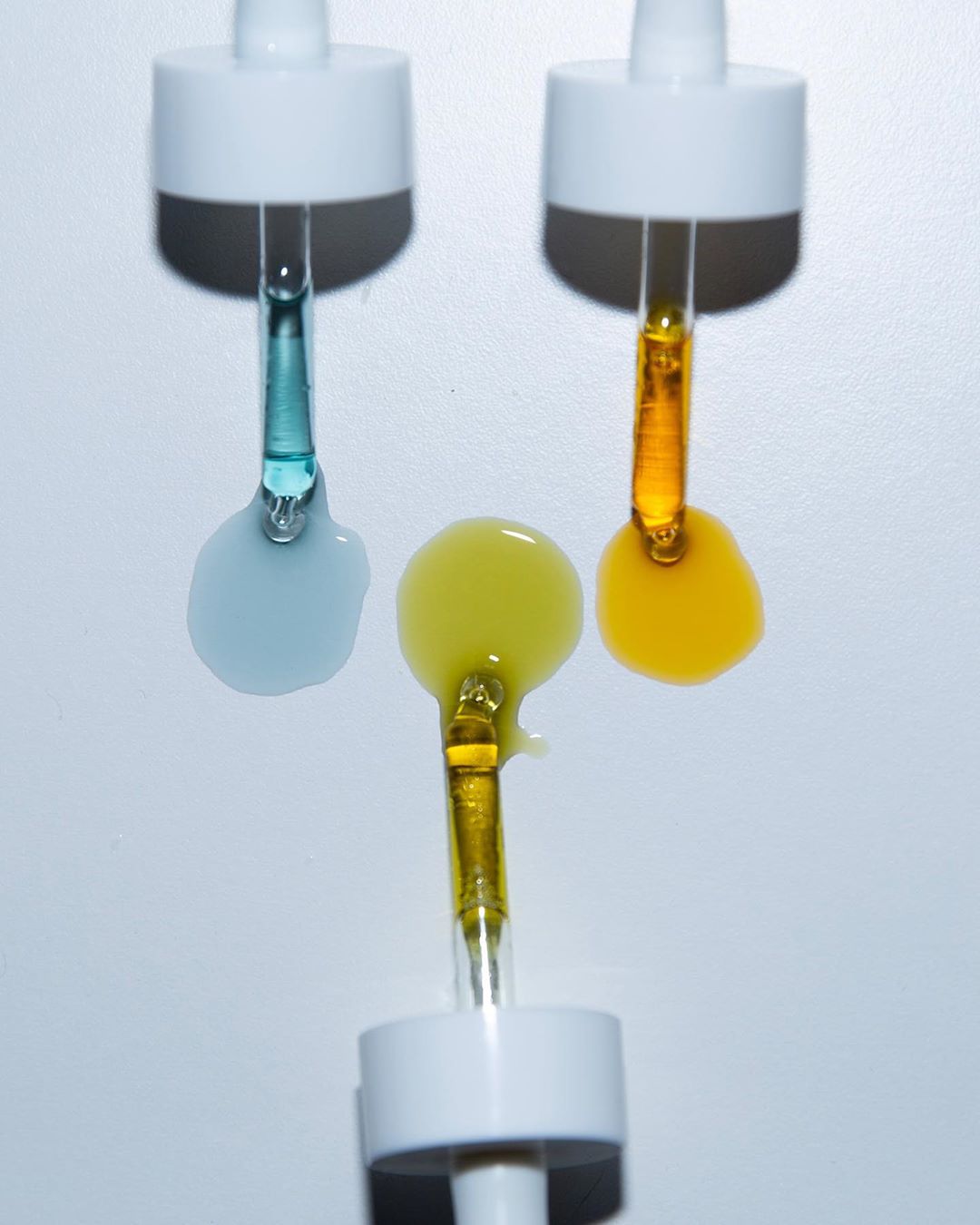 Instagram @blunt.skincare
On weedwashing
There are two plants; there's cannabis marijuana plants and there's cannabis hemp plants. The only definition of between the two is that one plant that has very low amounts of THC and it doesn't get you high. Because cannabis plants are so beneficial for different industries, the government decided we're going to separate these two plants. One can get you high and one cannot get you high and we're going to make one of those legal. That's how hemp cultivation grew a lot faster and it turned into industrial hemp, which is taller, mainly used for fiber, and it has a lot of seeds that fall on the ground and get collected.
A few years ago people discovered that hemp seeds are super nutritious. Somehow it made it to the U.S. and in health conscious stores, they started adding hemp seeds as a superfood. It's very balanced in terms of omegas, so you get the perfect ratio of omega 3-6-9. It's great for skin because it's very hydrating and it sinks right in. Then what happened in the industry was that hemp seed oil was readily available for everyone. The CBD boom was happening slowly and then cannabis legalization was happening as well. Everybody wanted to get into cannabis marketing and cannabis culture, where you can call products things like "Kush" and "OG Lemon Haze."
Basically you have access to an ingredient that's related to cannabis, so you start seeing a lot of beauty products that have hemp seed oil as an ingredient. A lot of products claimed to calm inflammation and fight acne, but hemp seed oil does not contain any CBD or THC. It's a super great moisturizing ingredient but it doesn't contain any CBD or THC because it's the seed. The main cannabinoids only develop in the leaf or mainly in the flower of the cannabis plant. It depends what you mean by calming because it is moisturizing, so people can say it's calming, but that's misleading for the consumer.
What that "calming" means for us is calming the redness, it's not about dry skin as much as it's more about really helping with certain skin conditions. There's a lot of weedwashing out there where products on the market that have hemp seed oil in them claim they have calming, anti inflammatory effects. I felt that there was so much to cannabis, and I was going to work on a collection where we're really going to address different skin concerns highlighting cannabis ingredients. And that's exactly what I did—because our name is BLUNT, we really wanted to send that message as clear as possible.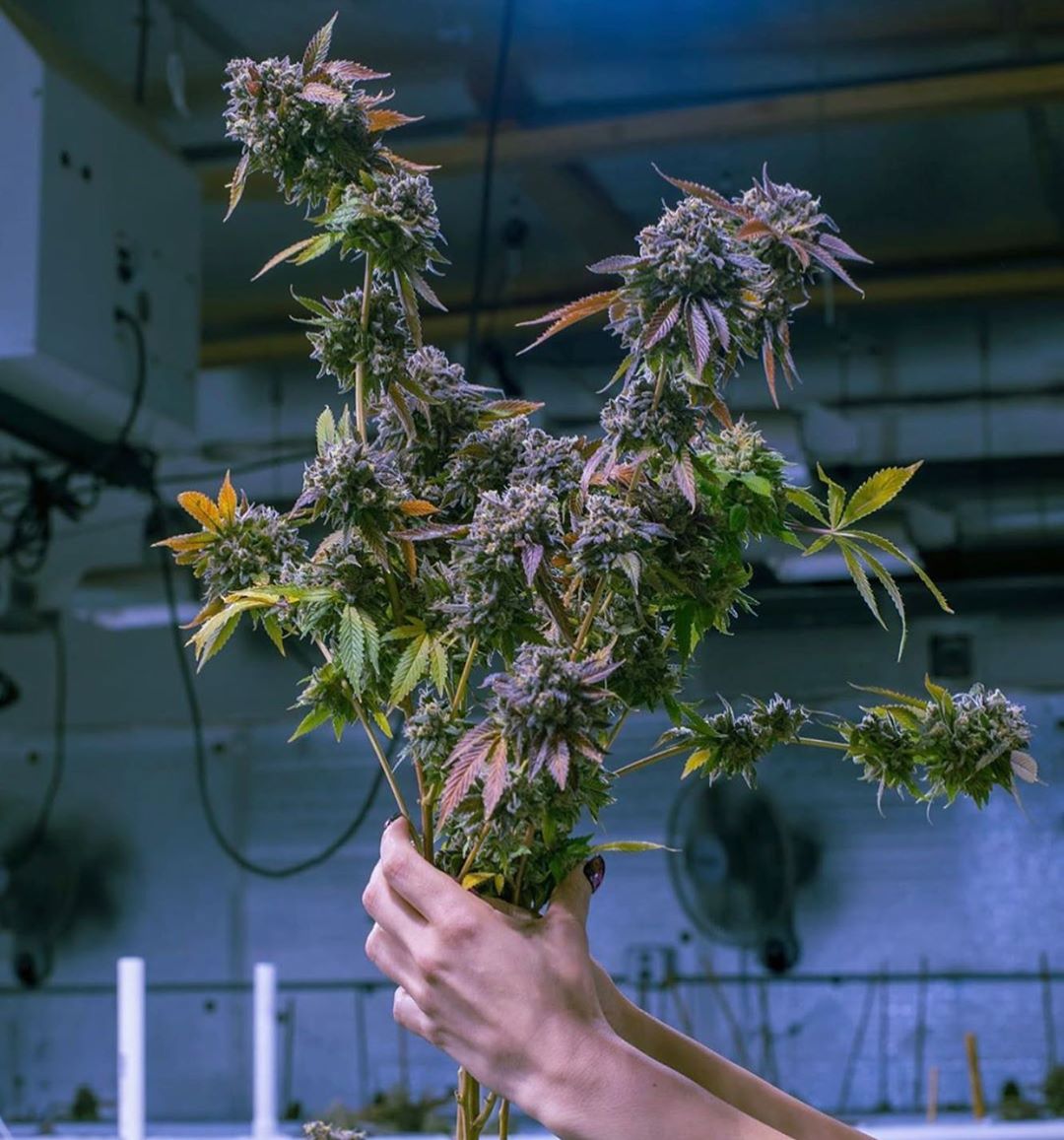 Instagram @theherb.la
On the cannabinoid system
The cannabinoid system in our body was discovered not too long ago. There's a system of lipids and a network of receptors. These receptors can receive signals of cannabinoids, and then they can signal to our entire body. The cannabinoid system is very crucial to understanding how CBD and THC and other cannabinoids work in our body. It's a very complex subject in terms of understanding which type of cannabinoids get received and how the mechanism of the technology works, but in short, our bodies already produce cannabinoids and cannabis is one of the very few plants that can produce cannabinoids.
Cannabinoids that are outside of our body, they're called phytocannabinoids—CBD and THC and other cannabinoids are phytocannabinoids. Endocannabinoids are internal, meaning they're produced inside our bodies. It's so fascinating to discover all this, because in the beauty industry, we're just so used to this graphic image of a charcoal cleanser going into our pores and flushing them out. This is the first time we're tapping into a different type of wellness or skin health, that is through the cannabinoid system. There isn't much research yet to explain exactly the mechanism, but there is preliminary research in terms of sebum production, micro organs in our skin like hair follicles, nerve endings in our skin, they're all affected by the cannabinoid system.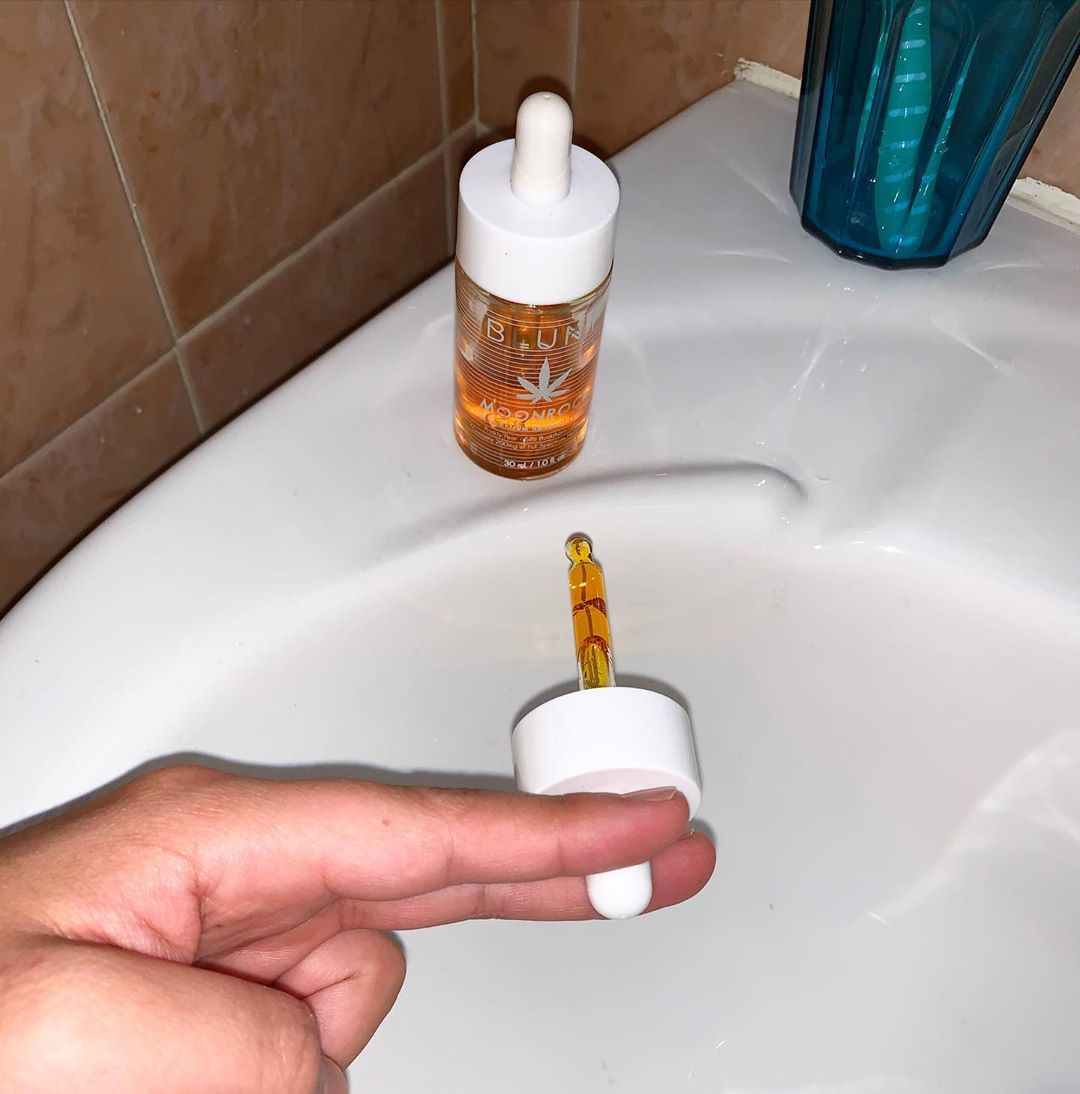 Instagram @blunt.skincare
On their 3 serums
The SEED Hydrating Face Oil ($50) is for hydration. We're addressing the skin barrier so all of the moisture stays in the skin. Oil, in general, is a great skincare ingredient on top of your moisturizers. It's a cold process so it's very beneficial for your skin because all the beneficial ingredients are very prone to heat. So our SEED Hydrated Face Oil was primarily to address the hydration issue and also to stop weed washing and educate people on what hemp seed oil is.
Then ISOLATE Pure CBD Balancing Face Oil ($70) is a blend of isolated purified CBD. That one is for more for acne prone skin because you're always getting that pure ingredient and I wanted to give that benefit of CBD with no other cannabinoids. To address acne prone skin even further, the base of the formula is non-comedogenic. A lot of people are scared to use oils, especially if you have acne, but it's a non-comedogenic oil that's lighter in texture and it contains antimicrobial black cumin, healing vitamin A, rich rosehip and the black cumin.
Then MOONROCK Full Spectrum Renewal Face Oil ($80) is our top line product, because it's full spectrum. People who are knowledgeable about cannabis, a lot of them will look for full spectrum because of the entourage effect that I mentioned earlier. When I was creating MOONROCK I wanted to create a heavier, richer night treatment, more of an anti aging treatment, so I included luxurious oils like prickly pear, sea buckthorn, and argan. These are very rich in antioxidants and prickly pear is one of the most expensive oils because you have to collect so many seeds in order to get a drop of oil. It's super potent. What we're doing with MOONROCK Full Spectrum Renewal Face Oil is we're addressing inflammation, because it has CBD. It also has other cannabinoids, so it has a greater therapeutic benefits long term and we're fighting free radicals because of all the antioxidants we included. That's our top selling product but each is very different in texture and the way they smell. I was hoping to really send that message; not all CBD is created equal. Every CBD is different.
The SEED Hydrating Facial Oil will be available tonight at 7PM EST in the drops section of the app for 25 coins. ISOLATE Pure CBD Balancing Face Oil will be available soon for 30 coins, and MOONROCK Full Spectrum Renewal Face Oil will also be available soon for 35 coins. Be sure to check the app every day—you don't want to miss this one.