"Beauty and hair care has always been such a strong pillar in my culture growing up," says Babba C Rivera. Known by her 141k Instagram followers as just Babba, Rivera is already a trend setter in the world of fashion, but her resume stretches far beyond that; she's the founder of brand marketing agency bybabba, a Forbes 30 Under 30 alumni, and most recently, a mom. After years of working within the tech industry, Rivera returned to her roots (literally) and founded Ceremonia, a hair care brand that pays homage to her Latinx heritage that has since raised $1 million in a round of pre-seed funding. As of now, Ceremonia has one product; Aceite de Moska, an oil for the scalp that nourishes the hair, gives it shine, and prevents frizz. And you guessed it—you'll all be able to redeem this product tonight at 7pm EST in the drops section of the app.
"My father was a hairdresser in Chile, and although he couldn't find work in Sweden due to the language barrier, that never stopped him from cutting friends' and family member's hair in our living room, not to mention the countless hours he would spend braiding my hair on any given day," she says. "Practicing beauty as a form of self-love was something I learned from an early age. I was raised by a mother who would spend hours in the bathroom—it was her spa. Nothing would ever get in-between her and her beauty rituals, and she certainly passed down that devotion to me. I grew up seeing my mom always looking refreshed and smelling incredible."
The idea of self-care is important to the brand's identity, and there's never been a time in recent memory when self-care is more important—and we're not talking about the superficial or performative kind. "What's interesting though, is that my family never approached beauty as something superficial," she says. "To us, it was a way of taking care of yourself—a form of self-love and self-respect. We didn't need an occasion, nourishing beauty rituals were simply part of our everyday. My mother was not the person to go for a blowout, she rather spent her money on a good hair mask to use at home. As a result, I never really saw the appeal of pure styling products or makeup. I've always been much more interested in products that make my skin and hair better for real, not to just look better for the day."
Read more about Ceremonia's sustainable practices, how the brand co-created their first product with the help of every day people, and how Rivera uses Aceite de Moska.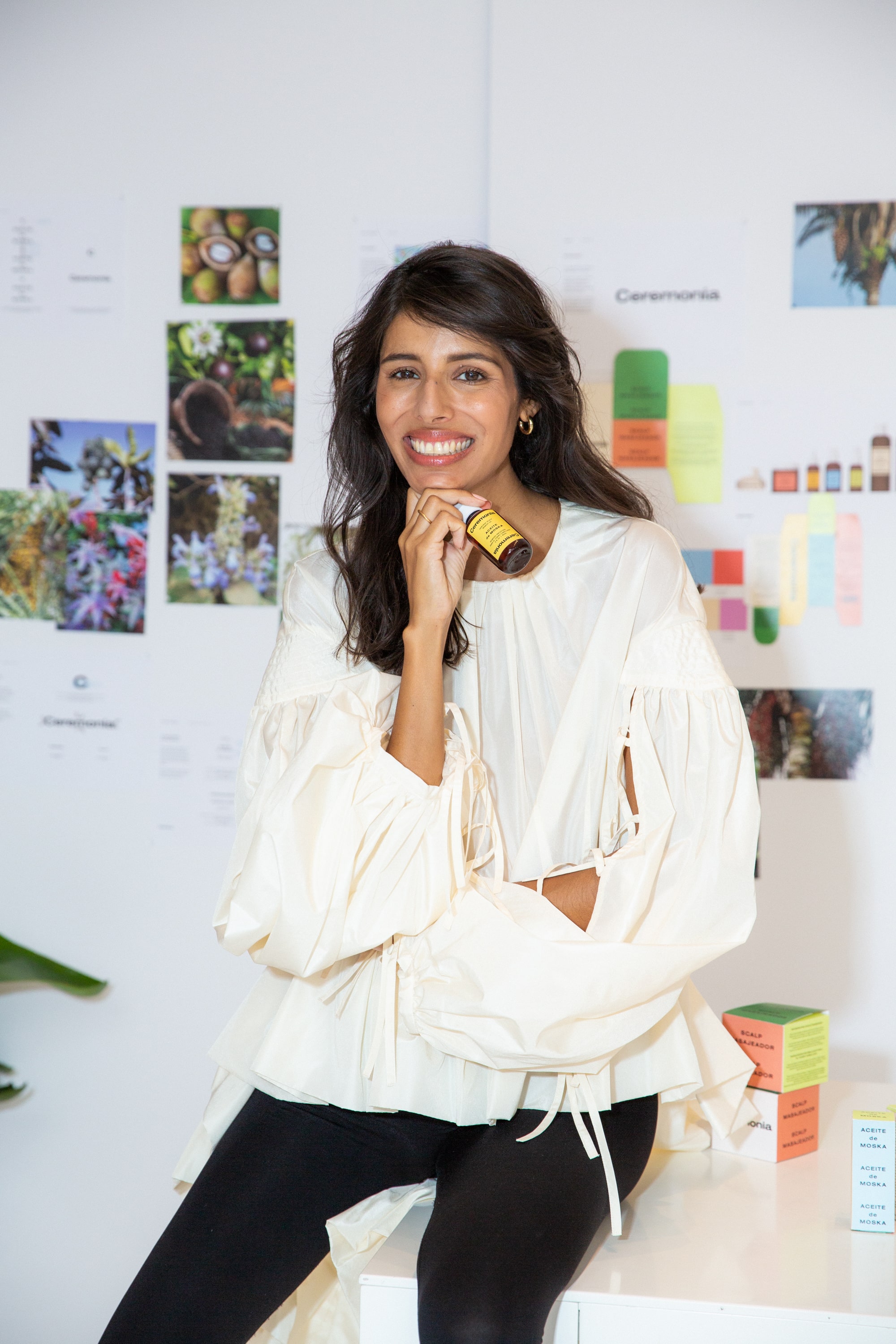 On having the idea of starting a hair care brand:
"The idea for Ceremonia came into my head last September, while traveling for Fashion Month. I was once again reminded by how often I was the only Latin represented in these settings, which got my wheels turning. I decided to do some more research before committing to pursuing the idea, and was frankly surprised by the data that came out of it, such as the fact that Hispanics spend 46% more on hair care products than non-Hispanics, coupled with the fact that the median age is 27, making it the youngest demographic. It became clear to me that the future is Latinx, and the world is just waiting for someone to lead the charge."
On their sustainable ingredients and practices:
"We pride ourselves in offering the very best of clean hair care through vegan and cruelty-free formulas, packed with natural ingredients from Latin America. At the intersection of farms and labs, we have created our own original clean formulas free-of silicones, parabens, sulfates, phthalates, artificial colorants and a long list of other not-so-great ingredients often found in conventional beauty products. Did you know that Europe has banned about 1600 ingredients, whereas the US only bans 30 of them? We're proud to offer formulas that live up to European standards and beyond. We believe in high-performance clean products that are good for you and for the environment. It is our promise to consciously and continuously weave the notion of sustainability throughout our core DNA, and every decision we make is guided by our high standards of doing good while creating magic.
Our key natural ingredients are primarily sourced from Latin America and offer the most nutrient-rich foundation to our clean formulas, including superfruits and plants such as Aloe Vera, Chia seed oil, Babassu oil, Patua oil, Cupuacu butter, acai oil, passionfruit oil and castor oil."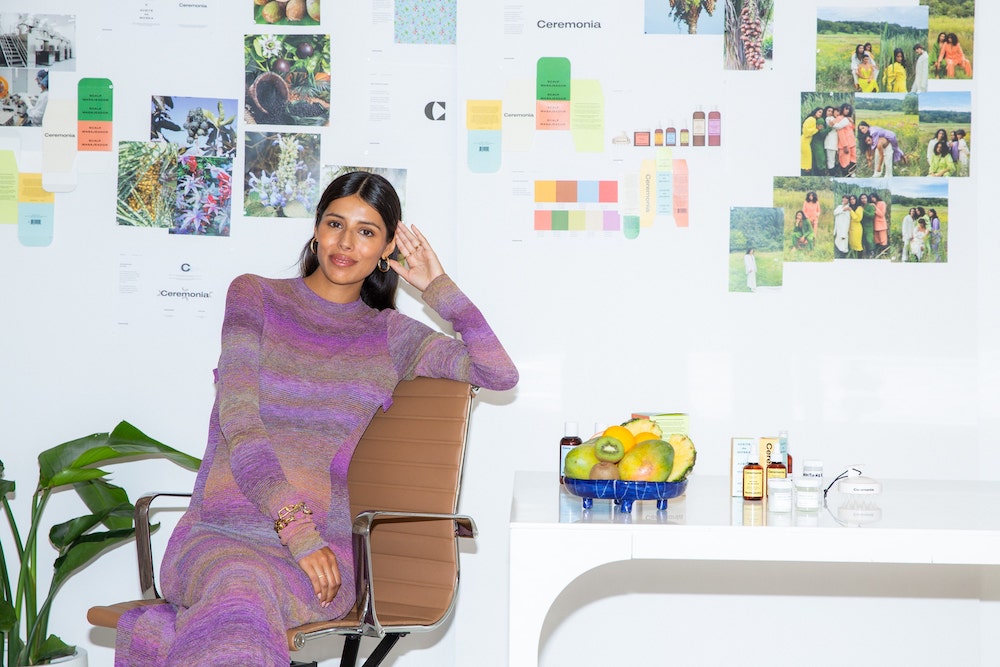 On the product being "co-created by the community":
"We knew that in order to create something truly amazing, we needed to involve our community to help guide the process. I have been curious about what Latinx people feel like they're missing in the hair space, which is why we decided to start a lunch series with members of the Latinx community. It initially started with friends of mine, and grew through referrals and later on we started recruiting people off Instagram. We kicked this off in January, and as the pandemic hit, we paused the IRL lunches and moved the community into smaller groups on WhatsApp. Whenever we have new samples, we send them to our community and let them share their honest feedback on the formulas. In addition to testing products and participating in surveys and conversations with our product developer, we also engage these groups for content creation, photoshoots and social media features. Basically everything we do touches the community in one way or another."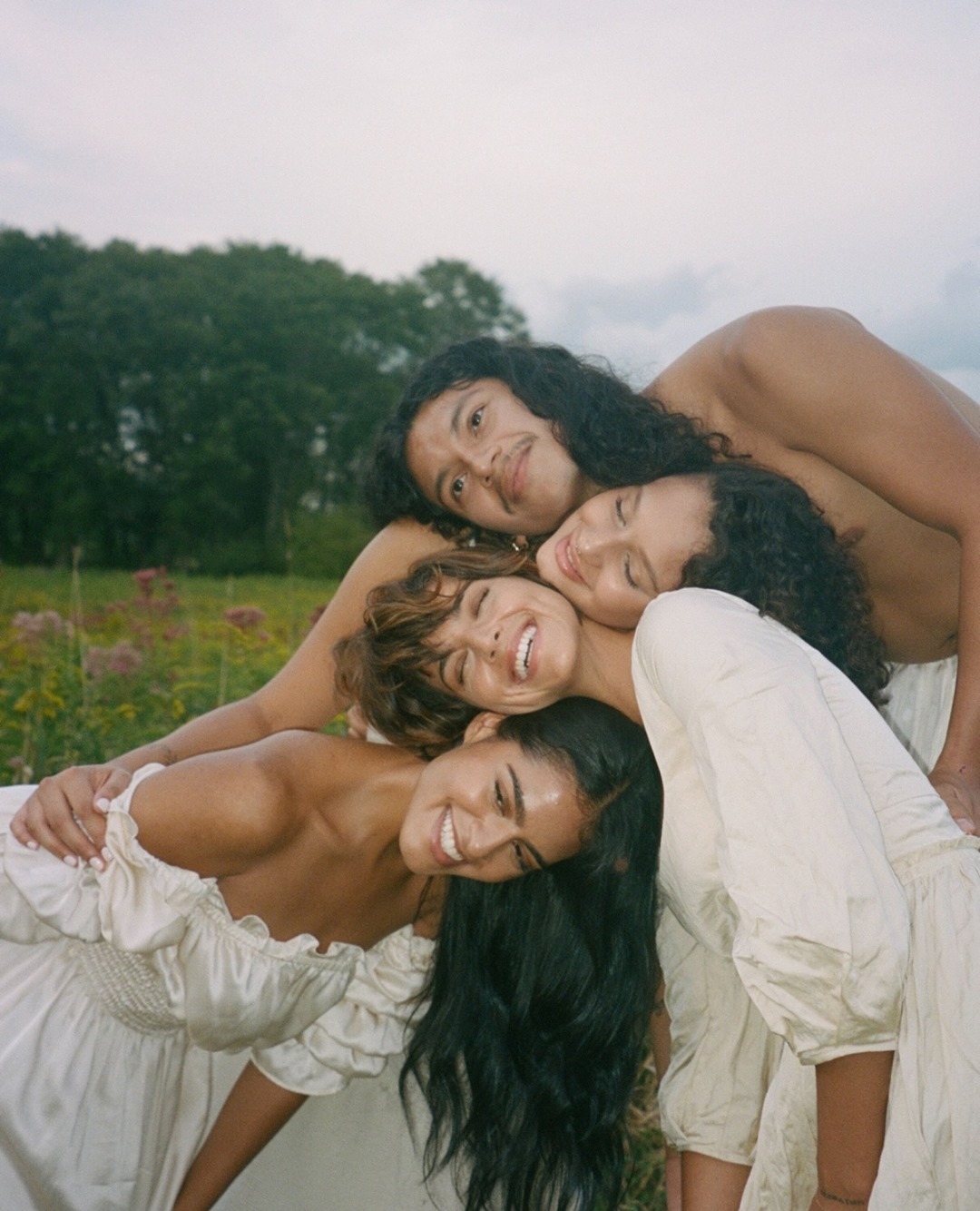 Instagram @myceremonia
On her family's ties to hair care and beauty:
"In many ways, what led me to founding a hair care brand was the immense void in the market for not only a brand that speaks to the Latinx demographic, but also for a brand that takes a skincare approach to hair care. I have been on a mission to update my beauty routine for clean and effective formulas with natural ingredients and feel incredibly happy with how I have managed to get my skin to naturally glow without the need for makeup. I wanted to achieve the same for my hair, but sadly, most hair care brands still use a lot of not-so-great ingredients that don't do anything for your hair besides masking it for the day.
With Ceremonia, I wanted to create a line of products that help you unlock your best hair days. I like to think of it as hair wellness, meaning, the more you nourish your hair with our products, the healthier your hair will become and you will start to enjoy great hair days without the need for extensive styling. I think that in many ways, this is a product of my upbringing. My father would spend hours caring for my hair and despite not having much money, we never had a shortage of hair masks and lotions at home. Treating our hair and skin was a form of self-love, a ritual you do for yourself."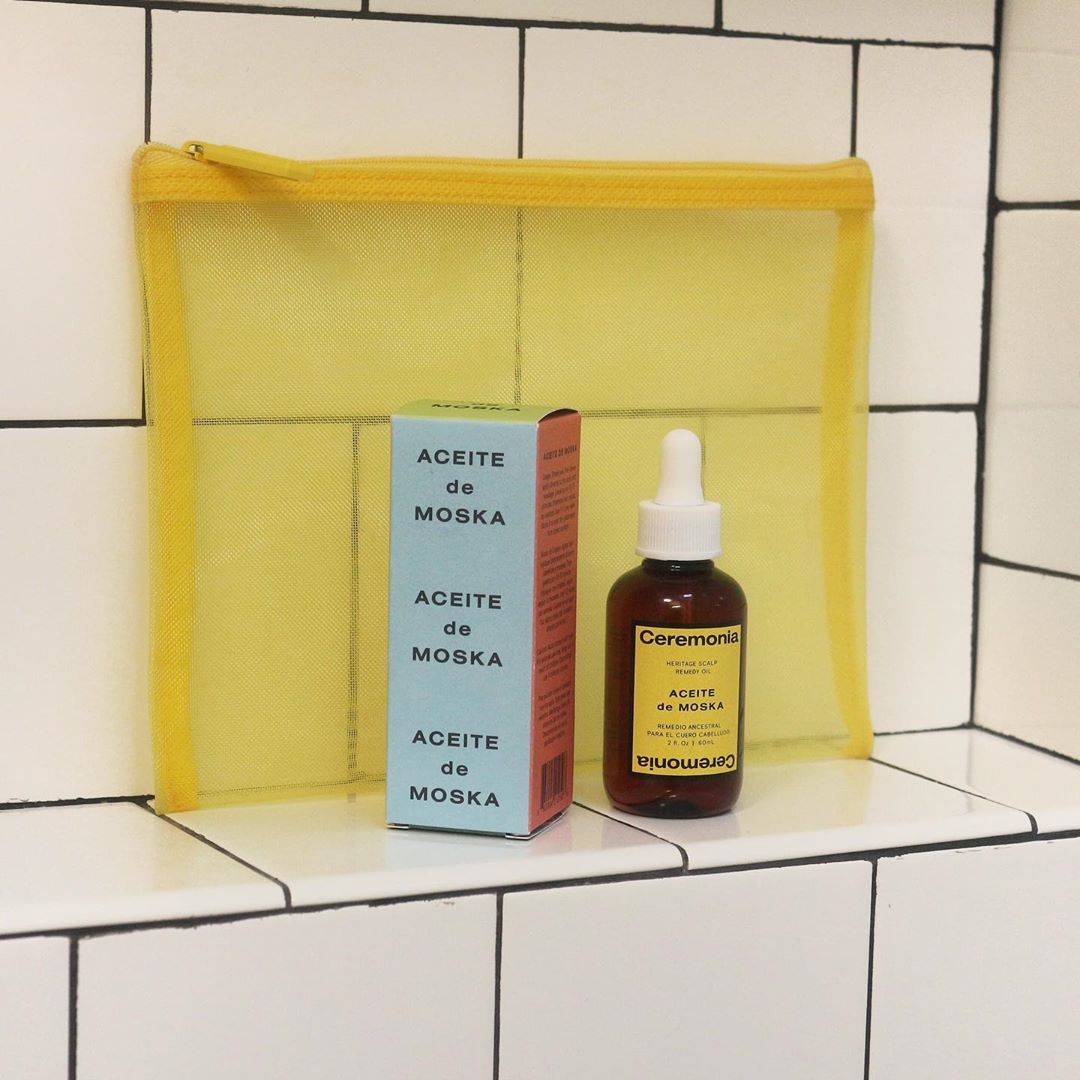 Instagram @myceremonia
On their first product, and tonight's reward, Aceite de Moska:
"We wanted to launch with a powerful product that works on all hair types and that is easy to add on to any exciting hair routine. Aceite de Moska is a scalp oil treatment that helps promote hair growth, shine, strength, a balanced scalp and combat frizz. We actually call it the miracle-oil internally because it truly works magic when used consistently. Our community of testers who used the product weekly for a month reported beautiful results, from getting rid of oily roots, to giving their lengths new life, to reducing frizz and obtaining great natural shine –just to mention a few.
I personally love how easy it is to fit this treatment into your lifestyle. As much as I love the idea of long baths and hair masking, the reality is, my lifestyle doesn't always allow for those moments on a weekly basis. Aceite de Moska is applied on dry hair, directly on your scalp, and you leave it on for 15 minutes or more, then wash it out with shampoo. Because you don't have to be in the shower to apply the treatment, you can easily apply it whenever and then put your hair up in a bun and do some errands while the product is working its magic. Practice a 15 minute meditation, do your workout, walk your dog, do some emails, or why not apply it before going to bed and leave it on overnight? That is my preferred way of using the oil!"
We want to know what you all think about Aceite de Moska! Once you've received your bottle after tonight's reward, or if you already own one, add your review below.