It feels like there hasn't been so much hype for a makeup drop since Pat McGrath revealed her first limited-editions drops (remember the pigment powders?) like three years ago. Byredo is one of those beauty and fashion brands that straddles the line between understated luxury-chic and full-on hypebeast, and when it announced that it was going to release makeup with Isamaya Ffrench... well, the hype was on.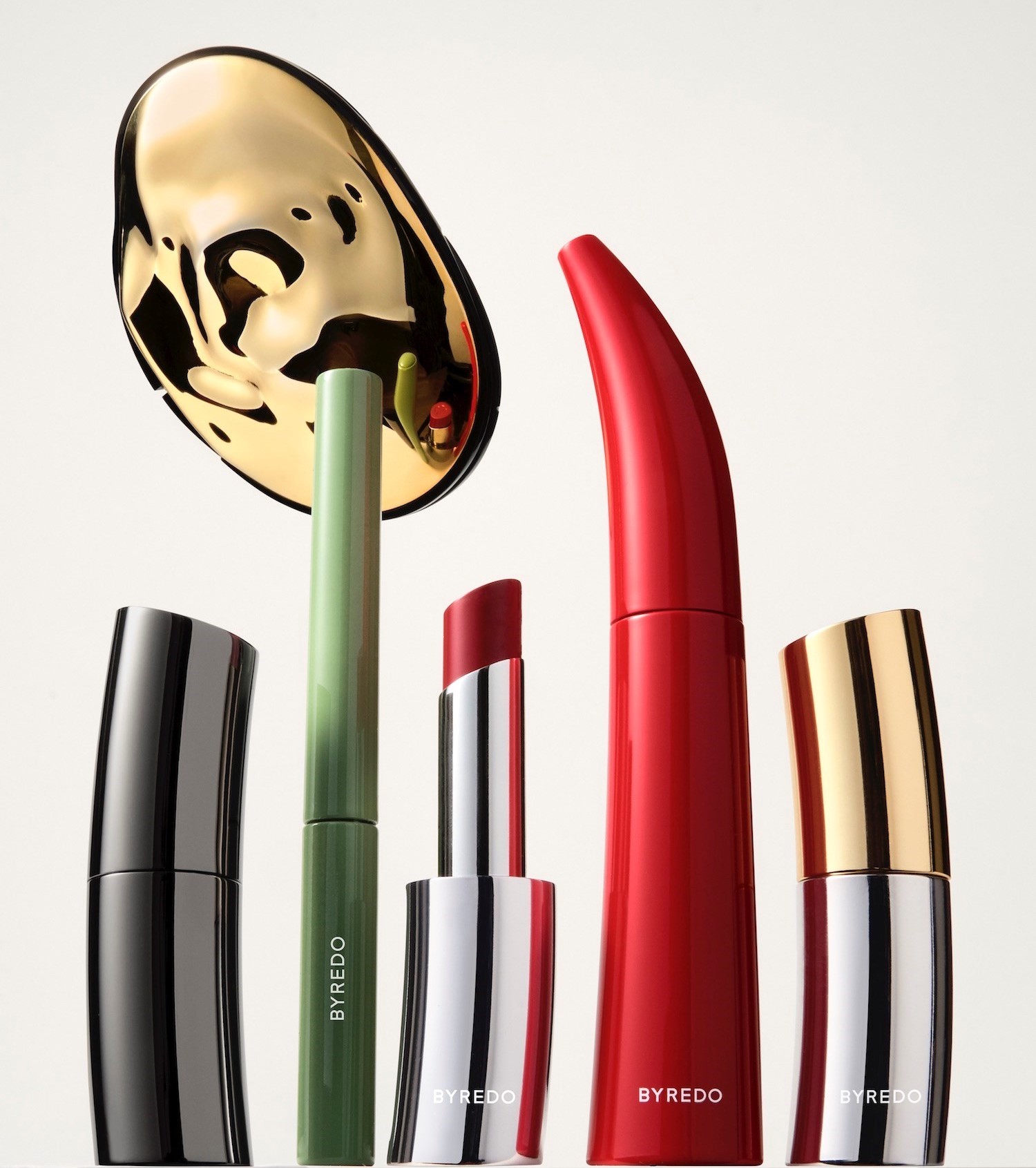 Behold!
The components look so chic and futuristic and because it's Isamaya Ffrench, you know the makeup itself will be something expressive and high-performance. Being that Byredo is a fragrance brand, the products are scented ever so subtley. The lipsticks have an iris and apricot accord, the mascara is rosy smelling, and the Colour Sticks are vanilla scented. None of these are overpowering scents, by the way. I'm sure it would be a really overwhelming experience for some folks if that were so. The brand graciously seeded me the mascara and a couple lipstick and Colour Sticks for the launch.
The Lipstick, $42
There are 15 shades in matte and satin finishes. The tubes are chrome and gold magnetic casings that feel nice and weighty in your hand, and the bullet has the B logo embossed on the top. Very swaggy. The pigments are really creamy and saturated (like, the reds all stained my lips for quite a while, but it does remove easily if you wipe it off with makeup remover), and they're comfortable to wear for a long period of time.
Colour Sticks, $30
These are really interesting in that they're multi-use for anywhere, which is cool. The pigments are pretty saturated and creamy-feeling. They'll definitely crease but their high blend-ability means they're really flexible to use however you please, which was the point. There are 16 shades, all of which are a bit shimmery, some more so than others. I love how they melt into skin to look sheer and glossy, but the color saturation can be built up to be more opaque. I wore them as eyeshadow and while there was some creasing, the color didn't smear or run down my face throughout the wear.
Mascara, $45
OK, I've heard folks around the Internet say the mascara tube looks like a vibrator and that may be so, but my first impression was chili pepper 🌶. I mean, come on, it's clearly a chili pepper. I don't know what Ben Gorham was going for -- possibly just abstract sculptural and cool-looking -- but whatever. The wand is a small silicone guy with short little spikes so you can really get into your lashes and coat it on. The formula is very black and sooty, and probably more volumizing than lengthening, I'd say, but not dramatically so. It makes my lashes look super dark, thicker, and slightly longer -- like a naturally enhanced version of my own lashes. This hasn't smudged on me throughout wear and it comes off easily with my oil-based cleanser. I don't believe it's billed as waterproof, but it held up well throughout a normal non-rainy day and didn't flake off either.
I've yet to try the liquid liner and the eye palettes don't launch until sometime in November, but as for these initial launches, I think Byredo did a great job with this launch. It's definitely cooler than lots of luxury makeup brands that are more no-makeup makeup than expressive and creative. But I am quite certain that's what Ben Gorham had in mind when he tapped Isamaya Ffrench to create the line with him. Are these products expensive? Yeah. But they're also a lot cheaper than anything else you'd buy at Byredo, so makeup is a great way for more people to be able to participate in the brand without necessarily breaking the bank. (Let's not forget that Christian Louboutin lipsticks are $90 a piece.) Honestly, I think that's the angle with most designers who launch beauty and fragrance lines, but I'm not mad at it.
Have you tried Byredo's makeup yet? Does anyone have a chili pepper-shaped vibrator? What's the most you'd spend on makeup anyway? Make a review and let us know.