In 2013, Sable Yong's roommate gave her "a very disrespectful 3 week notice" that they were moving out. "I wrote an ad on Craigslist looking for a roommate that was very ramble-y and funny, I guess, and it got shared on a bunch of apartment listing sites," she says. "One of the founding editors of xoVain reached out to me like, 'Hey, we need writers. Are you a writer?' That's how I got into beauty."
"It was the wild west at the time, because Instagram wasn't as big as it was for beauty at all," she says. "Everyone was mostly just looking at bloggers, YouTube and Reddit, and I think xoVain was kind of a good blending of all three. It was as if a bunch of different bloggers wrote from one editorial website, there was a very active comment section for every story, and the comments were in and of itself a community. The tone was kind of cheeky and more experimental than any other beauty site out there, so it was fun. It was a really good and true way to beauty and it really taught me the importance of individuality, the authenticity of individuality and creativity, and how much better of a connection you can make with people when you can bring yourself into your work."
Yong worked at (the now folded) xoVain as a freelancer, eventually making her way into their full-time staff—in typical New York media fashion, she moved around a lot for the next few years. She returned to freelance, joined the writing staff at Stylecaster, left to help Soko Glam launch The Klog, and then returned to freelance again. She was also copywriting for beauty brands like Urban Decay when she was offered a job at the Mecca of beauty, Allure Magazine.
"They actually didn't interview me," she says. "It's the first job I got where they were like 'You want this job?' I was like 'For real?' (laughs) They were like 'Yeah, just tell us how much money you want.' Of course now I'm kicking myself in the shin, I should have asked for more money. I didn't realize you should do that when you work for corporate. You better ask high because they're gonna lock you in. It was obviously flattering and validating to be asked by a publication I respected to work for them. So that was part of it, too. I was starstruck. I'm glad to have experienced that." She recently left Allure for freelance, and has since written absolute gold like this piece on the moral alignments of beauty for Man Repeller.
Long (career) story short, Sable Yong knows a hell of a lot beauty, so I was very excited to ask her about her go-to products.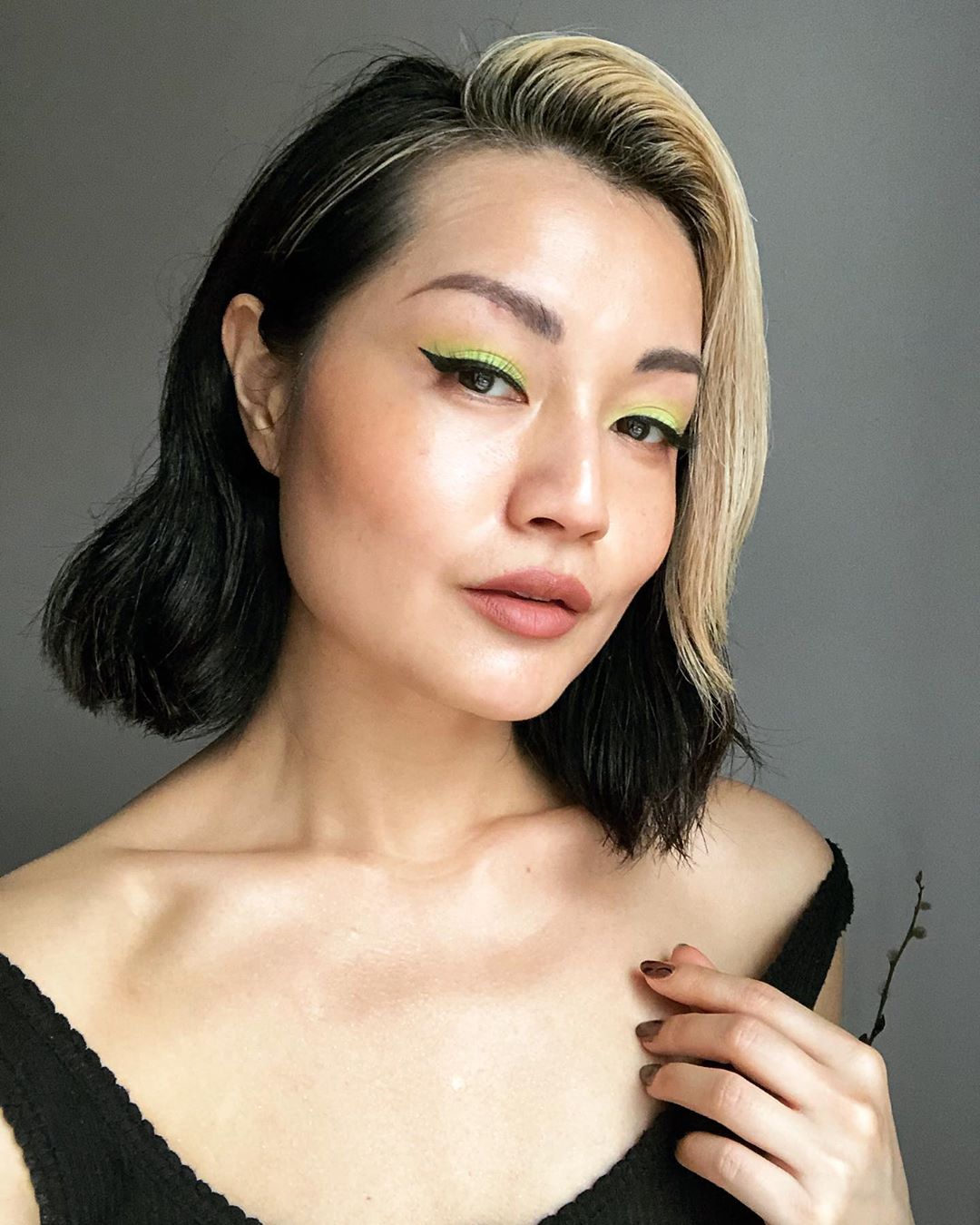 Instagram @sabletoothtiger
On Allure's Best of Beauty Awards and product testing fatigue:
Allure's Best of Beauty trials were bags and bags and bags of products often in the same category. So, for instance, you could be tasked with trying 135 cleansers in the span of six weeks. Everyone broke out a lot and it would be funny because when everyone would start getting their products, it would be within a week or two that people would just have to tap out because they'd get contact dermatitis.
That's why after my first year I was like, I don't test skin care, only makeup. Something like mascara, I could do that because that's something you could do like once or twice a day. But with skincare you can't give anything a fair chance because you need to wait for results.
Every year they would hire two freelancers to organize and facilitate all of the call-ins for products, all the distribution to the editors and the testers, and then they would have to compile the lists. We basically all contributed to a spreadsheet of products we liked, notes on why or why not. They just kind of organized all the information we had. It's very rigorous.
This past year I only did make up. When you're getting 50 to 100 products, makeup is also the smallest items, so I did highlighters, mascara, and eyeliner this year. Last year I made the mistake of doing hair masks and shampoo and conditioner, so I just had tubs and tubs of hair masks. It was a terrible idea. Product testing fatigue is a real thing.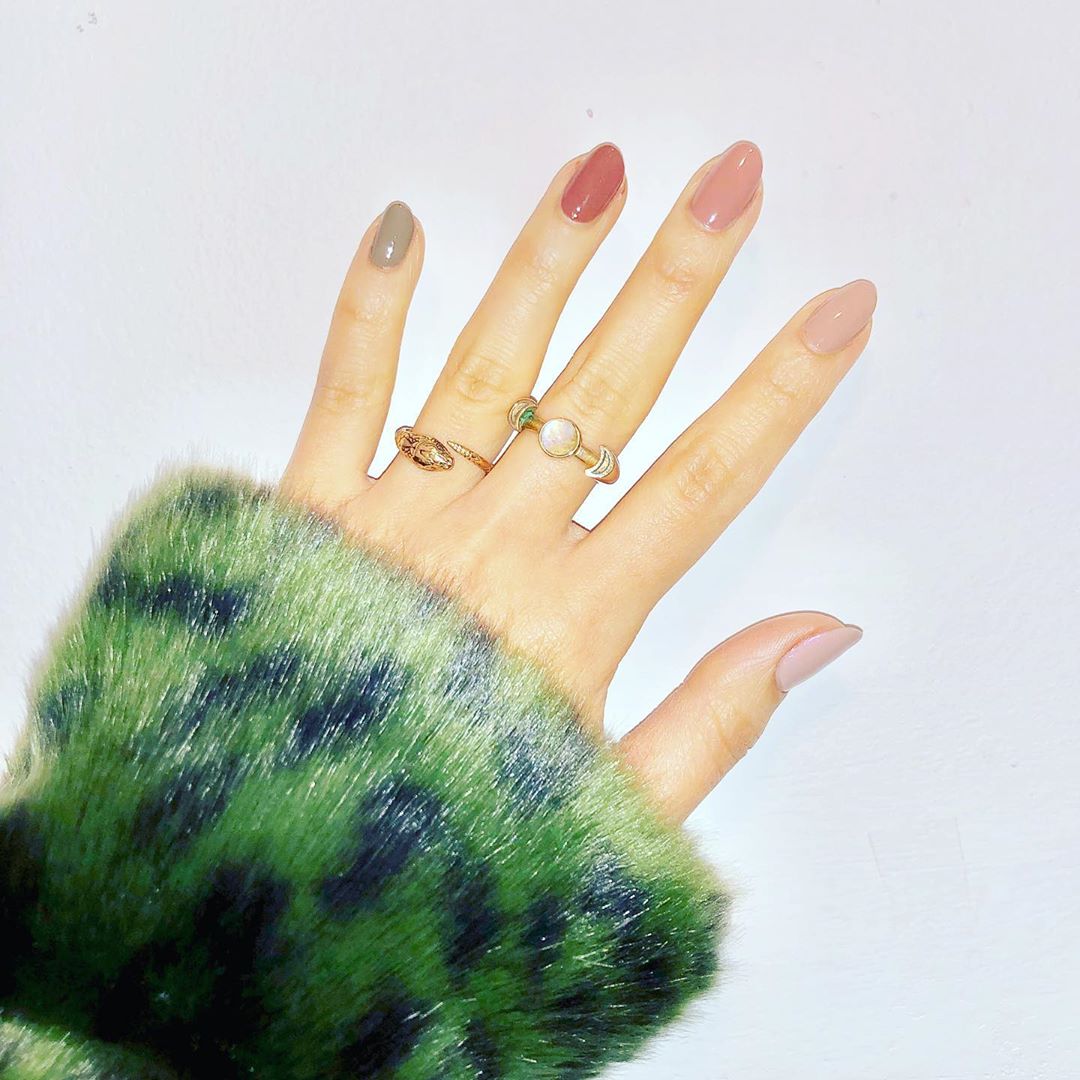 Instagram @sabletoothtiger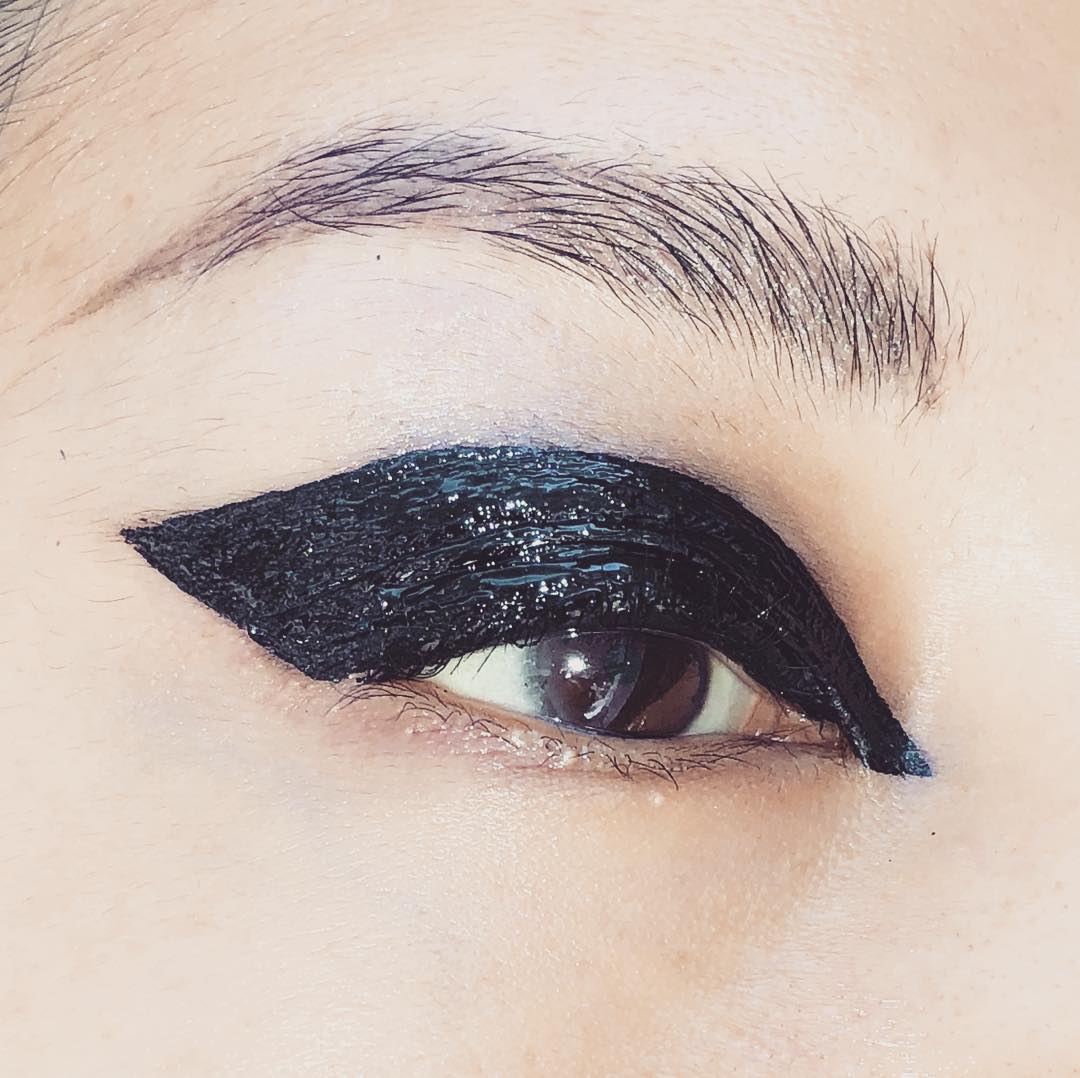 Instagram @sabletoothtiger
On her morning skincare routine:
Cleansing is always super important. I tend to rotate, because I just have so many products. Right now I've been using this new brand that's actually launching this month called Holi Frog. Actually I'm biased, I did a lot of their copy for their web, but also the brand founder is a friend of mine. It's almost as if she turned serums into cleansers, so it's a clean beauty line where every ingredient is useful, not irritating, and has some skin benefit. I really like their washes, I believe they're in the high twenties so it's not cheap but it's not unattainable. So I'll use that or I'll use Renée Rouleau. Mostly I really like her acne line, It's called Rapid Detox. When I'm having breakouts I'll use her cleanser and toner and mask in that line and it actually really does help. I've been doing this thing recently where I always cleanse for a full 60 seconds. So just like, suds up, massage, get into all the nooks and crannies. Don't just slather your face with cleanser and then rinse it off because it's not gonna get everything or emulsify all the dirt and oil. I think there has been a huge improvement in my skin.
Part of me is a mask-skeptic, unless it's an exfoliating mask. I don't think clay does anything for me. I'm not super oily but I do get a little oily midday. I am a sucker for any moisturizing toners like hyaluronic acid. There's one that I got at this one boutique in Chinatown, oo35mm. That place rules, there's so much stuff and it's not that expensive. I got a hyaluronic acid toner from them, it's a Korean brand called ISNTREE. I tend to run a little dry so my skin just soaks that shit up. And then I always do a vitamin C serum in the daytime. Right now, I'm kind of going in between Allies of Skin Vitamin C Serum and Farmacy, they have a new one and it's called Very Cherry Vitamin C. I used to really love the COSRX and SokoGlam collab vitamin C. It's called Liquid Lightning or something. They still sell it at SokoGlam and that's really good. It's only $20 so it's really affordable.
After that, eye cream. I'm a recent eye cream convert. Two different aestheticians told me that my under eye area is really dehydrated and part of me thought maybe it's because I haven't been using eye cream. Any hydrating eye cream that's light and not too sticky, like the Belif one, and the Kiehl's avocado one, which is very emollient.
Right now I'm using the Farmacy Honey Moisturizer. And SPF is super important. I literally won't leave my house unless I'm wearing sunscreen. There is one I really love by Supergoop, it's their all-zinc one, the one that's 100% mineral. Their Everyday Sunscreen used to be my favorite until a friend of mine who's studying cosmetic chemistry said that one of the main ingredients is an endocrine disrupter and I was like 'Okay, can't use that anymore.'
I use EWG to check product ingredients, which is helpful but you have to search by each individual ingredient. Allergies I don't really care about so much as things that could fuck up my hormones. That's why mineral sunscreens are the safer bet.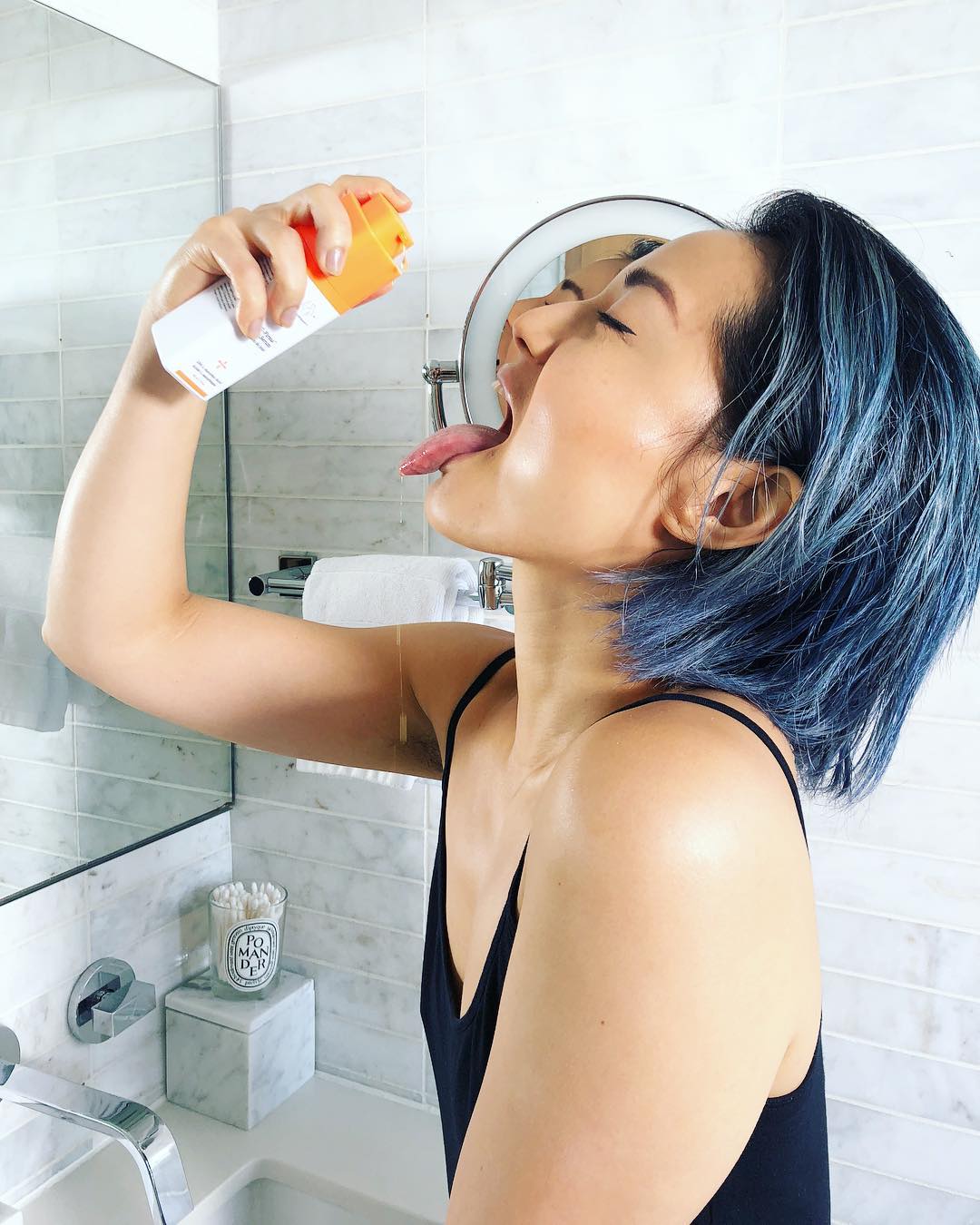 Instagram @sabletoothtiger
On her favorite makeup products:
The most minimal makeup day for me would involve brows and blush. Lip color is just something I always do, it doesn't matter if it's a big look or a little look, I'll always have lip color. I really do like Glossier Cherry Balm Dotcom, it has a good amount of tint. And because it's lanolin-based, it's actually moisturizing. Milk Makeup tinted balms are really good too, the Kush Lip Balms, they have a little bit of sparkle in them. I'm not super big on sparkle. It's a subtle sparkle. Otherwise, the best is the Bite Agave Lip Mask, but it's a balm, and it's $20 which is insane. They released them in a bunch of different colors and I have two tubes of the clear one that I like. I keep one next to my bed and keep one in my purse. It's legitimately moisturizing. Or, I also found what's really cheap and good is Lansinoh. It's technically a balm you put on your nipples for nursing mothers, it's just lanolin.
For brows, I get them micro bladed. Because people with oily skin are going to have a lot of oil around them, it'll break down the pigments quicker. Microblading lasts generally for two years. The skin on your face, it sheds quicker than the skin on your body because you're touching it and putting products on it. So I feel like because I double cleanse every night with and oil cleanser, I'm kind of exacerbating it a bit but I can't not double cleanse. I go to Kendra Bray, her business is called Better Brows NYC. Shout-out to Kendra. She's incredible. And she works with you to just do exactly what you want and what you think you look best in. I use Flower Beauty Bubble Brow, that's Drew Barrymore's line. It's the same theory as people who would use glycerin soap, it's a pomade that gets them to stick up and look really fluffy. I love it.
My eyelashes are extensions. When I originally got them I asked the woman for something natural. I have quite short eyelashes to begin with, so I just asked for something a tiny bit longer than what they are and with curl. I looked like I had caterpillars on my eyeballs, but after a couple weeks of shedding I was like, 'Okay, this is exactly what I want.' So now it feels good. I just like waking up feeling very done. I think I would do it again.
I have probably like 25 types of mascara. It's wild. And also again, it's an occupational perk. If these were not given to me, I would probably own three tubes of mascara. There's one Japanese one called Kiss Me Heroine. You can get it at the Japanese grocery store, and it's a tubing formula so it's the kind that gives you mini fiber extensions. It doesn't come off all day. It's actually a little difficult to get off, which is annoying, but it's really, really good. And the Glossier one is similar. For a really dramatic one, or low-key drama, I really like Maybelline Snapscara. Everyone loves Great Lash and I think it's so whatever. It's like the training wheels of mascara. But then Snapscara was like, 'This is what Great Lash should be!'
I love cream blush. Kosas has those little blush duos with a highlighter and all of them are so beautiful. RMS I also love, but they're pricier. The the Living Luminizer is amazing. Jillian Dempsey makes really beautiful cream blushes and really beautiful eye glosses called Lid Tints. It has just the right amount of tackiness where it's not gonna drip down your face. I mean, any type of eye cream or eye gloss is gonna crease, that's just the nature of them. But these literally make it look like your eyelids are shimmering from within. She's a makeup artist, so it makes sense why her products would perform well.
I like the kind of non-shimmery highlighter that's kind of like a balm, which I've noticed more and more brands are coming out with. Like Ciaté, they have their Dewy Sticks. It's reflective on its own without using particles. Oh, and the RMS highlighters, too. All of them. I've been using the peach one a lot lately.
I do spot foundation and I use my hands. I've recently learned how to use a brush for foundation and I'm like, 'Wow, this actually does make it easier.' But I feel like with hands, it just melts into your skin, the warmth of your fingers just presses it in there. The Milk Makeup Flex Foundation Stick is great for spot concealing. That and their Flex Concealer. And there's a British brand called EX1, they're quite newish and they just launched in the States. They have concealer, powder, and foundation, and it's extremely affordable. Everything is like less than $20. And they've managed to marry full coverage with a natural finish in a really, really good way.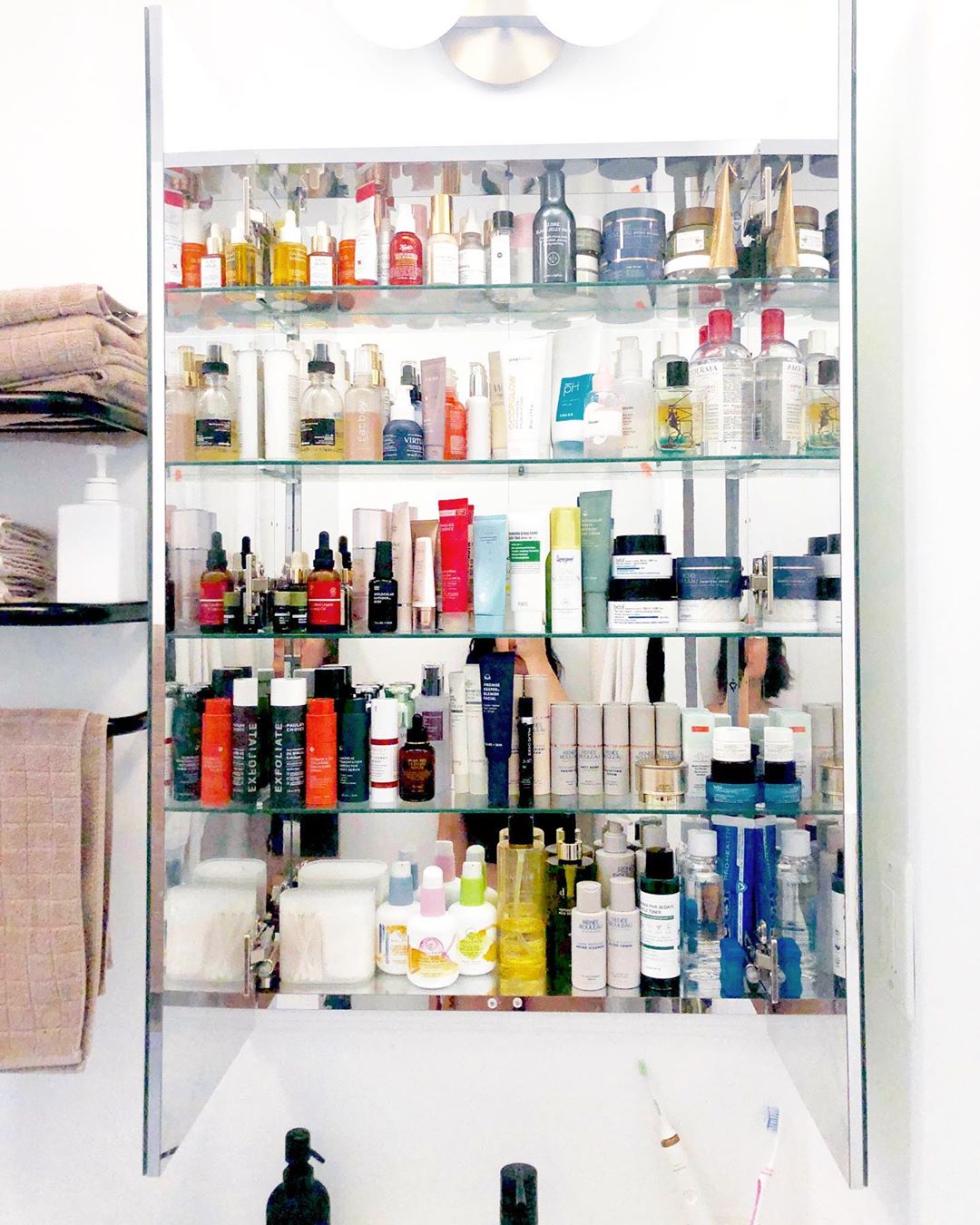 Instagram @sabletoothtiger
On hair and body products:
When my hair was all bleached, I would use so many conditioners and masks and toning things. But now that most of my hair is it's natural texture, I only wash it maybe like 2 to 3 times a week. It's like pretty low maintenance and I use a lot of oils or hair balms just because it's quite coarse and thick, so it needs coaxing. I do like Virtue products, their shampoos and conditioners are really good. And Davines, they're an all natural, sustainable hair care line and all of their products are so nice. And they, if nothing else, just make your hair smell amazing and feel super soft. And then for styling, coconut oil still works really well for me. I think just because my hair is particularly coarse and thick so it could work with that. I use it very sparingly for fly aways and my ends. I try not to heat style as much, I just let it do its thing.
I love body oils. I've been now using more body washes that are scent-free and pH balanced. I don't really know how far the whole pH-balancing thing takes you. As a culture, I do think that we're too obsessed with sanitation and cleaning ourselves to the point where we're disrupting or destroying our own barriers, our microbiomes. I try to use less irritating body washes. I'm actually using like a baby one by Mustela. And then for body oil, I'm not picky about body oils as long as it's not petroleum-based. I have a couple that I rotate. I used to get in bulk from MountainRoseHerbs.com, where you can get Jojoba Oil or Sweet Almond in bulk. Simple stuff like that. Otherwise, I've been trying one from Susanne Kaufman, which is incredibly expensive. It was gifted to me by their PR, and it's so lovely, so luxurious. So I've been using up that one before going back to the old standbys.
I'm a pretty big fragrance person. I have about 24 perfumes on rotation. Again, occupational—perfume is fucking expensive. Now, all of the fragrances I use are from indie brands. Like not to say that they're not luxury. Like, Byredo is technically an indie brand but they're luxury. Like DS & Durga—those are two of my favorite fragrance brands. From Byredo, I love the Unnamed scent and Velvet Haze. From DS & Durga, the scent I Don't Know What. I like the ones that aren't overtly singular in note, that are a little bit more amorphous, and they change on your skin chemistry. I feel like more fragrance brands in general are trying to capture that whole like skin chemistry thing.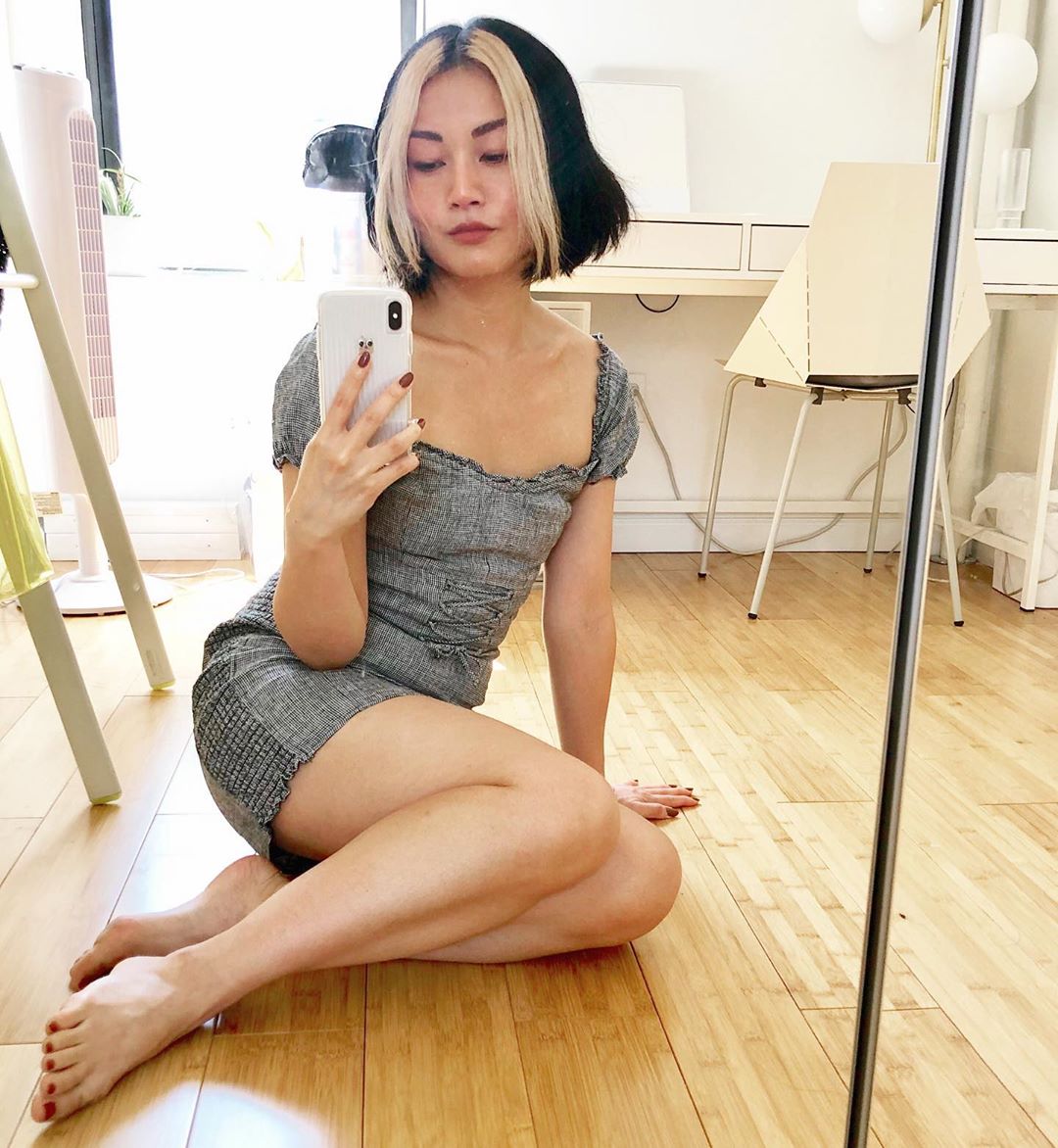 Instagram @sabletoothtiger
On her nighttime routine:
Double cleanse. Always. I use the same second cleanser as in the morning, that's my water based wash. For the oil cleanser, there's one from SokoGlam that I've been using by Hanskin. It comes in like a huge 16 oz bottle. So I've been kind of just chugging through that. It's called PHA Blackhead Clearing Oil Cleanser, which is weird to think that an oil cleanser clears out blackheads. But it's nice, gentle, it smells nice, and it emulsifies really well. I've tried the Drunk Elephant one, the Slaai one, which is nice. They just launched an oil cleanser this year that's very rich, which is nice when you have more makeup on. It really gets in there.
In the past, I really loved the Banila Co cleanser, it's the classic K-Beauty cleansing balm. That's really great. I cleanse for a full minute, and then I use a water-based cleanser afterwards, and then a toner, again. And this is where sometimes I have to cut back on exfoliants because I think I do them too often. But I love the Paula's Choice 2% BHA Liquid. That's the shit that when you use it at night, you see results in the morning. Your pores will look smaller, it's crazy, and it's $29, which isn't bad. You're not supposed to use it everyday, I was using it every day, and then I had a facial and the aesthetician was like, 'What are you doing? You're destroying your barrier. It's really dehydrated.'
There's another chemical exfoliant I like, it's a Korean brand called Some By Mi, and it's just like an exfoliating toner. It has AHA, BHA, PHA. I'll use that like once or twice a week. And then a hyaluronic acid serum, or anything hydrating, so like hyaluronic acid or peptides. The Ordinary makes a really good, cheap, hyaluronic acid serum, it's called like HA + B5 and it's $7. It's amazing, i've actually repurchased it a couple times. I've tried hyaluronic acid serums from super expensive brands like Barbara Sturm and the results are all the same. So you don't have to pay $100 for this. Honestly it's not even an expensive ingredient, it's actually a pretty cheap ingredient. You have to remember that if you go from doing nothing for your skin to getting a high quality product, of course you're gonna see results because your skin has been starved for attention and you're finally giving it a little bit.
After that, eye cream again. Same eye cream. And then moisturizer. At night I'll use something a little thicker. The Renée Rouleau Comfort Cream, I really like that one. Pricey, but she works. Or the Belif Aqua Bomb. I like the cream one, not the gel one. I feel like it sinks in and disappears. I can't sleep on my side or my face sticks to my pillow case, so I sleep on my back.
I'm big on the nightime routine. I used to use a lot more serums. I feel like your skin can only multi-task so much, it can only take so many actives at once. They'll kind of cancel each other out. I would cocktail them together and then enough dermatologists were like 'Yeah, don't do that.'
Follow Sabletoothtiger on Supergreat and watch her reviews below.