Welcome to our first ever MUA Talk, where we ask some of the most accomplished makeup artists in the world about their careers, the beauty industry, and all the tips and tricks you need to get the most out of your favorite beauty products.
We had to launch this column with one of our favorite makeup artists in the game, Jaleesa Jaikaran. Her mind-blowing portfolio is too vast to fully detail, but here's a little taste; she has published work in magazines including Glamour, Essence, Cosmopolitan, Harper's BAZAAR, L'Officiel, ELLE, and Vogue, and has done a ton of backstage work at fashion shows including Louis Vuitton, Alexander Wang, SAVAGE X FENTY, Jeremy Scott, Manish Arora, and Marc Jacobs. She's also assisted legendary makeup artists Pat McGrath and Isamaya Ffrench, and has worked with celebrities including A$AP Ferg, Playboi Carti, Junglepussy, Luka Sabbat, Princess Nokia, Jourdan Dunn, and so many more. We'll give you a minute to let all that sink in.
Jaikaran is from Trinidad and she began her career by taking a class with a local makeup artist. Like many others in her field, her first job was at MAC Cosmetics, which allowed her to move to New York to pursue her dream full-time. Hard work, professionalism, and tenacity are recurring themes in Jaikaran's life, and she has seemingly endless irons in the fire. In addition to her work as a MUA, she's also the founder of The Artist Planner, a weekly planner created for creative entrepreneurs, as well as the host of a new podcast The Life of a Makeup Artist. Oh, and she also has a very successful Youtube channel with over 47,000 subscribers. Are you exhausted yet?
We spoke to Jaleesa while she was at a gig in DC about how she got her start, the most valuable lessons she's learned during her career, and her personal beauty routine.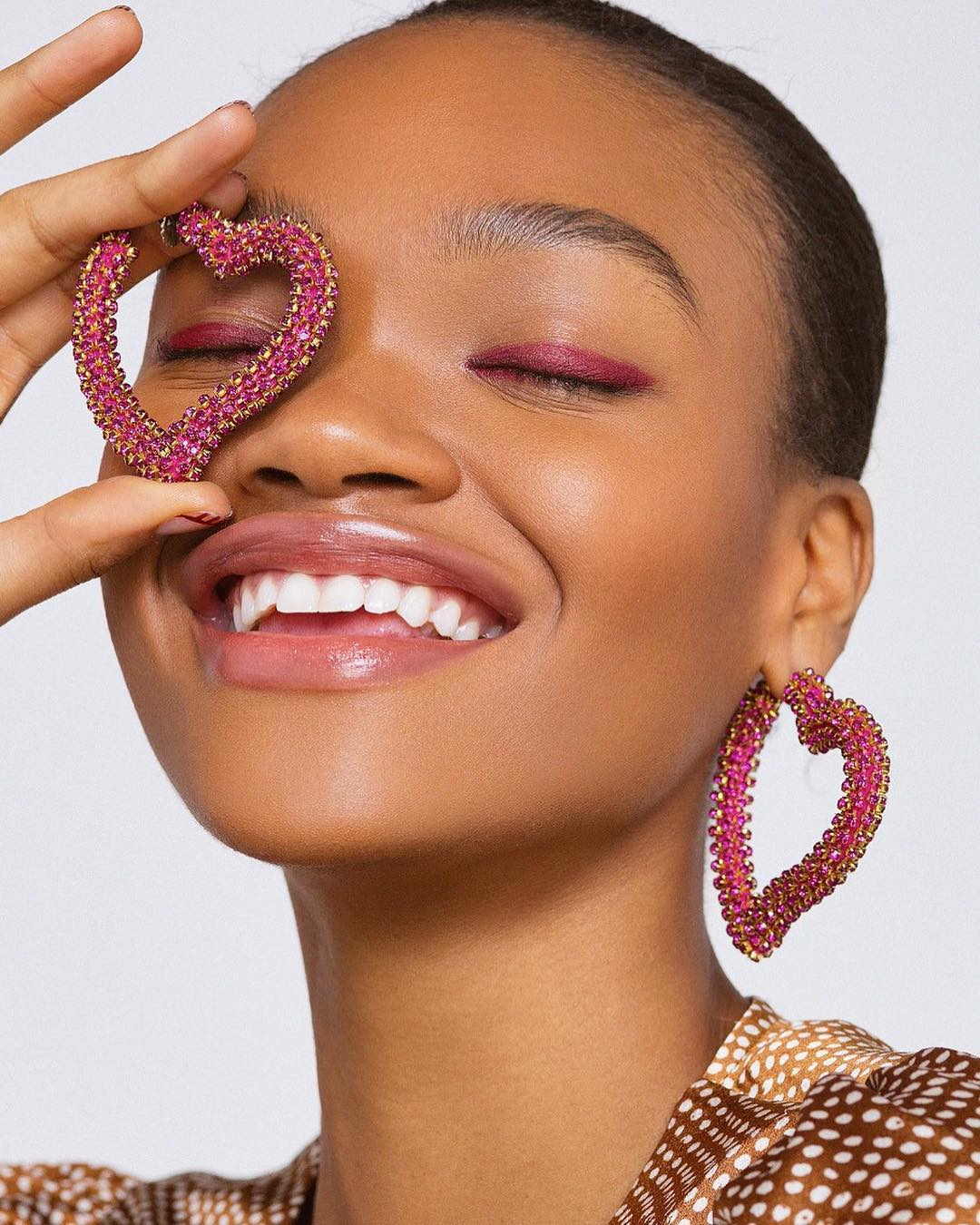 Makeup for Cosmopolitan, image by @rubcha
On how her career started:
My career started in Trinidad. I was always interested in makeup and things like that, but it was like right before YouTube started, so it wasn't really a career. I never thought that I would be a makeup artist. I was actually more interested in advertising and marketing and I was in school doing management at the time. There were no makeup schools in Trinidad so I took a class with a local makeup artist, and I actually started to assist her.
Shortly after I started working at MAC Cosmetics, and I wanted to move to New York, but not without a job, so I transferred with the brand. I was like, I like to eat nice things so I'm not moving to New York without any money. I worked at MAC for the first three and a half years of being in New York, and at that time I started to assist and do fun things like that so I could get my feet wet and familiarize myself with the industry over here because it's very different in Trinidad where I had a lot of clients and did a lot of carnival makeup and things like that. I really wanted to perfect skin and editorial.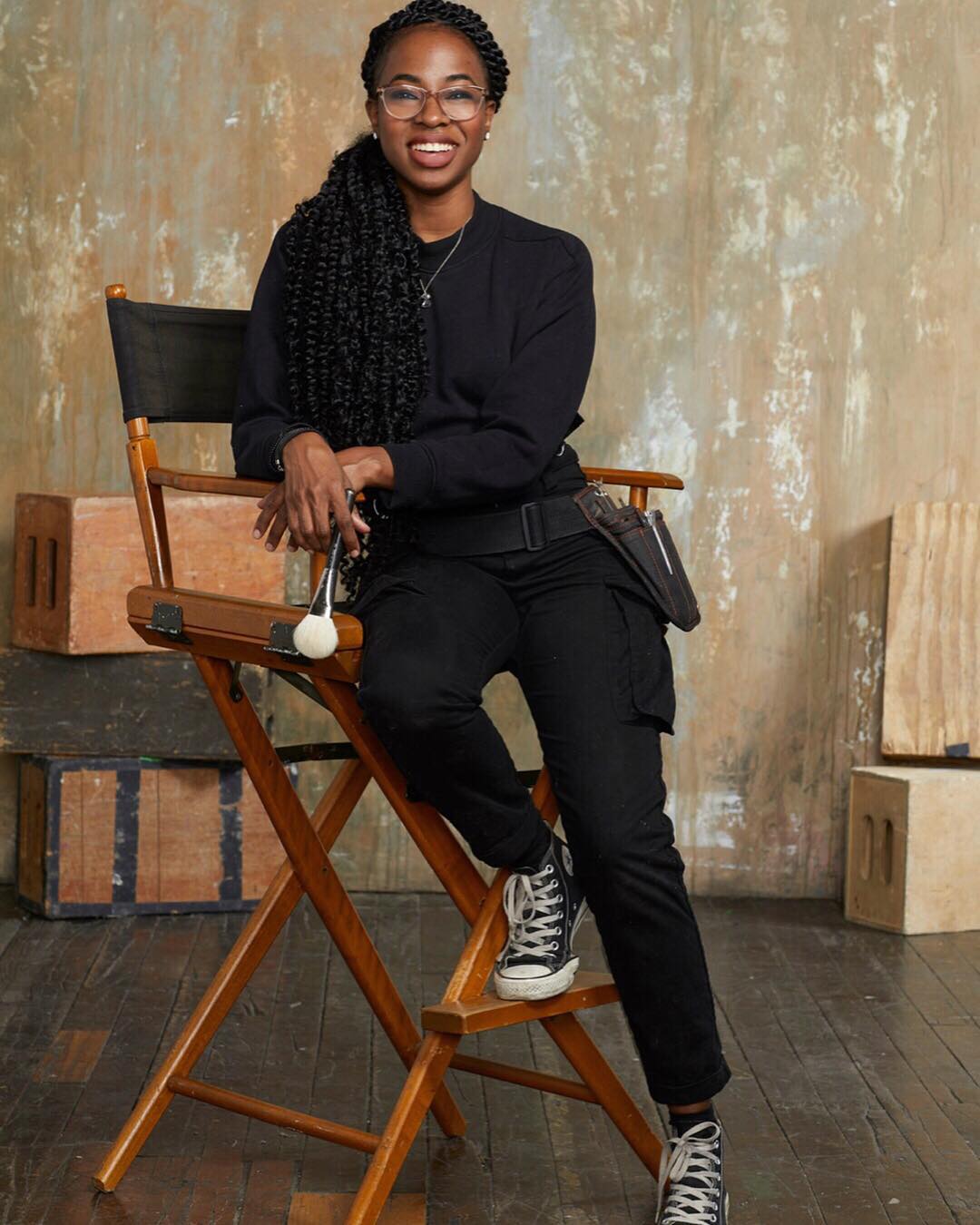 Jaleesa Jaikaran, image by @itayshaphoto
On the moment she realized that a successful freelance career was possible:
I think that started to happen right before I left my job. I was assisting heavily then and I had planned on leaving my job the following April and I had started saving my money. One day I went to work, and my friend was like, you should just leave today. I gave my two weeks, but I had a few things coming up and I had to be off, and she was like you're not going to be here anyways so just leave! And at that moment things were so steady that I thought, I think I can actually do this.
I think that moment really stands out to me because I had to save and learn about credit and do all these things. And, you know, for me to just take the jump when I really didn't plan, like- I'm a Capricorn and I have my own planner, I'm a planner girl, so for me to leave at that time was a big moment for me.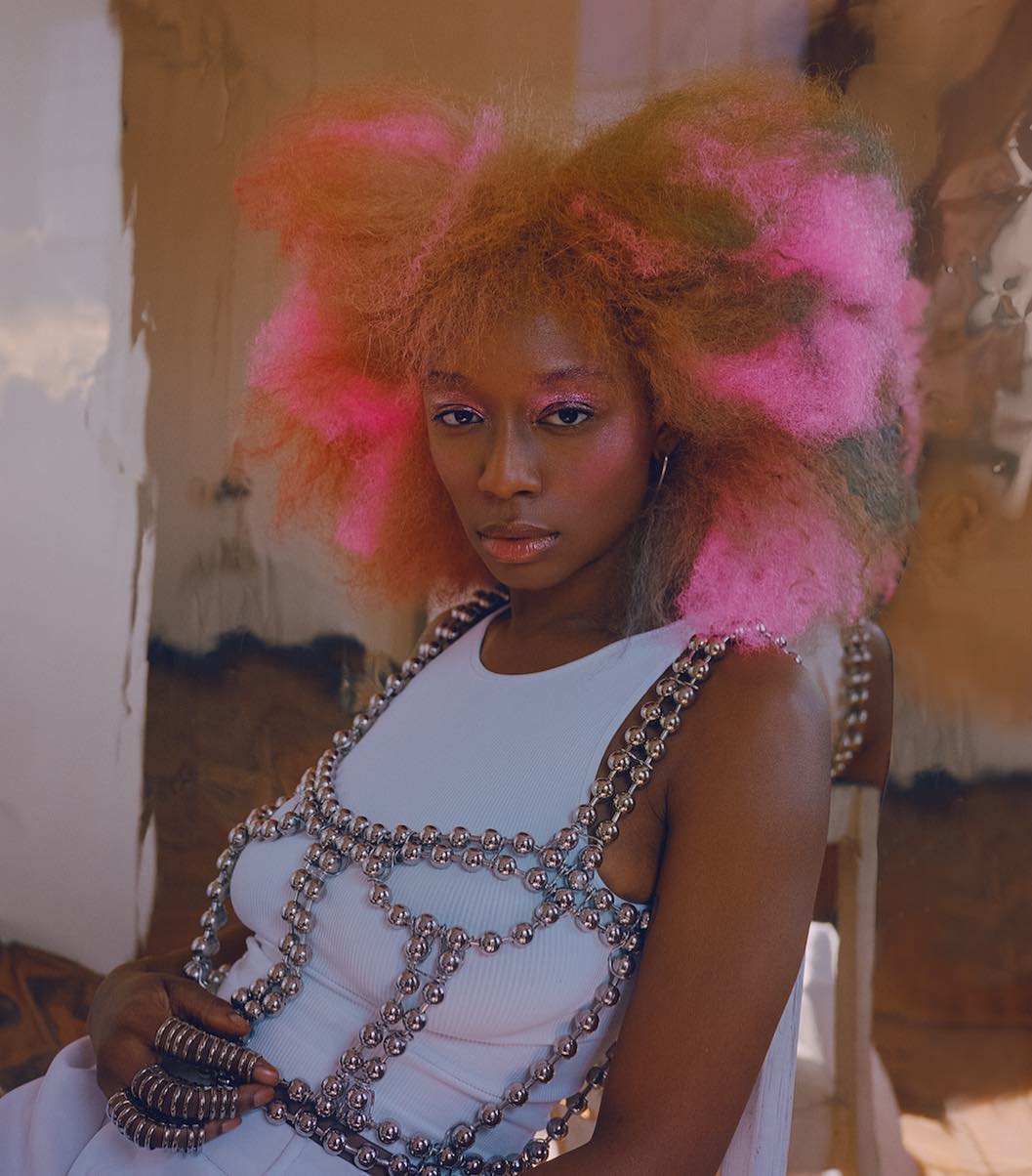 Makeup on Junglepussy for Neu Neu Mag, image by @micaiahcarter
On the qualities people should have if they want to go freelance and the big opportunities she had to let go:
I have a little story, I won't say who it is, but there was an opportunity. I was helping out a friend at a media event and I was on set, making sure the talent was fine and she was in the back doing makeup. I got a text to do a celebrity's makeup, like a huge person. I haven't really told this story to anybody really, but this a good moment. I said no because it's just not in me to step away from my own personal gain and leave somebody else hanging. If you knew who it was, you'd be like, oh my God. (BTW, she did end up telling us, and "oh my God" is a serious understatement).
I just think that you need to find reliable people who won't leave you hanging, because your name is all you have. If I had left, people would think of me as the girl who always leaves and three years later it would still have haunted me. Things always come back, and the person who offered me that opportunity is still in my life, she's now my agent.
So I think one, being reliable and trustworthy because your reputation is all that you have. And second, you don't necessarily need to be a planner like I am and be intricately organized. But I would say that being a successful freelancer is a balance of business and being able to manage yourself, manage your schedule, send out emails, follow up.
There are definitely these moments where you're like, I didn't work in the last two weeks, what's going on? My life is over. And you start questioning your talent, like, am I even good? But just knowing that in those moments when it's not as busy, you need to continue to push yourself creatively, meet new people, and network and do what you have to do to keep your juices flowing because it's that's just the nature of the business. Have faith in your talents and just keep going.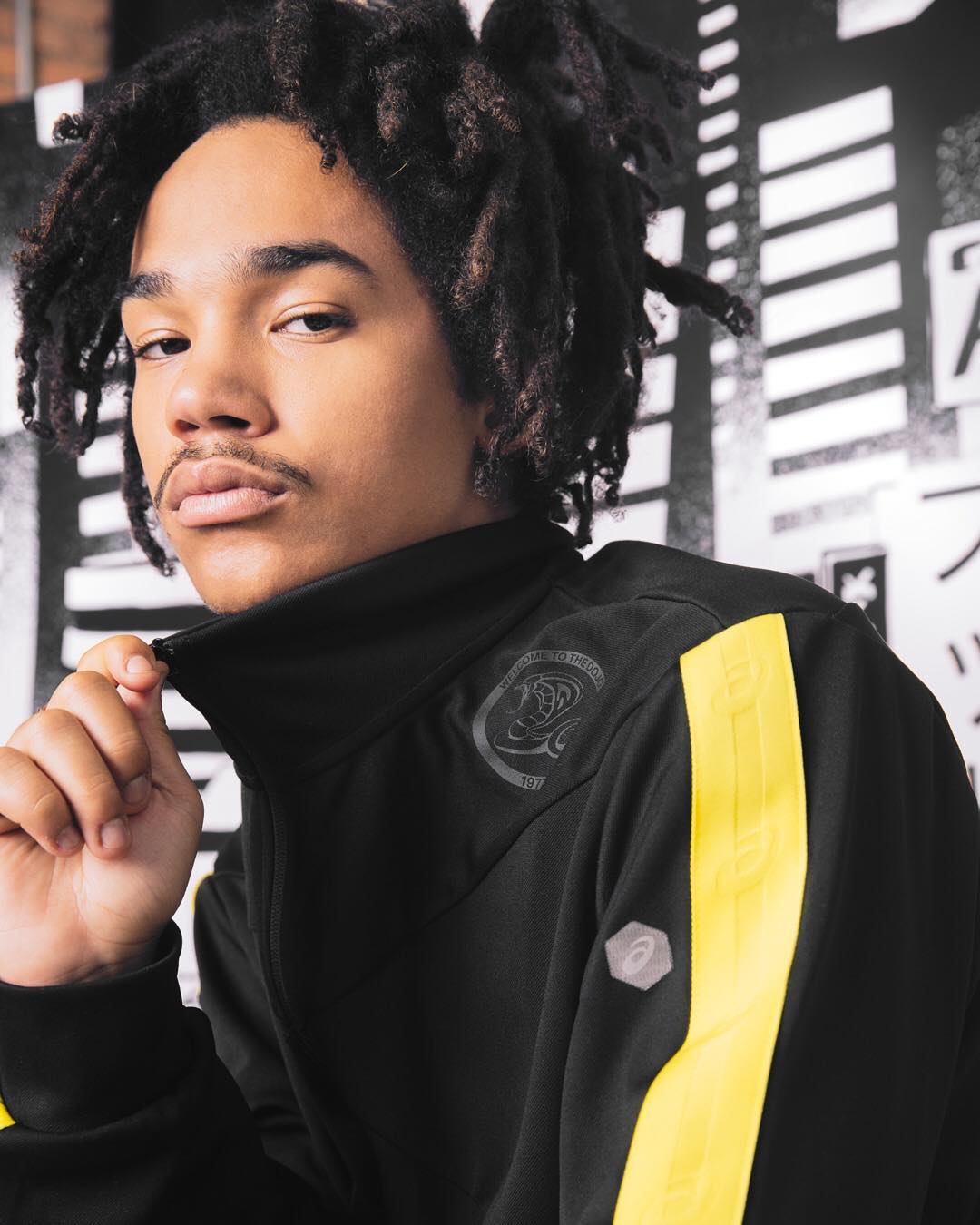 Grooming for Luka Sabbat for Foot Locker, image by @mark.c
On her podcast The Life of a Makeup Artist:
When I wanted to start my podcast, I started off with video because my intention was I'm a Caribbean woman, I'm from Trinidad. There's so many people that are from Caribbean and other islands and other countries that may not find themselves represented in the industry. I wanted to give the perspective of the makeup artists on what it's like to not be busy and what it's like to deal with anxiety. You know, a lot of people go through seasonal depression, and there were a bunch of things I wanted to talk about. Even if it's just one episode you listen to, I just hope that you get one thing out of it.
So I'm going to be talking to brand founders about what it's like to be a small business owner in the beauty community because a lot of people want to start their own brands, and they ask me for advice and I'm like, well, I have my own planner but not a beauty brand. I just want to have conversations about what we go through as artists and as people.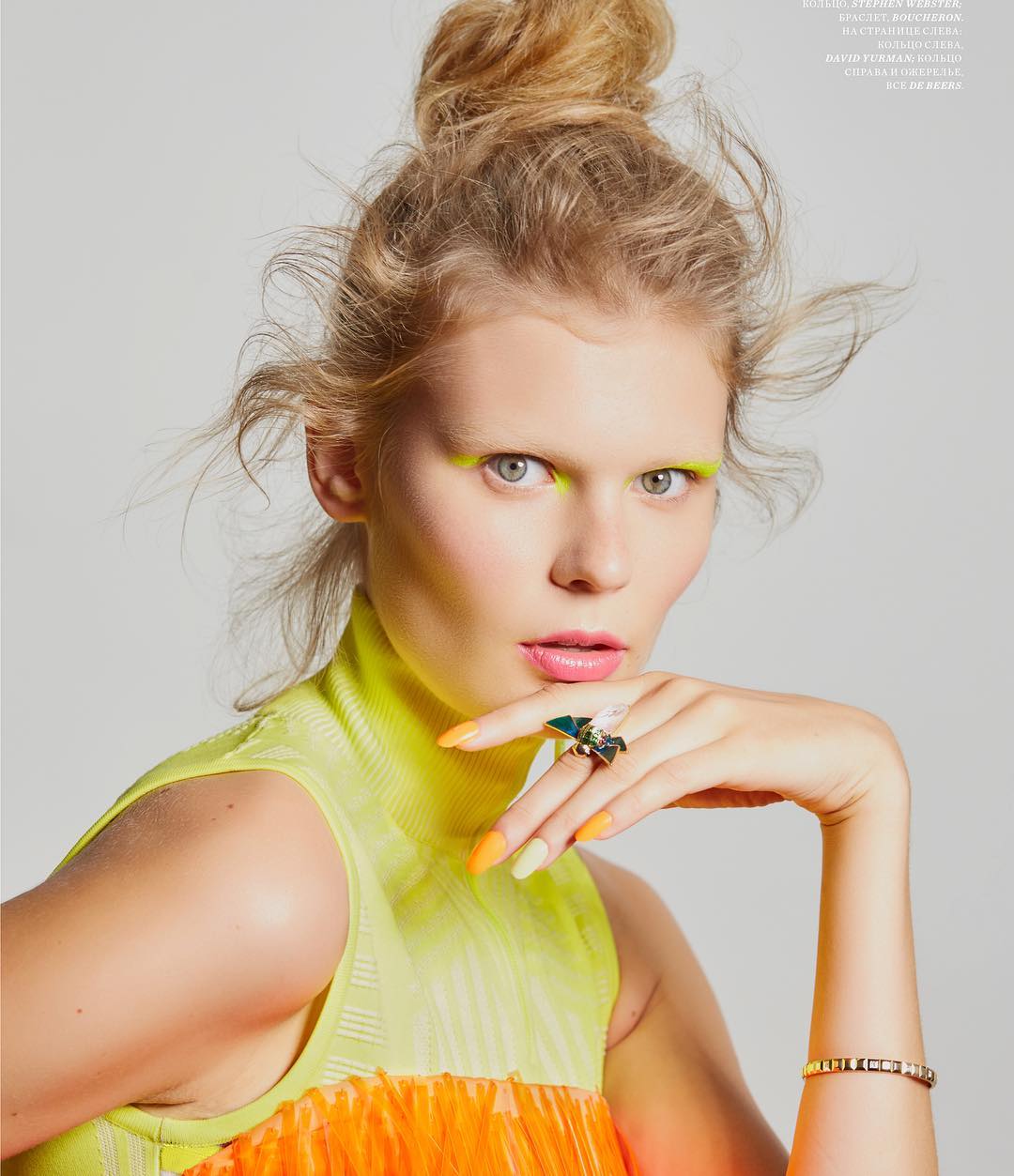 Makeup for Harper's BAZAAR Kazakhstan, image by @JDTheCombo
On the beauty brands she loves:
I love Wander Beauty. They're one of my favorite brands now, they've only existed for four years. I really love NARS, I haven't really collaborated with them yet (they have featured her image on their Instagram) but I genuinely love their concealers, their foundations, I've also been using a lot of their eyeshadows lately. They've been coming out with these small little palettes with six eyeshadow colors, and I just appreciate that they've really upped their game in terms of their packaging and changing things up.
I'm just really into execution because, you know, I was in marketing and in business. I also love Revlon, their lipsticks are incredible. They also have great limited edition collections, one is called Shoot the Moon, and they have these jelly highlights and eyeshadows. I love Laura Mercier, her blush and concealers are my holy grails, if I don't have them I'll freak out. Seriously, they're that good.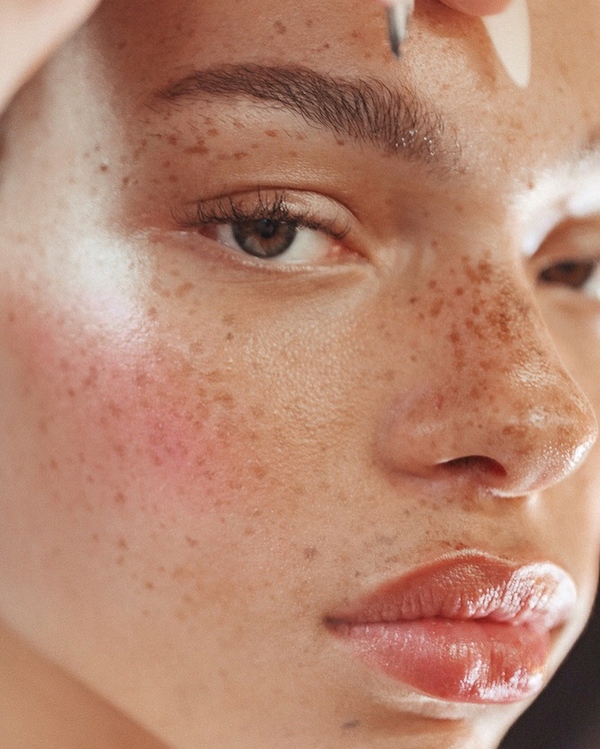 Makeup for SAVAGE X FENTY, image by @tomtakesphotoss
On her work backstage at the SAVAGE X FENTY FW18 runway show:
It was a lot of fun, for one because I was working among so many of my peers, but the cool thing about the show is that each model had a direction for what their makeup should be, but there was no particular set look. They told us to just create, this is sort of what we want for her look, and you do your thing. It was nice because there were so many Fenty products that I really got a play with, and I already have a ton of them. And they had just released the Fenty Gloss bomb in Diamond Milk and I put that all over her face, her cheeks, her eyes, her lips, I put it everywhere. I did another model and gave her more of a purple look and I actually used a lot of lipstick on the eyes, which busted them out and then I used the diamond powder to set it.
It was a really fun show, it was crazy, but it was fun. There was a lot of press. Into The Gloss got some really great pictures. But I don't mind that, as long as they're not in my breathing space I'm fine. Backstage is always crazy, that's the nature of fashion week.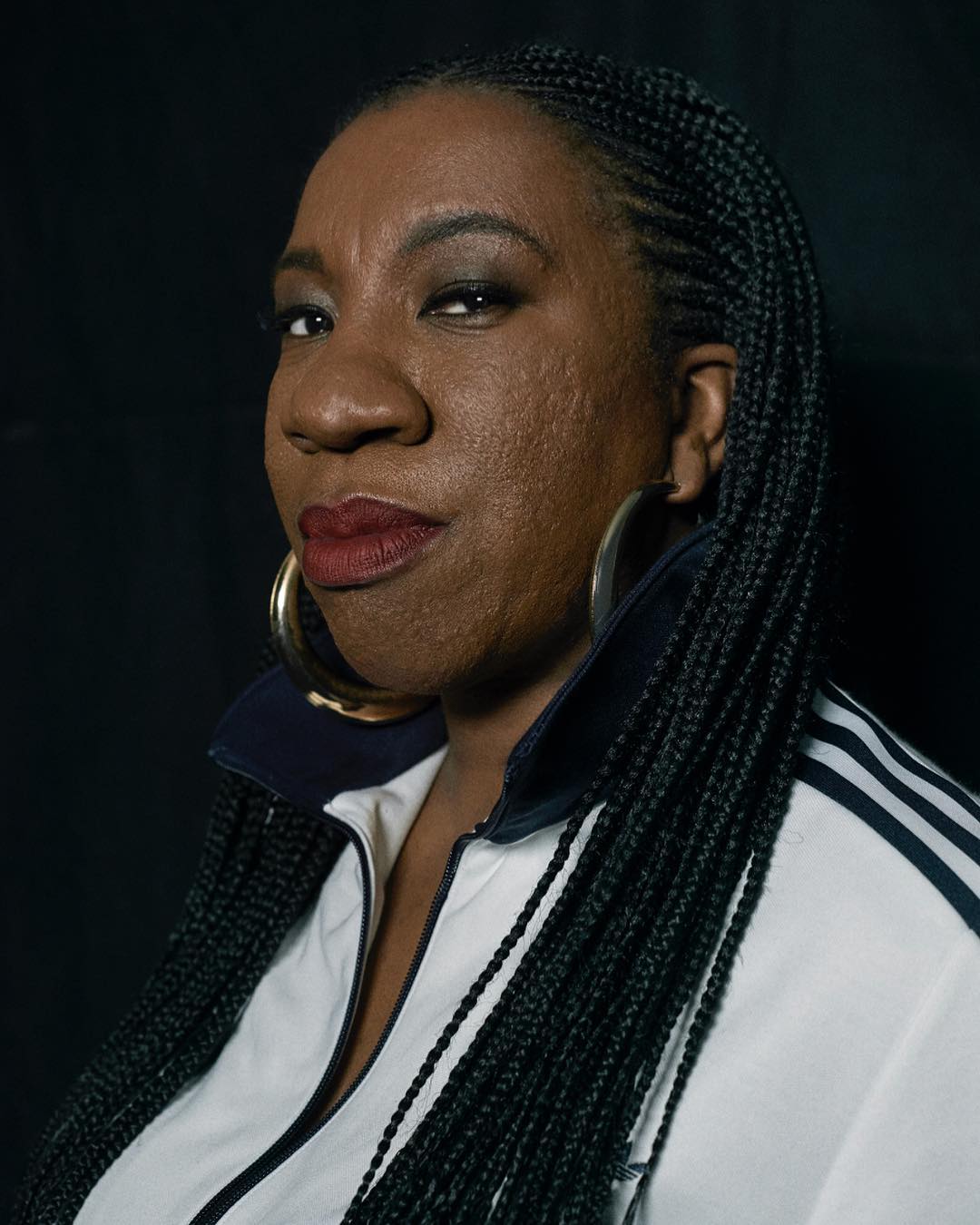 Makeup for Tarana Burke for The September Issues, image @maryrozzi
On working with activists like Tarana Burke (Founder of the Me Too movement):
She's a dynamic person, and it's such an honor for me to work with people who are not just models and actors, who are also great, but when you work with people who are actually changing the world and making such an impact like that, it's such an honor. She's an amazing person and it was a really nice working with her. I always tailor what I do to who the person is. I asked her what she liked and what she didn't like, so I could get a vibe. And I always do research on them before and then I have a small discussion about what I want to do. Most of the time they trust me to create.
And even the magazine that we worked with too, it's called The September Issues, and it's all women who work at the magazine and it's an all woman cast in everything they do, and it's so important to shed a light on that. Mary Rozzi is the photographer and the owner of the magazine, and it was really nice to be part of that.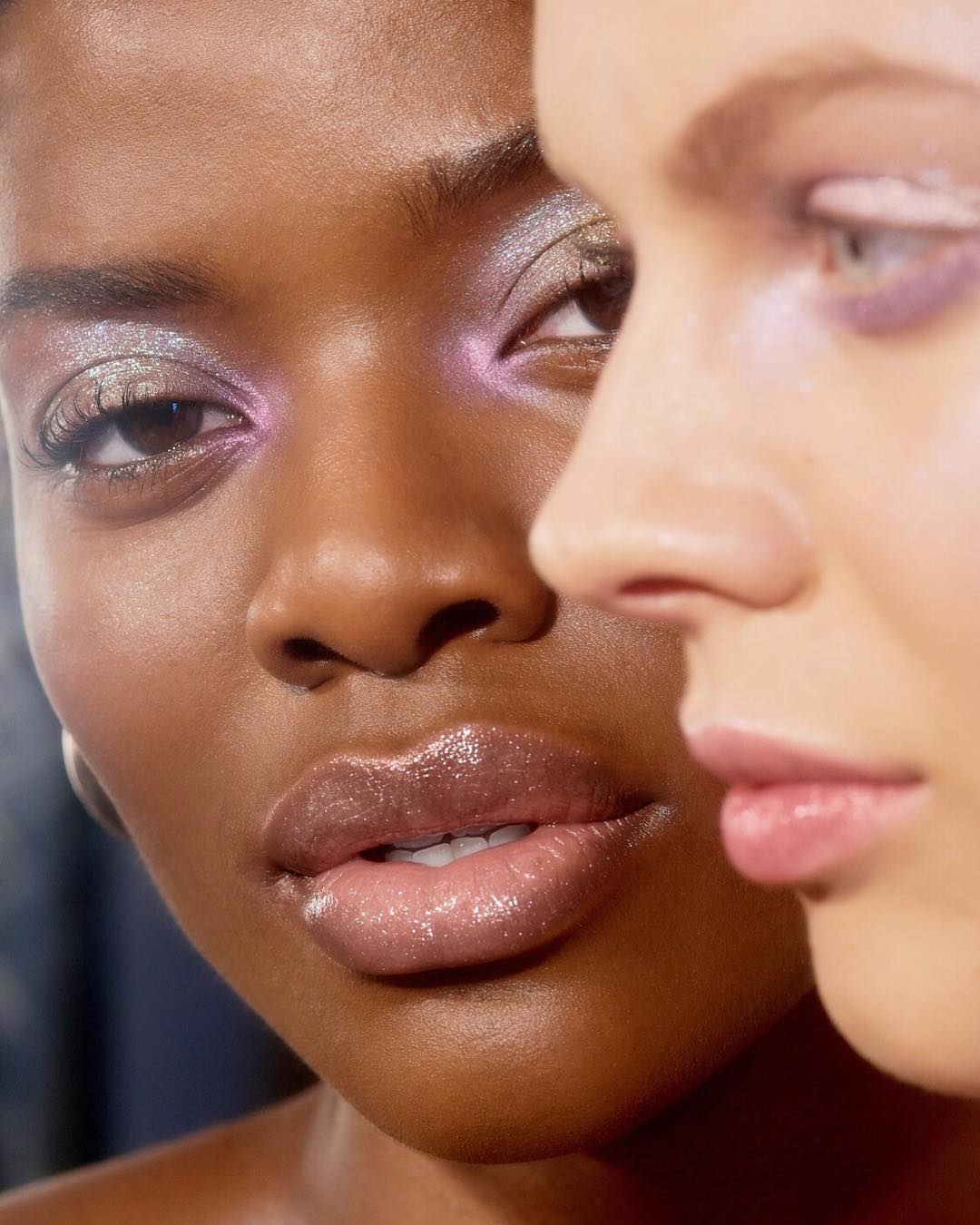 Makeup on @wemi_mo, image by @fionayeduardo
On her skincare routine while traveling:
I always make sure that I don't have a stitch of makeup on. I'm always wearing heavy duty black eyeliner so I try to make sure that all of that is gone. Lush has a lip balm called Lip Service, its a mixture of shea butter, cocoa butter, and oils and it's really good. I like to do a mask or the Wander Beauty Baggage Claim under eye masks, and then I'll do a serum. The serum I like right now is a rose serum by Pixi Beauty, their stuff is so good. Honestly, when I travel I usually fall asleep before the flight takes off and I wake up when it's landing, I've trained myself. I slept almost the whole way to Dubai. I like to do sheet masks, I like the ones by Innisfree. They also have a lip sleeping mask made with honey that I really like when I don't have my Lip Service. I just make sure that my skin is super hydrated, and that my neck is hydrated. A lot of people are concentrated on the face but a lot of people can forget about the neck and it really ages. I just turned 30 and so I'm always massaging my neck, just making sure it's good.
I always wear sunscreen. I do skincare Sundays at the end of every month on my stories and part of that conversation is about skincare and sunscreen and sending out polls asking people if they put on their sunscreen today. I think if you just have that habit, you forget and it becomes really incorporated into your routine. Right now I'm finishing one from this French brand called SBR, but I like the Olay Whip Face Moisturizer with SPF. I want to try Supergoop, but I'm finishing my Olay first before I move onto anything. Also COOLA, they have a really good sunscreen, I've been using it sporadically but I like that the texture is very light.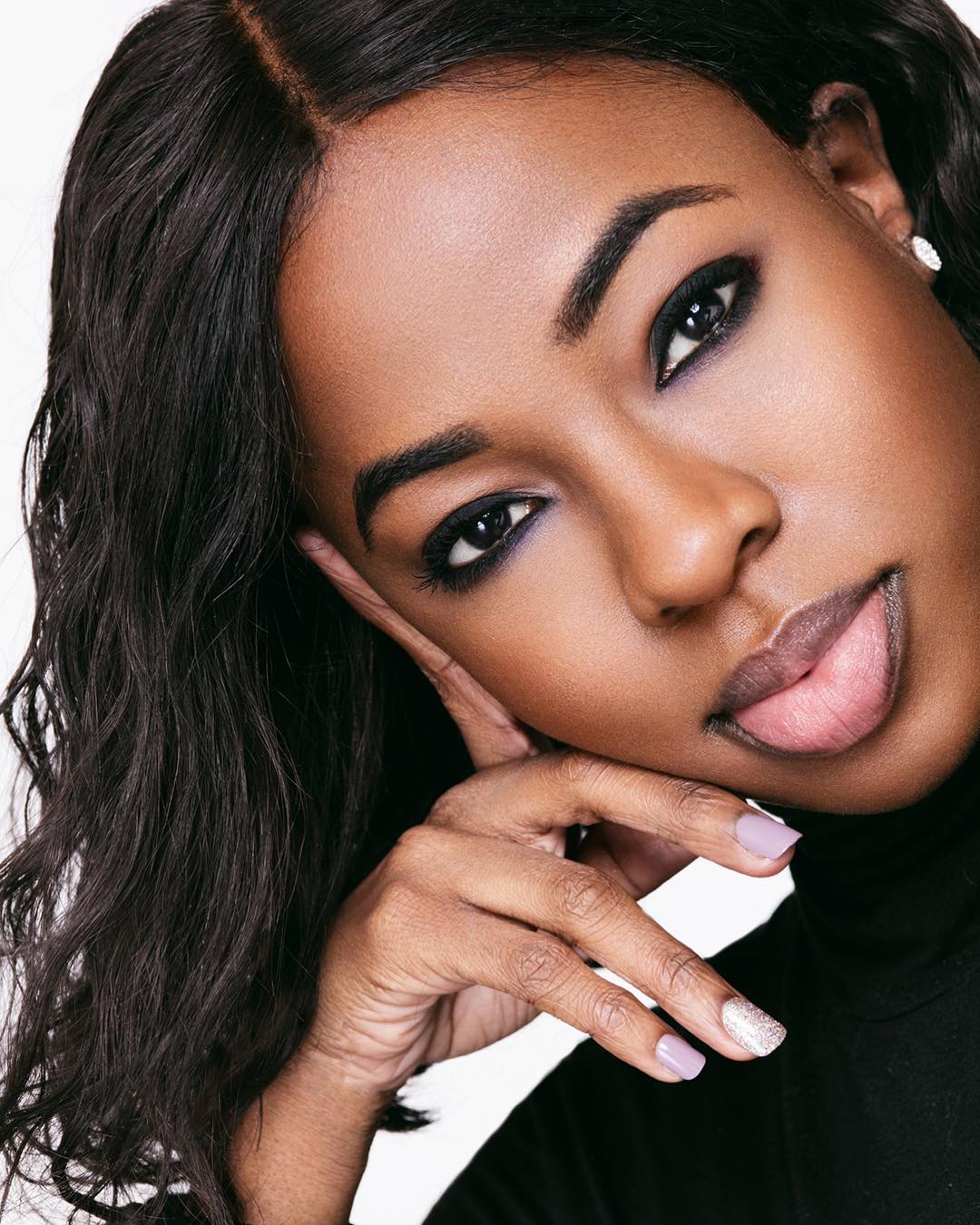 Jaleesa Jaikaran, image by @rubcha
On her daily makeup routine:
For my everyday makeup, I always do black eyeliner. I have small eyes and they're a bit hooded, and I know that makes them look a bit smaller, but I like how it looks. I use Makeup Forever Aqua XL in M-10, it's my holy grail. It's the only black liner that will not smudge, it doesn't move. I've been using the Wander Beauty Mile High Club Mascara, it's everything. I also love Lancome Monsieur Big. I like to do a little bit of highlighting and concealer under my eyes, for that I use NARS Radiant Creamy, and I've been trying one from First Aid Beauty and it's pretty good, it's an avocado concealer. I use Wander Beauty Nude Illusion Foundation, and I really love the Bobbi Brown Skin Longwear Weightless Foundation, it's magical. I've been using it on my clients and I realized that I'm going to need to ask for more colors because they're so good and I need all of them.
I love to do a gold highlight, even if I don't do blush every day, so to warm my skin up I use the NARS Contour powder, and there's a brand from Trinidad called Sacha Cosmetics, they have a blush called Coffee Bean and it's the perfect color for me to bronze my skin with for a soft contour, it's not as deep. I do a red lip a lot, I alternate between NARS and Alcone, it's a pro makeup store in New York, they have a brand called LimeLife that makes liquid lipsticks and they're incredible. The shade is Cherry Pie. And of course I use the Sephora 01 Always Red liquid lipstick, the one everyone uses. So I just alternate between red and a nice glossy natural lip with a brown lip liner. I use Mented Cosmetics, it's a brand made for women of color, they have lipsticks and glosses and they just released foundations. I use their glosses a lot. I like for my lips to look natural and for my eyes to look super intense, that's my everyday.
This interview was edited and condensed for clarity.
Watch Jaleesa review her favorite products to achieve that perfect natural spring look.