We talk about the dizzying amount of new beauty brands often on Supergreat, but we rarely get to say that "this one is different." So I'll say it right now: iNNBeauty Project is actually different. "Everyone's like, why does the world need another brand, are you crazy," says the brand's founder, Alisa Metzger. "But I think to be an entrepreneur, you have to be a little crazy, right?"
Metzger is a beauty industry veteran with 15 years of experience working for major brands like L'Oréal, La Prairie, Proctor & Gamble, and Coty. Her goal over the last few years has been to innovate branding and formulation in the skincare world as much as she possibly can. "It's time for a change," she says. "Skincare is made for white women in their 30s and 40s, and for the most part when you look at the market shares, skincare is about wrinkles and mainly the concerns of Caucasian women in this age group. To me that's a problem, or you could flip that and say it's an opportunity."
We spoke to Metzger about her passion (she prefers the term obsession) for innovative beauty, the void in the skincare industry she aims to fill, and iNNBeauty's one of a kind mask that you can't find anywhere else in the world. "What drives beauty is innovation," she says. "If we're not pushing ourselves and we're not challenging ourselves then what are we doing? We're just business people." You can take it from me; Metzger is not just a business person.
Oh, and if you have the coin, make sure you redeem today's reward at 7PM EST: iNNBeauty Project's Glaze #1, a lip oil that will turn your pout into a candy apple.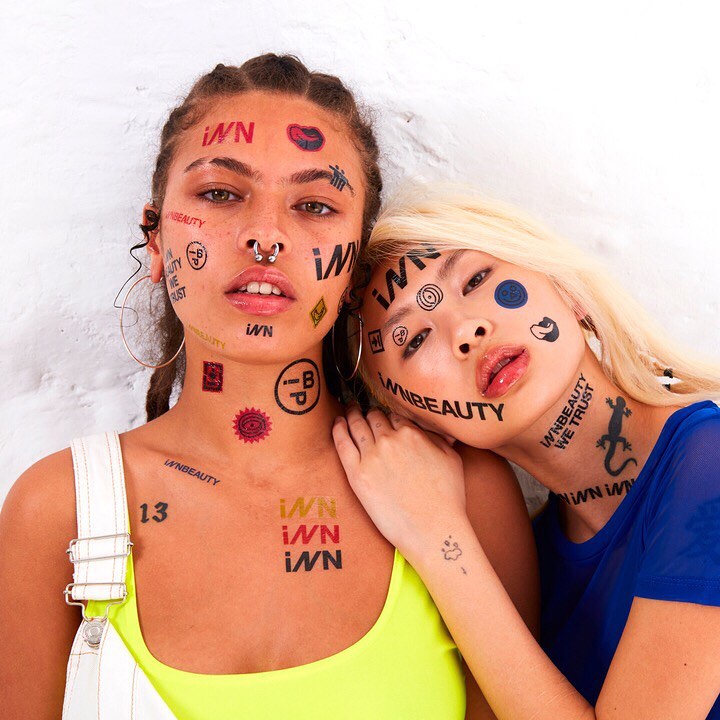 On her career in beauty:
I've been working in the beauty industry for about 15 years, it's really my heart and soul. I know, it makes me sound really old. Beauty and really understanding what makes the consumer feel happy, confident, creative, and beautiful, that's always been a passion of mine. Figuring out how I can put out a really innovative, cool product that looks different and feels different is my passion. It's something that, if I never tried, I'd always feel like there's a piece in my career that wasn't complete. I think if you're not ride or die passionate and committed it's not going to work.
There is no other career path for me. I'm going to be working in beauty until I'm 99. This is all I know, this is all I want, and if this doesn't work out, I'm still going to be working in marketing and product development for beauty brands. There's no other route. I would never go work in another industry no matter what the perks are.
On launching her own beauty brand:
Starting iNNBeauty was like, 'Fuck it, I'm gonna do it.' But I had to get all that experience by working at big companies and really understanding operations. Understanding how it works process-wise, how to analyze and crunch data—because it's not just all creativity, you also have to understand how to run a business. And you have to have the passion. If tomorrow some other brand like BMW offered me a job where I'm designing cars and they paid me $18 million a year, the answer would be no, because that's not my passion.
You also have to know about opportunity within the market. I love makeup but I think at the heart of my beauty passion is skincare, because taking care of your skin has the most impact on the way people look. I saw that there's a boom in skincare, and also that there's a huge trend with clean, non-toxic products. From a consumer perspective, we're embracing people that maybe aren't wellness junkies but still really value good, non-toxic, effective skincare. And the average US salary is $43,000 a year, so paying $50 or more for a skincare product is just not in the realm of possibility.
Also, at the heart of the consumer that we are embracing is this element of creativity. The people that are coming to us on Instagram and who are really becoming so passionate about the brand are artists and creatives. Some of them have been sending us art that they've created inspired by iNNBeauty Project. The heart of it are people that really want to create and are creative, but they haven't had a skincare brand that really embraces and portrays that. Watermelons and grapefruits are just not their thing, so we're here to fill that void.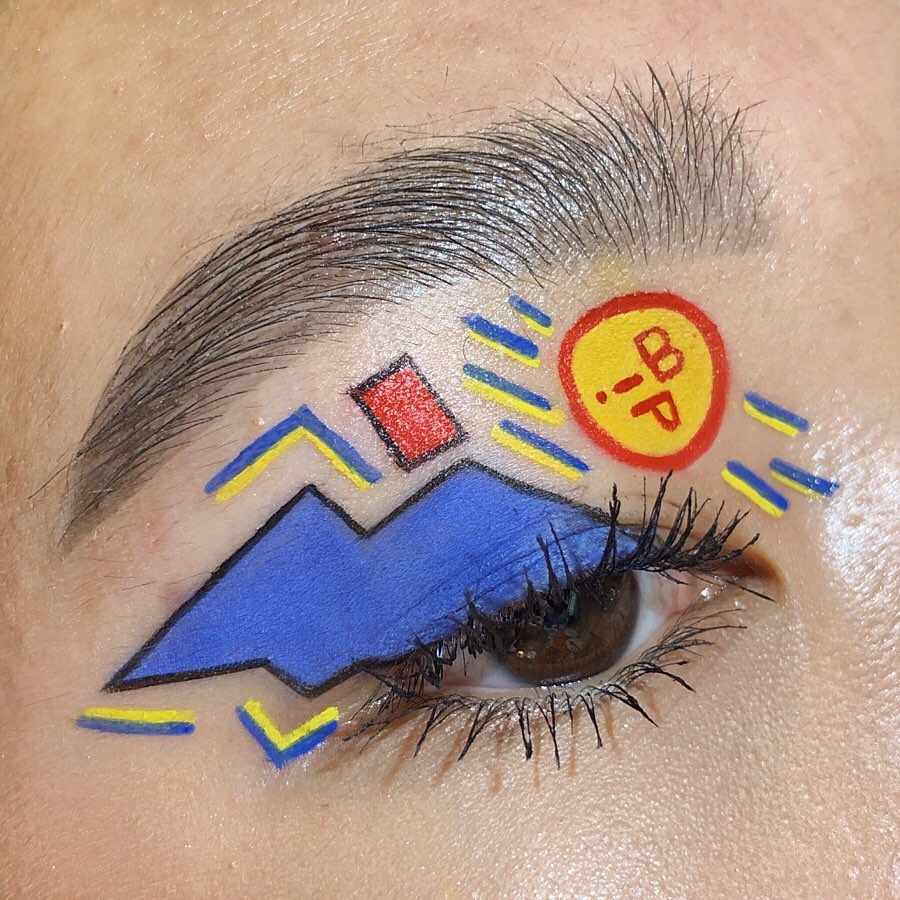 iNNBeauty inspired look by @p.xtt.art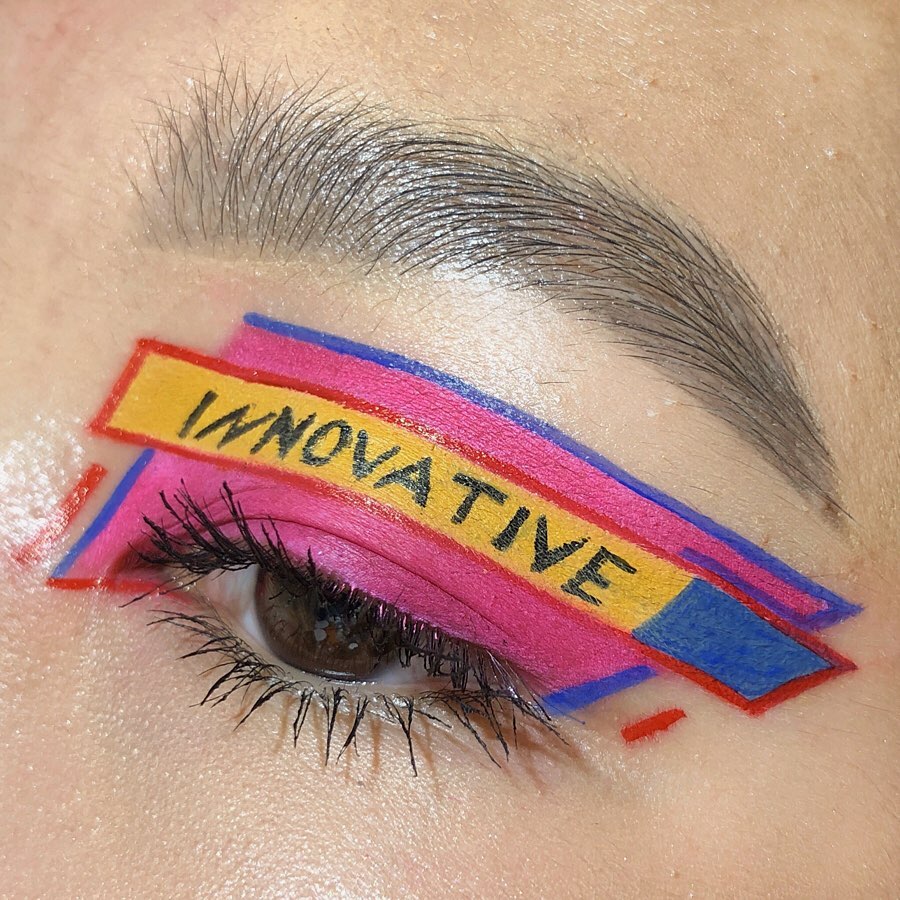 iNNBeauty inspired look by @p.xtt.art
On their innovative ingredients and the Even Out Complex:
Going down to the nitty gritty, it's a combination of bioactive ingredients and skin foods encapsulated in a special delivery system that's really designed for sensitized skin, melanin rich skin, and dull or sallow skin. It includes turmeric, pine bark, this herb called boerhaavia diffusa, and a delivery system that consists of omega threes, which helps target the right areas to get results fast and improves the activity of the product. So it's actually working on the surface level and deeper.
There's a five minute reduction in redness, there's also a 28-day show in reduction in redness, because it's important to have the product work both immediately and long term. Our Even Out Complex reduces redness and blotchiness.
For hyperpigmentation, really the big thing to understand without going in too deep into the science is that most products out there, the big ingredient that treats hyperpigmentation is vitamin C. Let's say you've got a sun spot or you've got some uneven skin and you found a vitamin C and it helps lighten and brighten that area—but it doesn't prevent anything. It doesn't protect from external aggressors, or aging, or sun, or pollution, or acne. A lot of darker skin tones get hyperpigmentation after acne because melanin production increases, and then you get spots or changes in skin tone.
On the void in the industry she's trying to fill:
Everyone's like, why does the world need another brand? Are you crazy? But I think to be an entrepreneur, you have to be a little crazy, right? I think there's a void in the market, there's a customer who's ignored. It's a customer that doesn't necessarily see themselves in beauty brands today, specifically skincare. I think the makeup market and category has done a great job of becoming really inclusive, there are amazing brands that have so much admiration for, that put out images that aren't only these tall, beautiful runway models. But the skincare category I think is really behind on that.
I think inclusive means two things. It means visually and aesthetically, and it means formula-wise. Are your products really good for all different types of skin tones and types? The other big one is that clean skincare is expensive. I love Drunk Elephant, I love Beauty Counter, I love Youth to the People, there are so many really good brands out there that I think have done a phenomenal job putting out some really good skincare products—but when you look at the price tags, they're crazy. And if you're a college student, or if you're a mom trying to juggle it all and you've got kids and a career, to pay upwards of $150 to $200 for a skincare regimen just isn't realistic for the average American. So what does that mean? Does that mean you have to use junky stuff? I think that's what that means for a lot of people, because they can't afford it. Clean skin care and healthy food should be accessible and affordable to all.
It does cost more to make, it takes a lot of care, time and effort to put together a truly clean and non-toxic formula. But that's the goal, right? The goal is to innovate. What drives beauty is innovation. If we're not pushing ourselves and we're not challenging ourselves then what are we doing? We're just business people.
It's time for a change. Skincare is made for white women in their 30s and 40s, and for the most part when you look at the market shares, skincare is about wrinkles and mainly the concerns of Caucasian women in this age group. To me that's a problem, or you could flip that and say it's an opportunity. There's so much diversity out there. In our country, there are women with so many different skin tones, and so many different skin concerns. And now we're seeing the rise in acne.
When I was putting this together to explain the logic behind the brand, I came upon this article from the New York Times where it talks about how skincare companies are tackling issues faced by women of color. The article touches upon how women of color, one of their biggest concerns is not wrinkles, but hyperpigmentation. There isn't really a brand out there that deals with that in a very inclusive perspective. So there are brands that have predominantly vitamin C, but it really deals with dark spots. But what about people that have melanin-rich skin, where it's really about balancing your melanin production? What about people with olive tint to their skin? What are you gonna do for all those people that vitamin C is not really their ingredient? That's where we come along.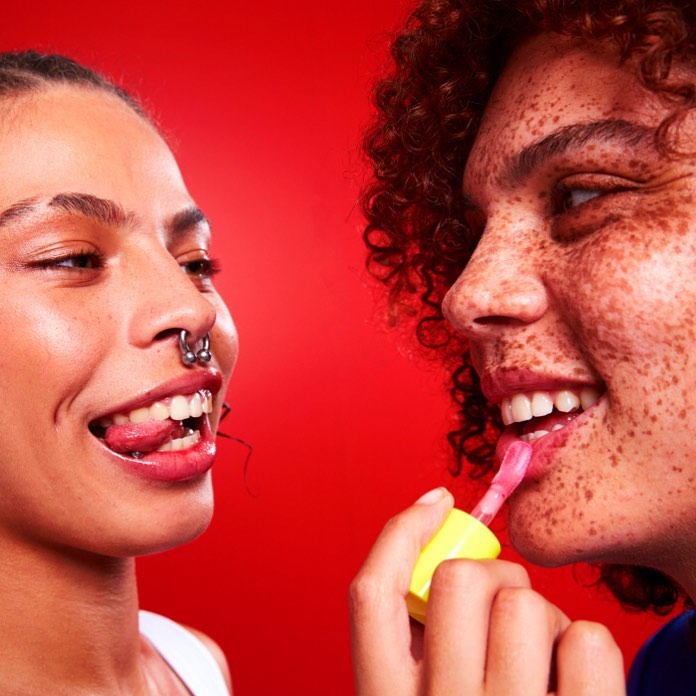 On today's launch:
We're launching with three products: Electrify, Face Time and Glaze #1. We understand that this is not your hardcore skincare regimen, but wanted our firsts to be really fun and visual. Electrify is really about how to look like a badass superhero with your eye masks. We wanted to have something that people would want to post a picture of themselves in that would embody the brand. The big challenge here was to make a really cool deep blue color without using artificial color. So it's only natural color, flavor, and essences from fruits. There's no synthetic fragrance, and nothing that would aggravate or sensitize your skin. We're Credo-compliant clean.
The Lip Oil Glaze #1 is the most phenomenal lip formula, it's so delicious, it tastes like candy apple. It's naturally flavored, naturally colored, and the first ingredient on the list is oil. It has a botanical plumping complex that gives you a little bit of volume over time and it doesn't sting or burn like any of those lip venom things. It nourishes and conditions your lips, gives you that glossy pout, and helps any kind of dryness. The applicator is huge so it mimics a finger.
Face Time is this really cool innovation and it's made in this one little factory in Korea, I don't know how we found it. It gives you that filtered, even-toned look after one application. I dare anyone to try to find this in the market—it doesn't exist. There's two steps to it; first, you put on the bottom stuff, it's a special botanical syrup, then you put on the top part, which is like this fine sheet with the texture of rice paper. Then it hardens on your face after 15-20 minutes and the two textures melt together to create one. It contains our Even Out Complex, which is niacinamide, lactic acid and all these other plant extracts that help feed your skin all that goodness. You take it off and your skin's got this like crazy filtered appearance and this even glow to it that I can't even describe. You can do it once a week and you see results after just one time.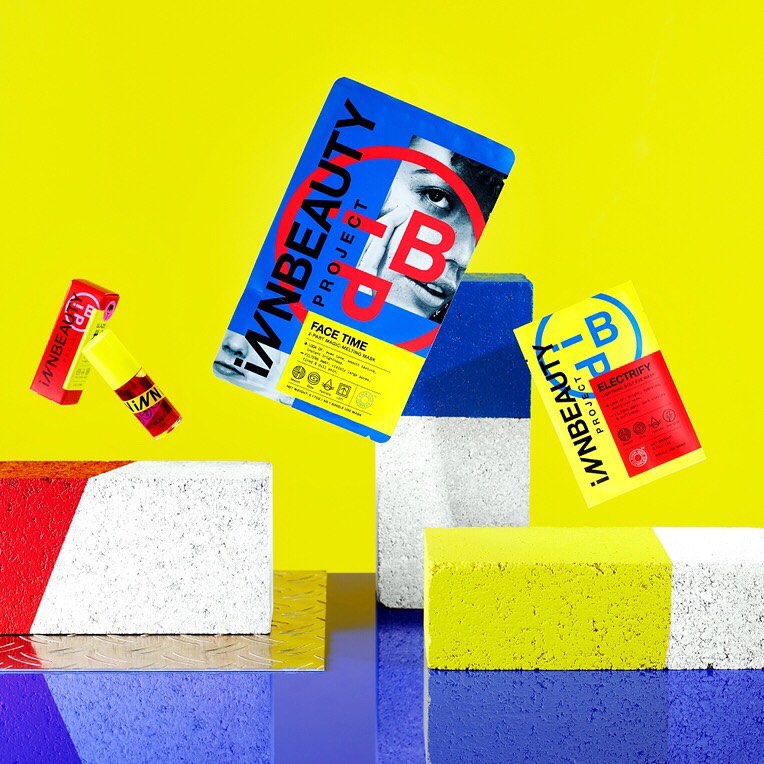 On upcoming products:
We also have our face mist, and I call it Gatorade for your skin. It's got electrolytes to energize and it also has aloe and vitamin C. It has this really cool natural tint that comes from eggplant, and a little layer of a hydrating lightweight oil that you activate and shake up before you mist your face. You can use it as your morning mist, your afternoon pick me up, or to set your makeup, and it smells like lemon Gatorade.
Last but not least—this is my baby, I'm so excited. This has nothing to do with skincare to be totally clear, it's just an accessory for the body that embodies our brand. This is something that L'Oréal or Estée Lauder or Coty could never do because it would be seen as too crazy. There's a whole consumer out there that just doesn't want to wear bras, there's a whole fashion industry that is putting out really cute transparent mesh tops, and a whole world of Instagram that doesn't let you post nipples. People are putting all these emojis and stickers on their pictures because their nipples are showing. So we made really fun silicone star-shaped nipple covers. They're patent-pending, so something like this doesn't exist. It doesn't flatten your nipple, it gives you a star-shaped nipple. The whole thing is made out of FDA-grade silicone. I have no idea if it's gonna be a top seller, but this was important for us. We're gonna have two colors, a super bright yellow and then a black for a chic night out. They have adhesive and they have a mesh thing on the opposite sides that won't irritate. We've all tested them and worn them.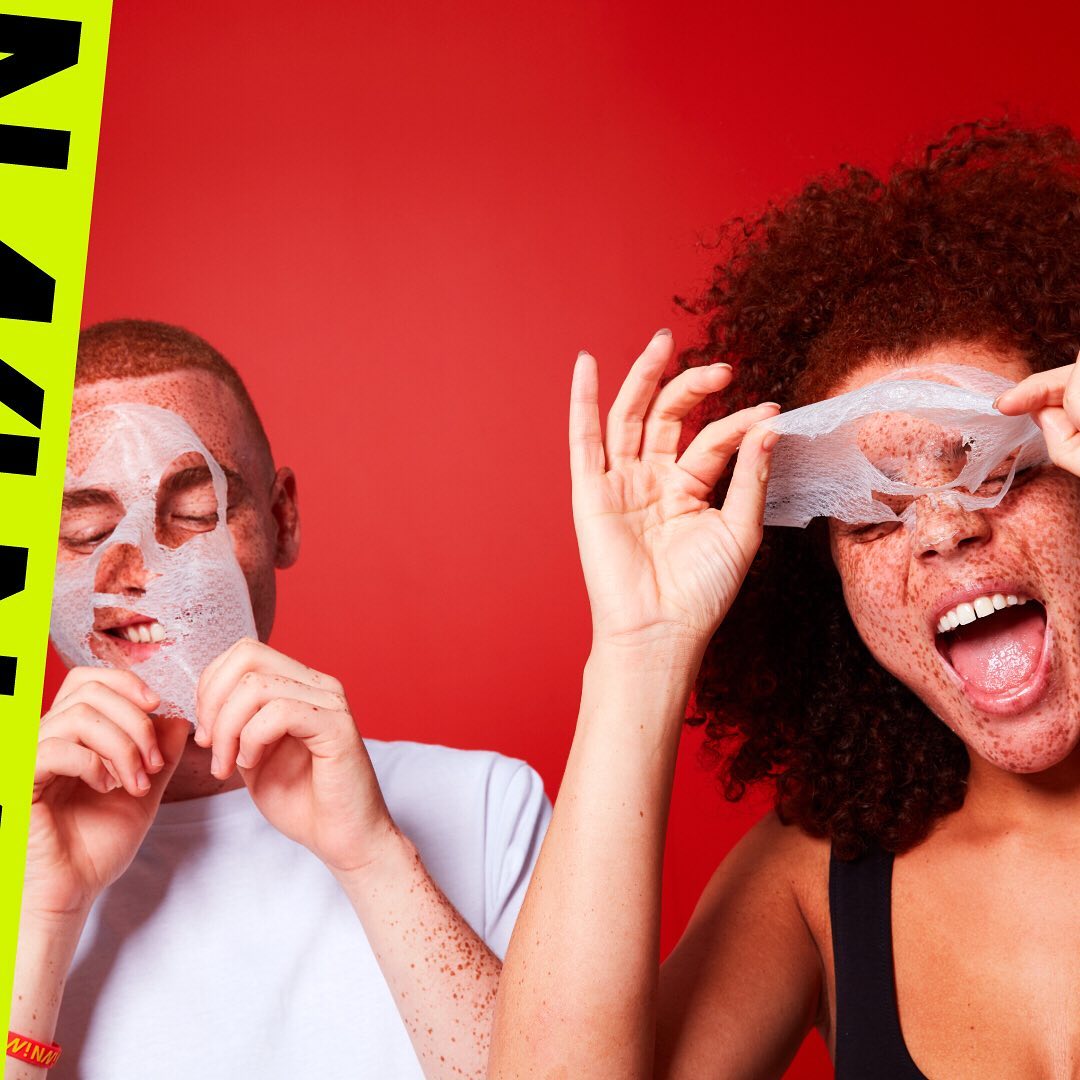 On being anti-retouch:
Something that we're also proud of is we never retouch our models. That's their skin, their real complexion. This is also what I mean about being inclusive, from all different perspectives. One of our models reached out to us on Instagram recently, she was like, 'I'd love to shoot with you.' She's on our Instagram already, her name is Imani, she's from the Bronx so she's local. She's so stunning. I think that's such a cool thing to do as an indie brand. Because if I'm L'Oréal, I'd have to put together this 50 page contract and involve lawyers. She's just a girl that wants to be a part of this, and we're so happy to have her and it's so cool to be able to do that.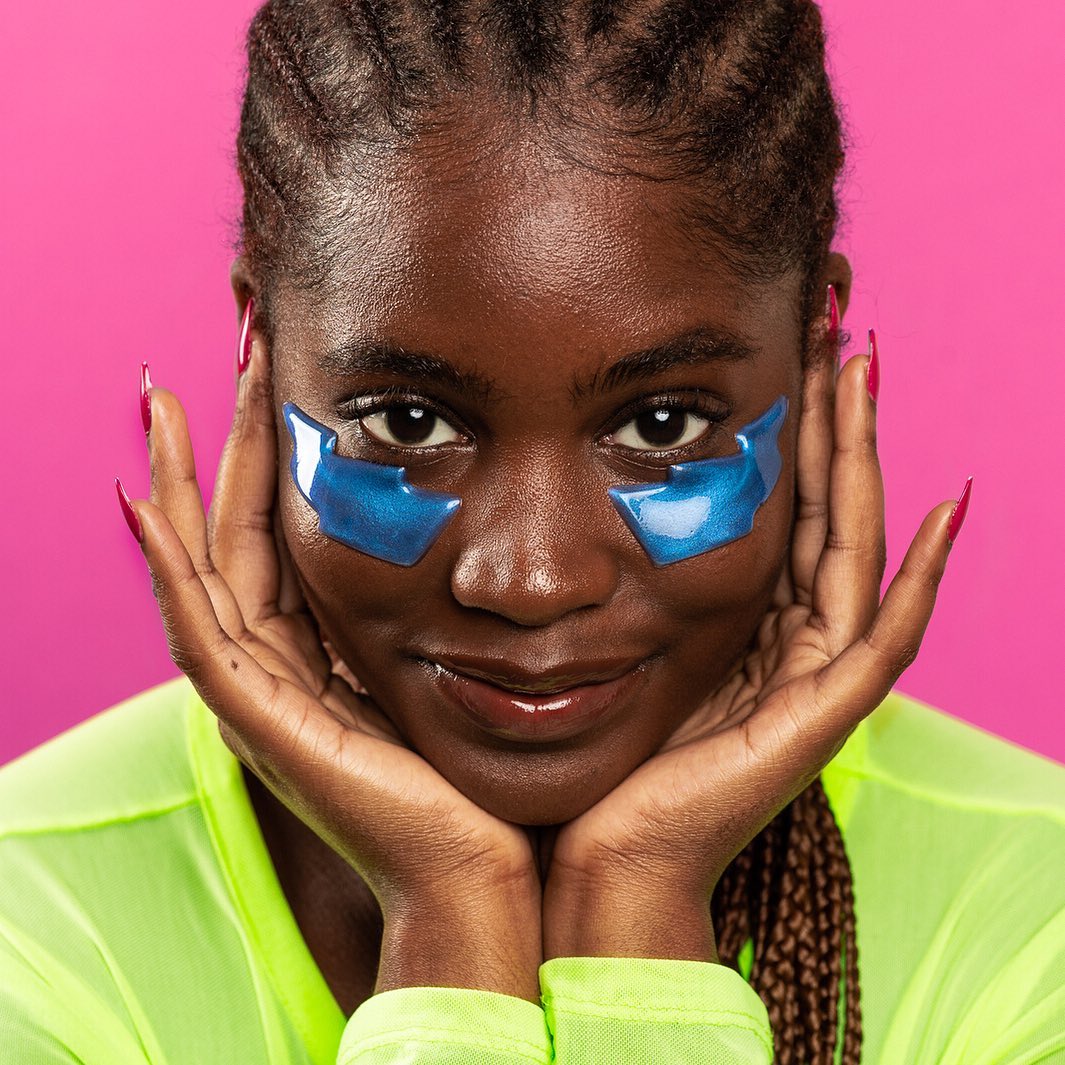 On her beauty routine:
I'm using currently using the three products that we're going to come out with later in the year. We're hustling super hard for them to be available sometime in December. I use my Glaze morning and night. I'm super busy—I don't drink enough water, and that will foremost show on your lips, then your skin. And that's my routine! I need to test our products to make sure they're the best of the best.
For haircare, I kind of flip-flop. I use a brand I find at Whole Foods. As far as fragrance, I discovered this one amber oil that I've been getting so much positive feedback on. It's just like this super warm, sexy scent, and it's unisex and natural. No fragrance or allergens. Those are my go-tos.
This interview has been edited and condensed for clarity. Visit iNNBeauty Project's website and add your iNNBeauty Project review below.